Print Advertising & Poster Design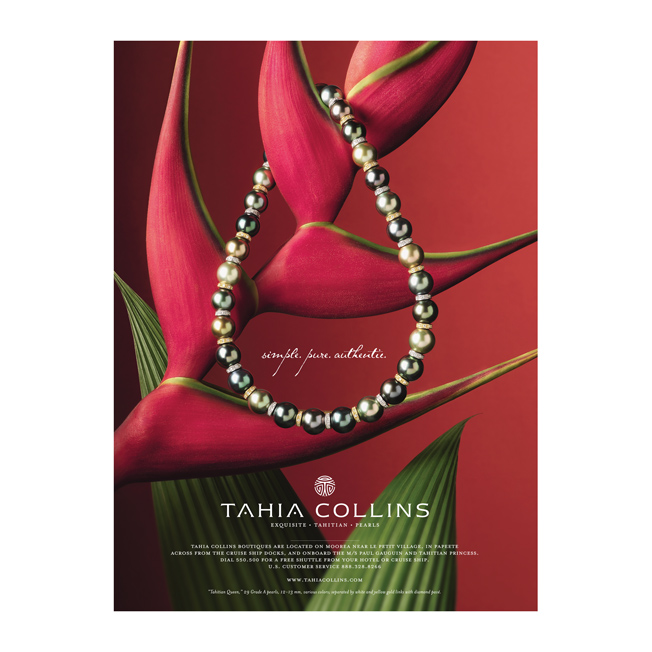 Tahia Pearls Full Page Ad
The photography in this ad is exquisite. Our compliments to Kirk Amyx for his exceptional work on behalf of Tahia.
Delicious Print Advertising
We created this ad for the 2018 edition of Bend Business & Lifestyle magazine. Instead of the typical "Do you need our services?" message that everyone seems to be running, we decided to use this opportunity to inspire potential clients to "be brave" — and drive interest in our brand.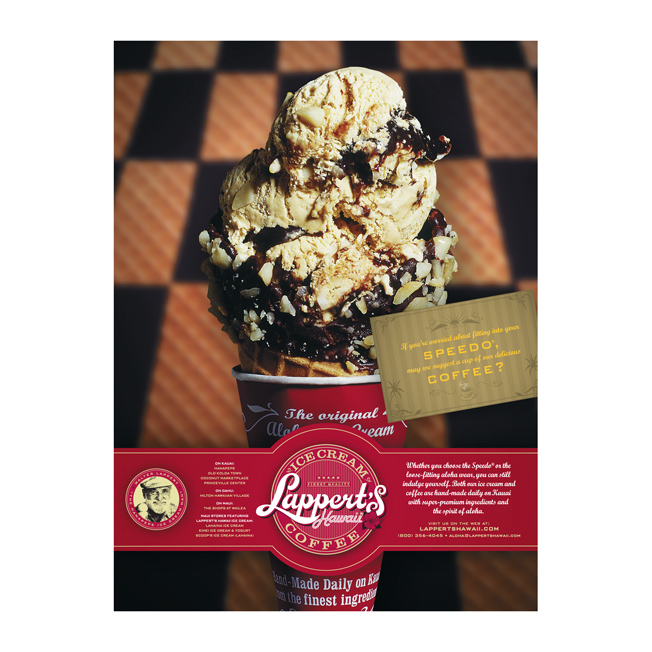 Lappert's Hawaii Print Advertising
This is one of Lappert's Hawaii's most successful ads ever. People have been known to show up in one of their stores with this ad in hand, saying, "Give me one of these, please!" Winner of a 2003 Honolulu Advertising Federation Award of Merit.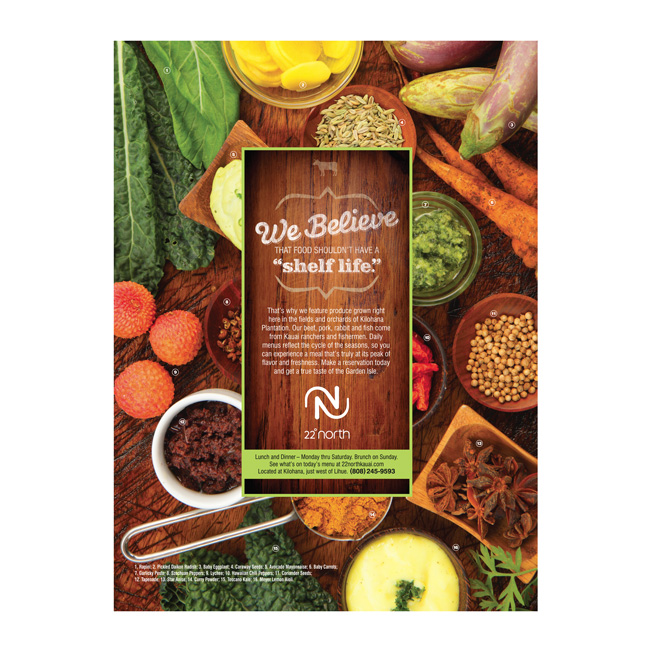 22° North Print Advertising
This full page ad was designed to bring the freshness of 22° North's "farm-to-table" concept to life and was awarded the 2010 Honolulu Advertising Federation "Silver" Award.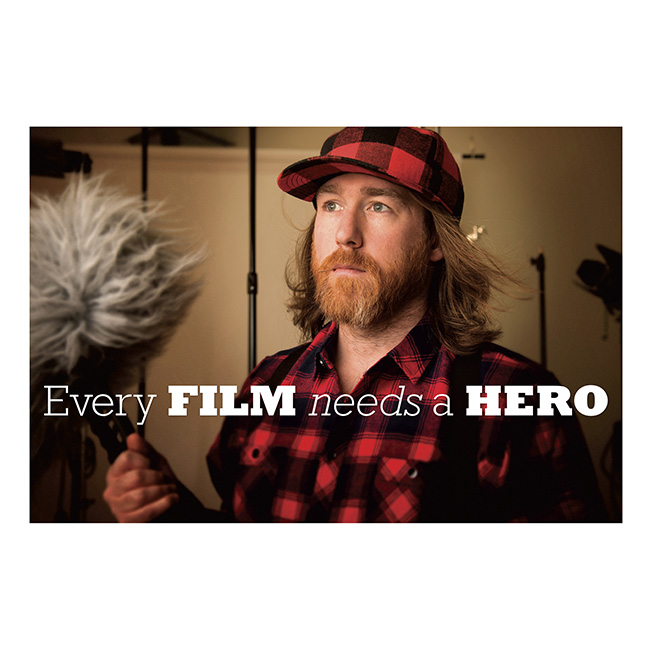 Wahoo Films Process Brochure
Wahoo Films
is known here in the Pacific Northwest for their short films that make a big impact. They came to Delicious Design when they needed a process brochure which would educate and inform new clients about how they work. We took that core information and added a concept which would catch the readers attention — and demonstrate Wahoo Films' creative approach to storytelling.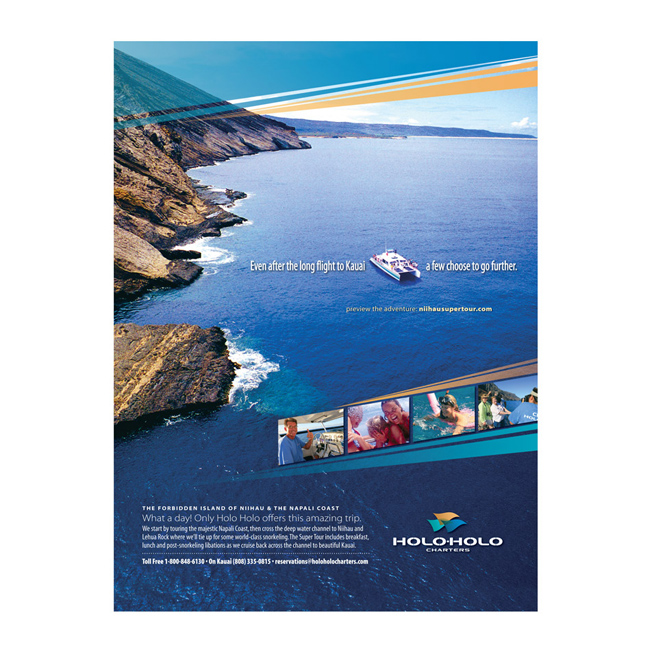 Holo Holo Charters Print Ad
The look and feel of this print ad was based on Holo Holo Charters main brand-driven advertising, but focused on their "super tour to Niihau."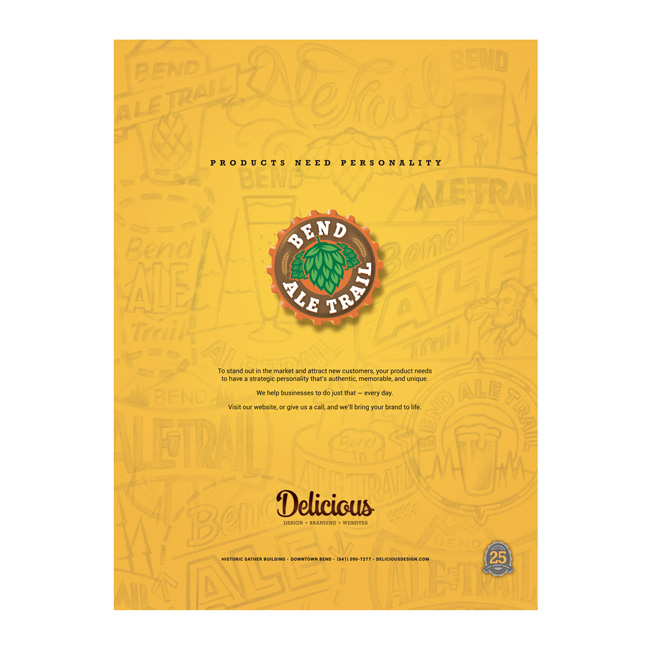 Delicious Logo Design Ad
We created this ad for the 2017 edition of Bend Business & Lifestyle Magazine. It introduced Delicious Design to the Bend business community and featured the Bend Ale Trail logo — which was commissioned by VisitBend and is widely used to promote Bend's local breweries.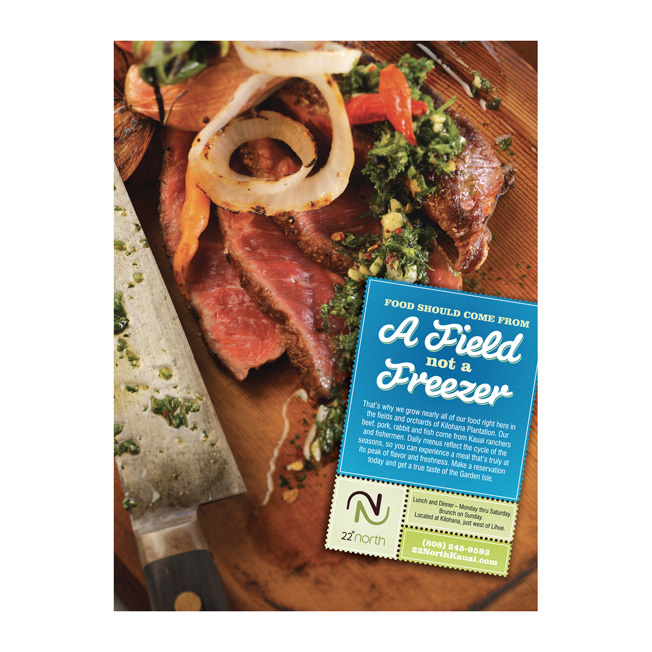 22° North Restaurant Advertising
This is the second full page ad in the series which ran in Kauai's Menu Magazine. This ad showcases the quality of the food, and leaves your mouth watering.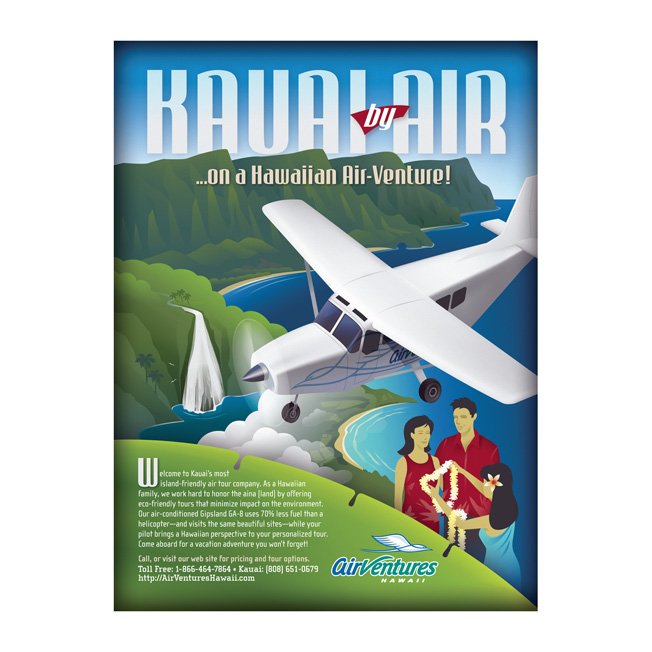 AirVentures Hawaii Advertising
The photos you'll see in 99% of Kauai visitor advertising are so similar that it becomes difficult for customers to tell the difference between companies — after all, one beautiful photo of the Napali Coast is much like another. To set AirVentures apart, we created this beautiful new ad using illustration instead of photography. It's sure to jump out of the magazine and grab the customer's attention, plus it positions AirVentures as a company with a unique approach to business — a company that's warmly Hawaiian, friendly, professional, and creative — exactly the kind of company customers love.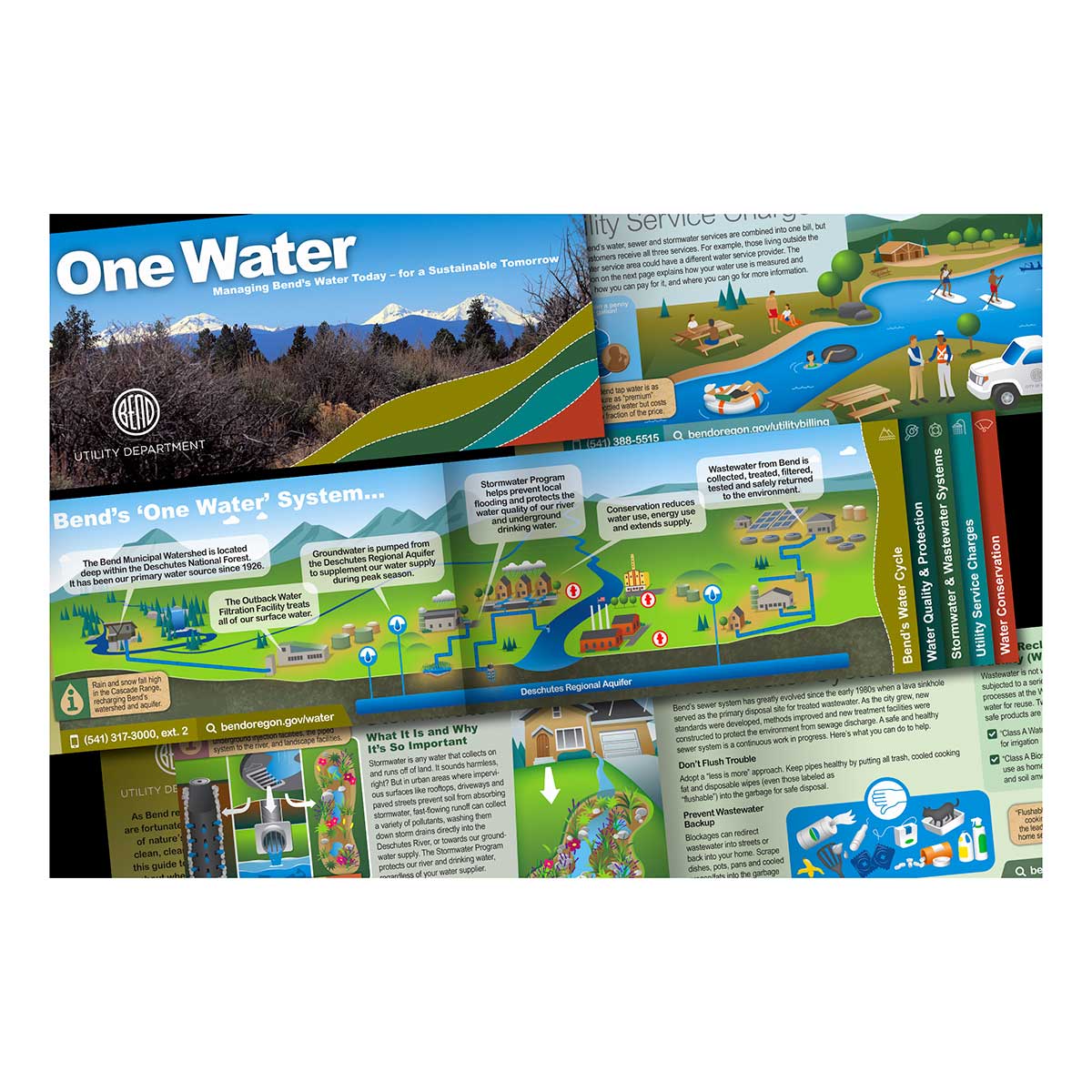 City of Bend Water Brochure
In 2018, the City of Bend hired us to develop a comprehensive brochure for the Water Department. The result is this beautifully illustrated and copy written 12-page printed piece which covers all aspects of Bend's "One Water" system — from where our water comes from, to how it's tested and delivered, to how we conserve it and recharge our aquifer, and lastly how water services are billed for.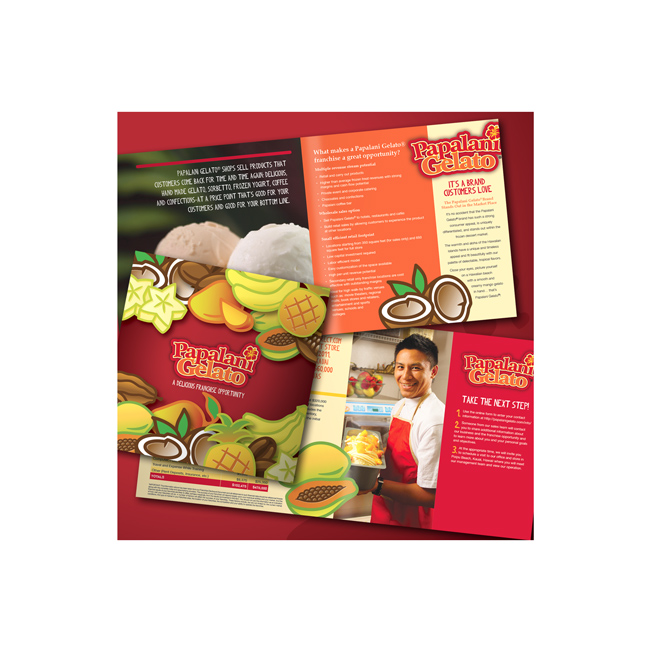 Papalani Gelato Franchise Brochure
The Papalani Gelato Franchise Operating Company is a Kauai-based business that makes delicious, hand-crafted gelato and chocolates. They hired us in 2012 to upgrade their brand image, enhance their retail presentation, and improve sales — with the larger goal of attracting franchisees in various markets across the United States and Canada. We designed and produced this brochure to explain the Papalani Gelato franchise opportunity to potential franchisees—and to drive additional contact with Papalani Gelato.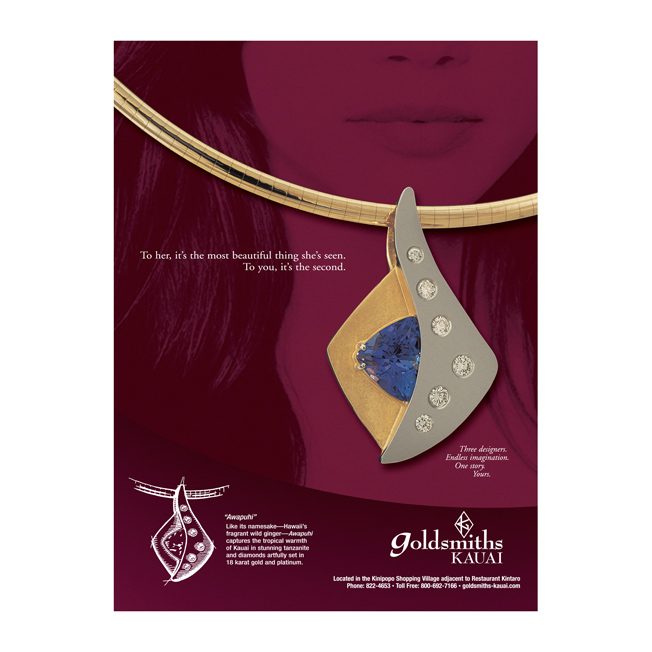 Goldsmith's Jewelry Advertising
Goldsmiths Kauai wanted to garner more design work. The brand development process pointed out who their target audience was and what it would take to get them to chose Goldsmiths Kauai over their competitors. With the groundwork laid, we developed print ads both product-centric and "advertorial" style. Supporting the ads were brochures, posters and direct mail campaigns that proved quite successful in repositioning them as "designers."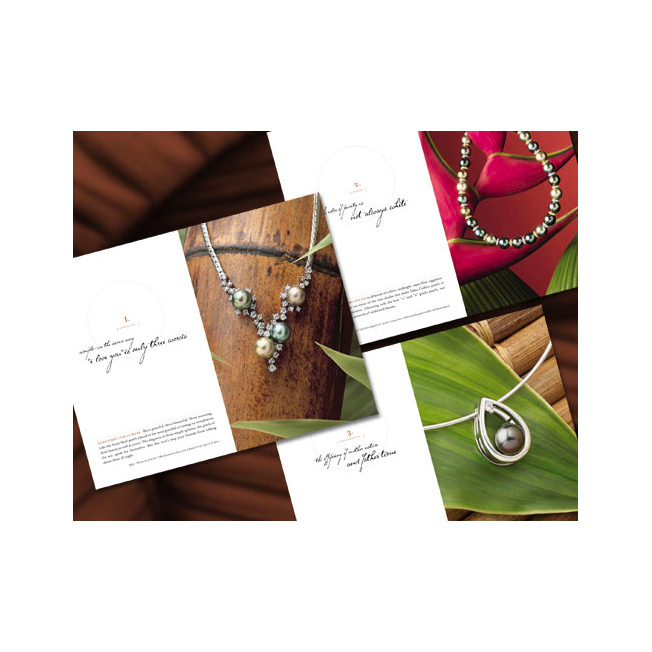 Tahia Pearls Product Brochure
Elegance, style, and trustworthiness — those are the three main things that this brochure had to communicate. Most visitors to French Polynesia were in search of the the perfect black pearl jewelry to take home as a souvenir of their trip, but who to buy from. Tahia, of course!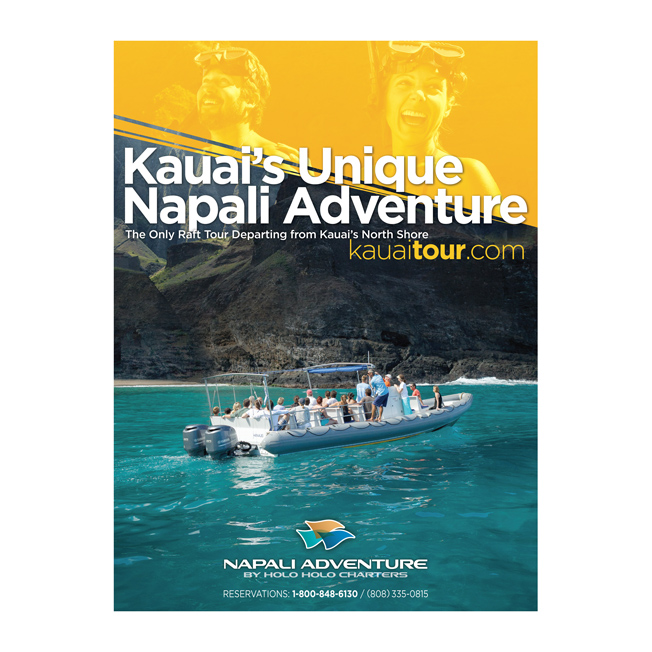 Napali Adventure Tour Advertising
New rafts for our client meant new ads to spread the word. These ads were created after undergoing an extensive photo shoot, complete with models.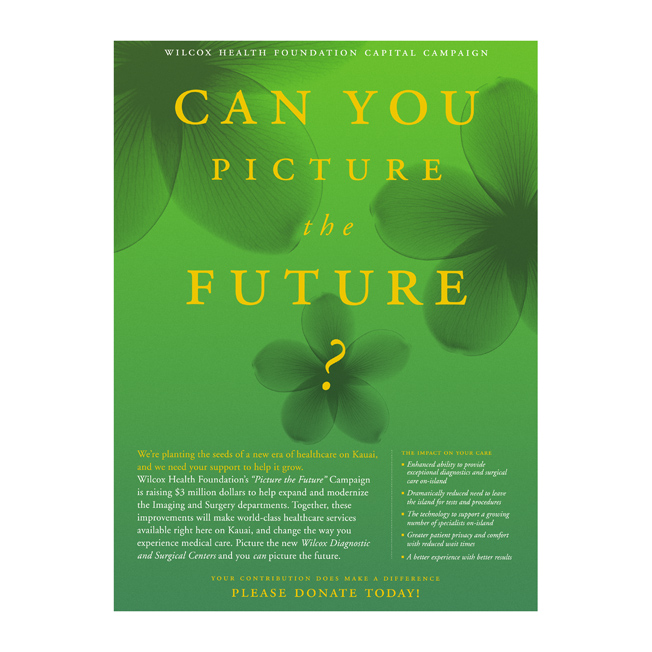 Wilcox Health Capital Campaign
Working with Wilcox Health Foundation on this capital campaign was a very rewarding experience. Not only did our whole staff benefit from the new technology that would be available to us all at the local hospital, they all volunteered some time and energy to help the campaign succeed. We produced a wide variety of materials, starting with a campaign position that turned into the main theme, "Picture the Future," but also included a web site, print materials, banners, campaign thermometer, direct mail pieces, invitations to special events, and the list goes on.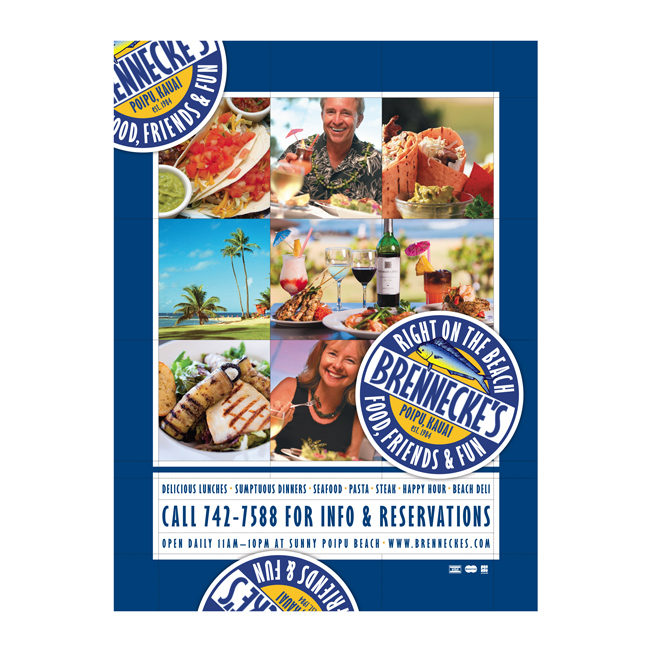 Brennecke's Full Page Advertising
This playful print ad included a full day photo shoot to secure both people and interior/exterior restaurant shots that would showcase their fun and festive attitude. The final deliverable was four full page ads submitted to various publications, and all photos provided to client on disk and uploaded to his "Private Client Intranet."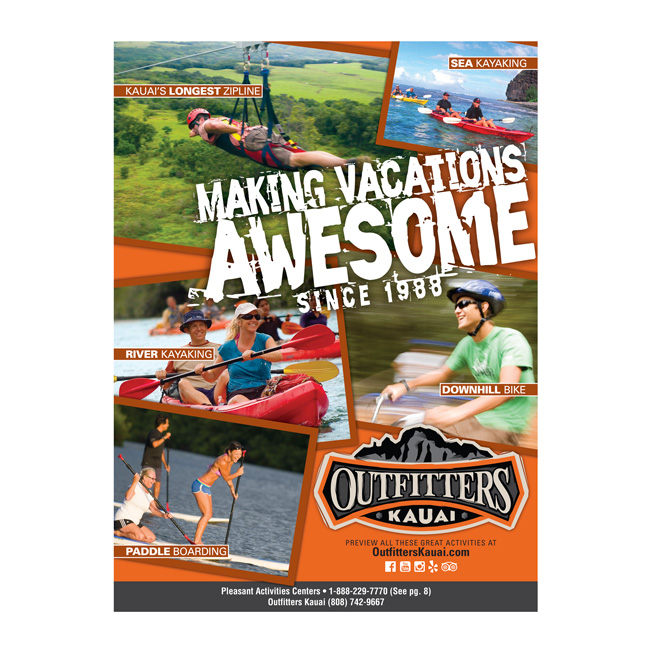 Outfitters Kauai Print Advertising
Outfitters Kauai needed a brand refresh, so we worked with them to update their ads and their image. This ad was featured in an Activity publication that showcased the various activities that they offered.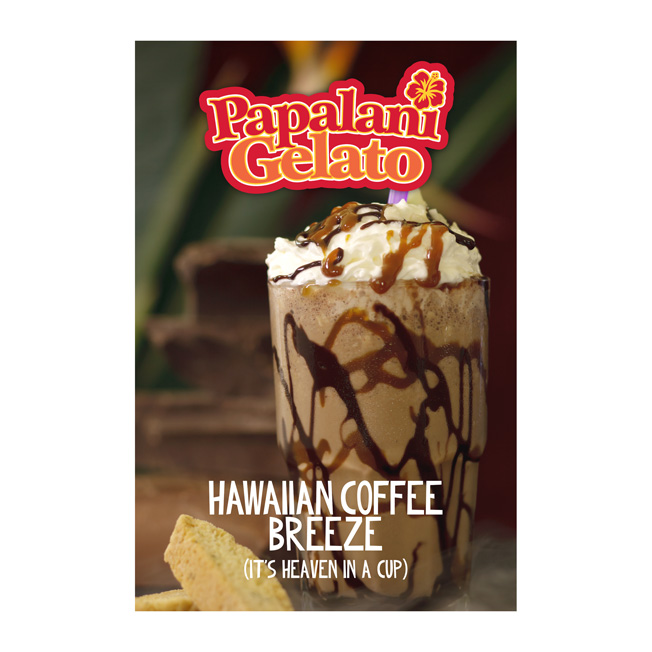 Papalani Gelato Window Posters
We created a series of back-lit posters to highlight the delicious flavors and the unique gelato products found in Papalani's shops.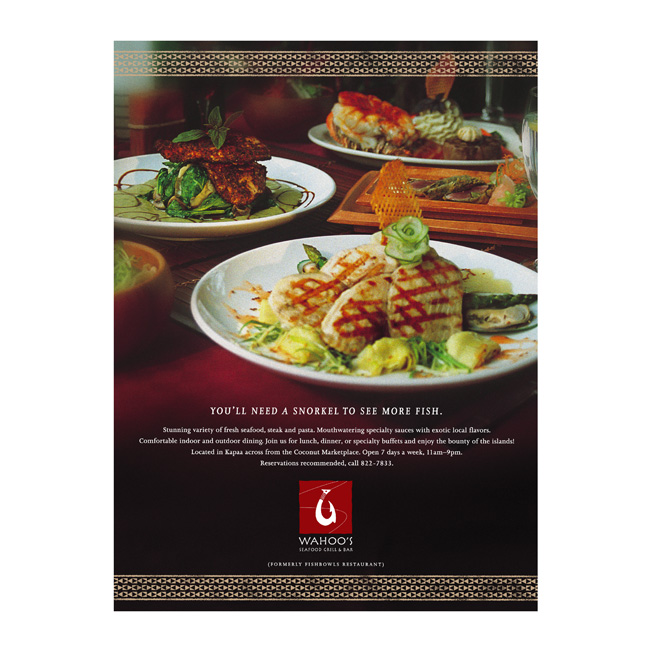 Wahooo's Restaurant Advertising
Always working to communicate the quantity and quality of the fresh fish available at Wahooo's, through print, web, and broadcast media.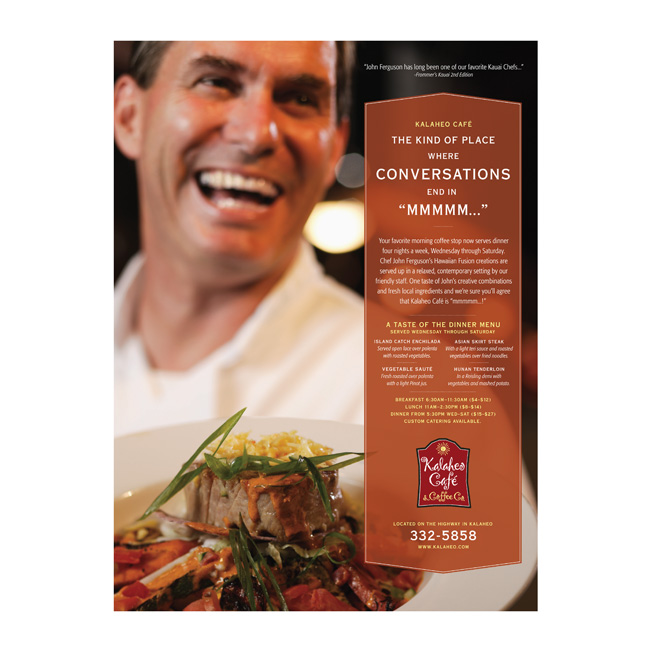 Kalaheo Café Print Advertising
John Ferguson, the owner and executive chef, is quite a personality. We felt it was appropriate to focus on him in the advertising because he's the kind of guy that's just fun to hang around with. And the food? Simply superb.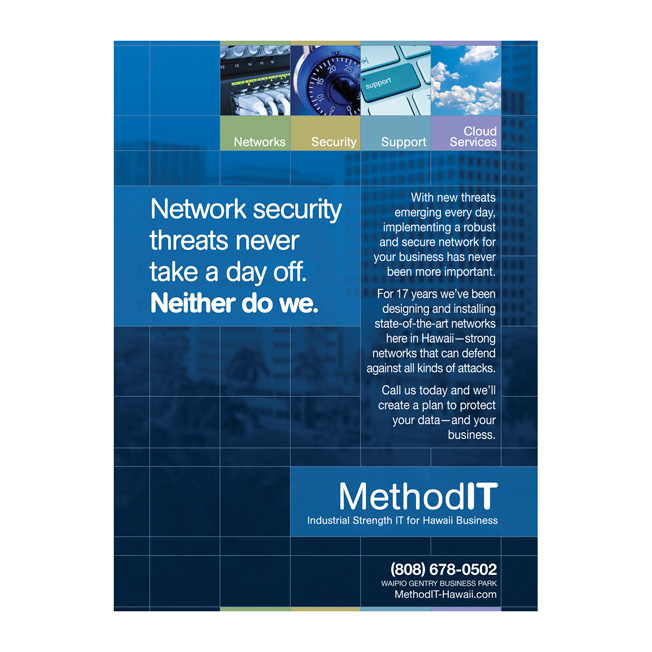 MethodIT Print Advertising
MethodIT is a Honolulu-based provider of IT services and support to the Hawaii business market. Specializing in networks, wireless integration, and cloud services, they provide the critical IT support to keep island businesses up and running. The print ad was designed to support MethodIT in the local market — it's bold, simple message inspires confidence that business need when searching for IT support.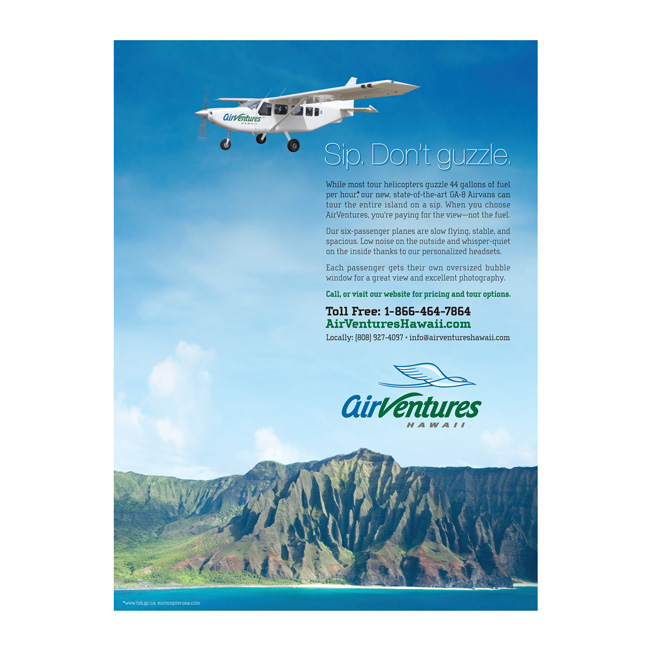 AirVentures Hawaii Print Ad
In air tour world, the historic perception is that, for some reason, helicopter flights are better. Not necessarily true. In AirVentures fuel-friendly G-8 AirVan, every single passenger gets their own window, AND, there is no weight limit. Our challenge was to get people to think differently.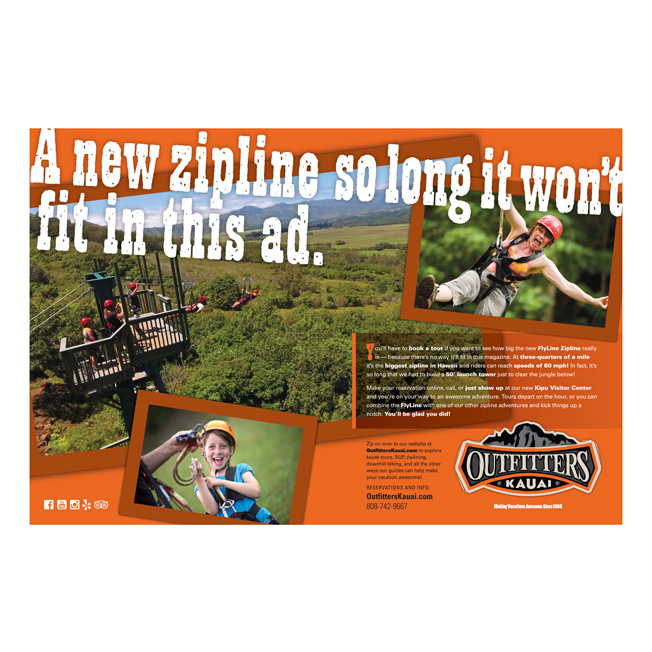 Outfitters Kauai Two Page Ad
The newest
Kauai zipline
at Outfitters Kauai is so big that it literally won't fit in this two page ad!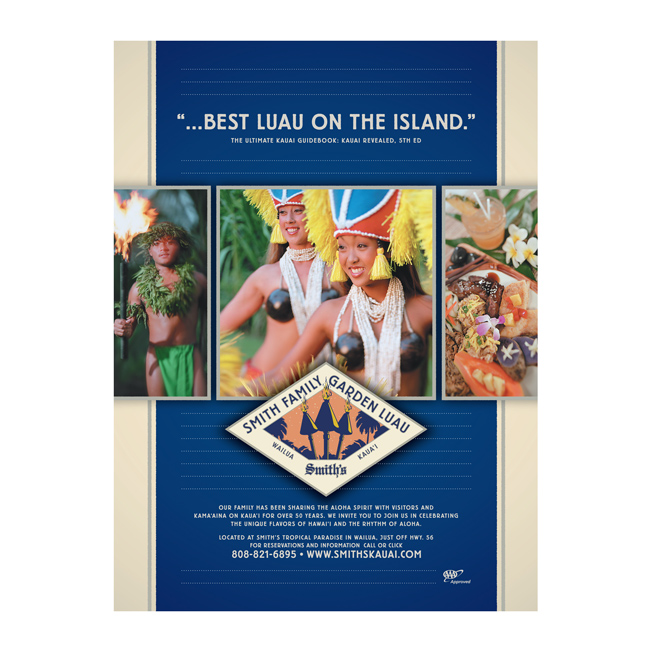 Smith's Luau Advertising
Full Page Luau Advertisement. How can anyone resist beautiful Tahitian dancers? If you've got 'em, flaunt 'em. Besides being the best luau show on the island, their food is pretty amazing as well.