The Islands
:: Hawaii Product Marketing & Design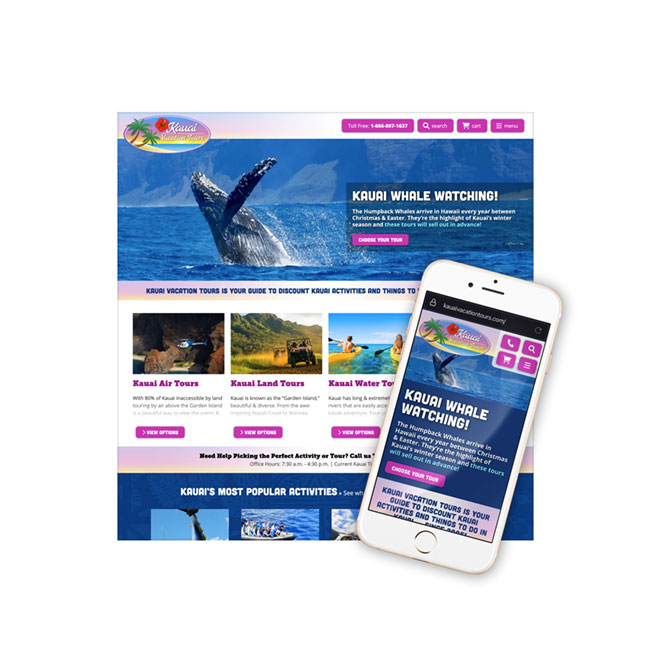 Kauai Vacation Tours Website Design
Kauai Vacation Tours
is a fresh and fun business on the island of Kauai that provides visitors with amazing vacation experiences. This new, easy-to-use, e-commerce website offers users access to nearly one hundred great tours — all in one place — with in-depth local knowledge and friendly service.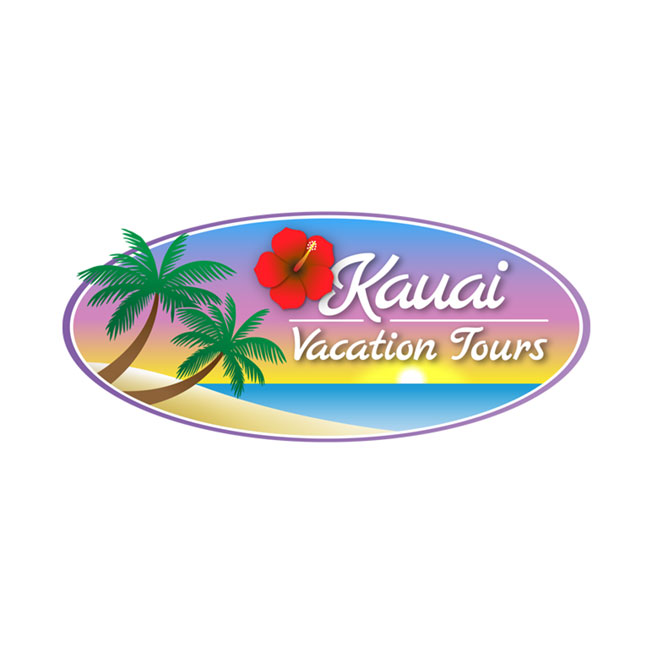 Kauai Vacation Tours Logo Design
We created this bright and colorful new logo for
Kauai Vacation Tours
— a vacation activity service on the island of Kauai.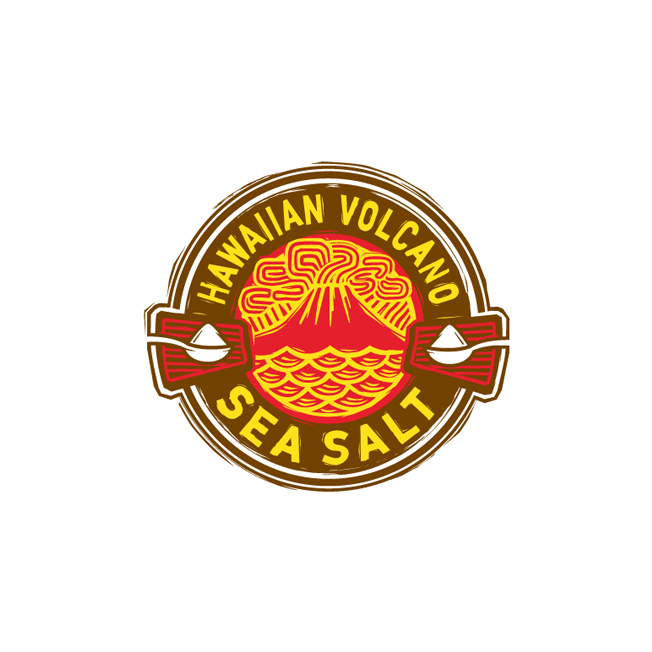 Hawaiian Volcano Sea Salt Logo Design
The logo we developed for Hawaiian Volcano Sea Salt captures the raw, rough character of their Hawaii-made smoked sea salts and culinary seasonings. The self-contained shape allows our client to easily apply the new brand identity to a variety of products and marketing materials.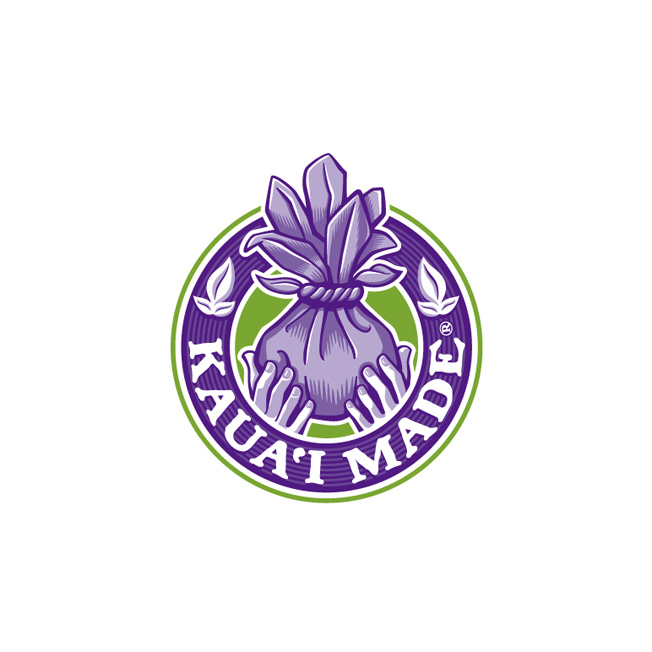 Kauai Made® Logo
We created this new logo for the Kauai Made® program to give them a stronger, more legible, more "hand crafted" feel. The symbol is a "ho'okupu" or "honored gift" which was traditionally an item of exceptional value which had been wrapped in a ti leaf lei.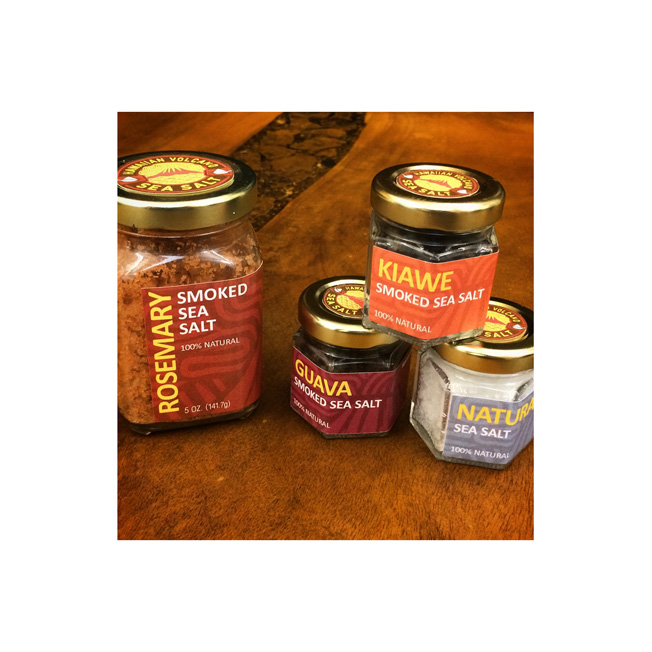 Hawaiian Volcano Sea Salt Jar Label System
Hawaiian Volcano Sea Salt creates their unique culinary seasonings on the Big Island of Hawaii where they started smoking sea salt to use in their own cooking — and eventually grew into a successful business. Pure ocean water is drawn from over 2,200 feet below the surface and is desalinated resulting in flaky white deep-sea salt. That salt is then smoked using Guava and Kiawe wood which gives it a unique color and flavor profile. Adding a pinch to your recipes brings a rich, authentic BBQ flavor to any dish.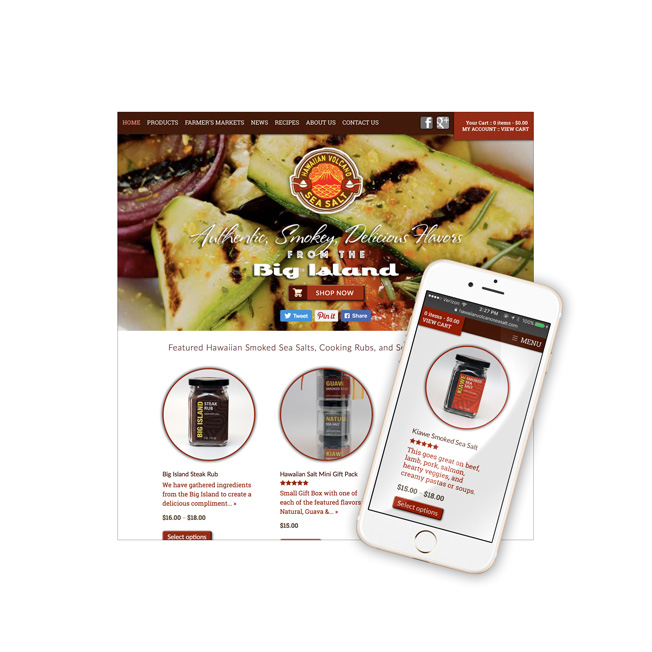 Hawaiian Volcano Sea Salt Website
We designed and developed this e-commerce website for Hawaiian Volcano Sea Salt so that they could sell their line of unique Hawaii-made products online. A fully-custom theme built on top of the WordPress/WooCommerce framework - the site is both easy to use and easy to administer.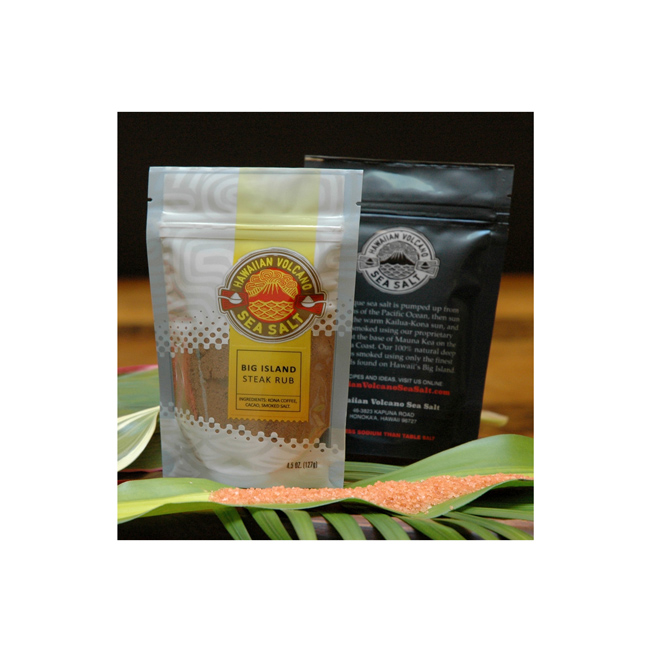 Hawaiian Volcano Sea Salt Packaging
Hawaiian Volcano Sea Salt needed a packaging system which would allow them to brand and protect their unique products which are sold on their website and at retail locations on the Big Island of Hawaii. We developed a cost-effective standing pouch and label system that would allow them lots of flexibility as their line of products evolves.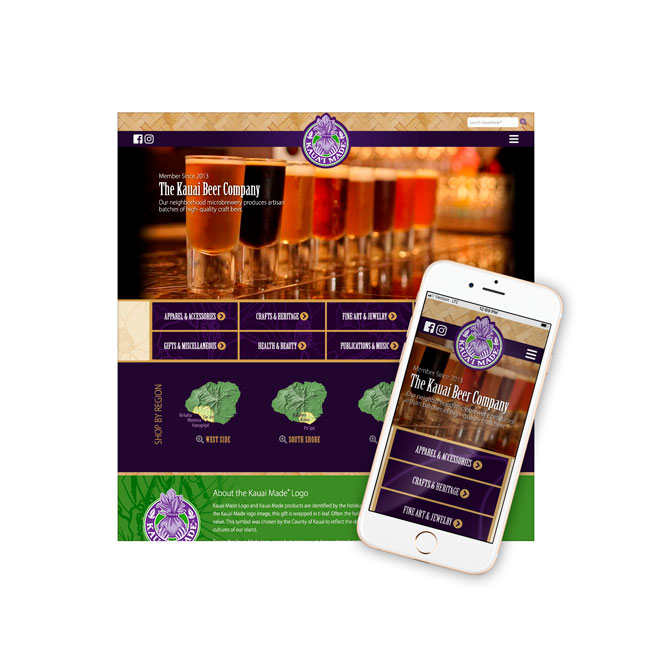 Kauai Made Website Design
We built the first Kaua'i Made® Products website back in 2011, and have worked with the client to host and maintain the site since then. When they wanted to upgrade the site and leverage new technology, the again chose the team at Delicious Design. We worked with them to identify their current needs, apply new technology to solve challenges, and delivered a robust new website that focuses on sending traffic to member sites, and provides the members with improved admin access so that they can maintain their listings more easily and efficiently!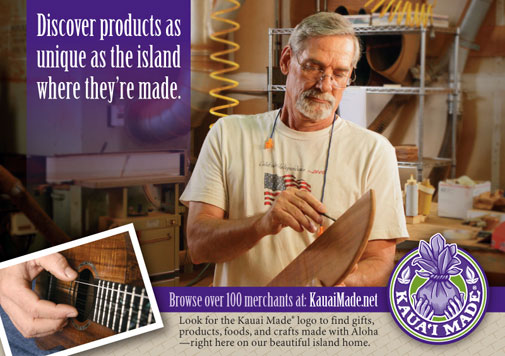 Kauai Made Ad Design
Kauai Magazine Advertisement. This second ad showcases The Koa Store where hand-crafted gifts and artwork are made from rare Hawaiian Koa wood.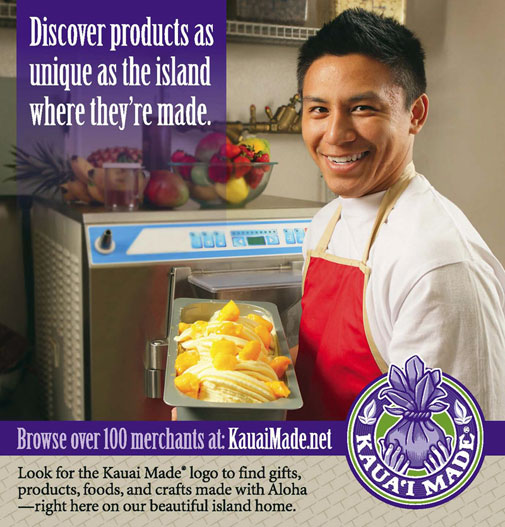 Kauai Made Advertising
Hawaii Magazine Advertisement. This first ad in the series features Papalani Gelato and their mouth-watering frozen treats.