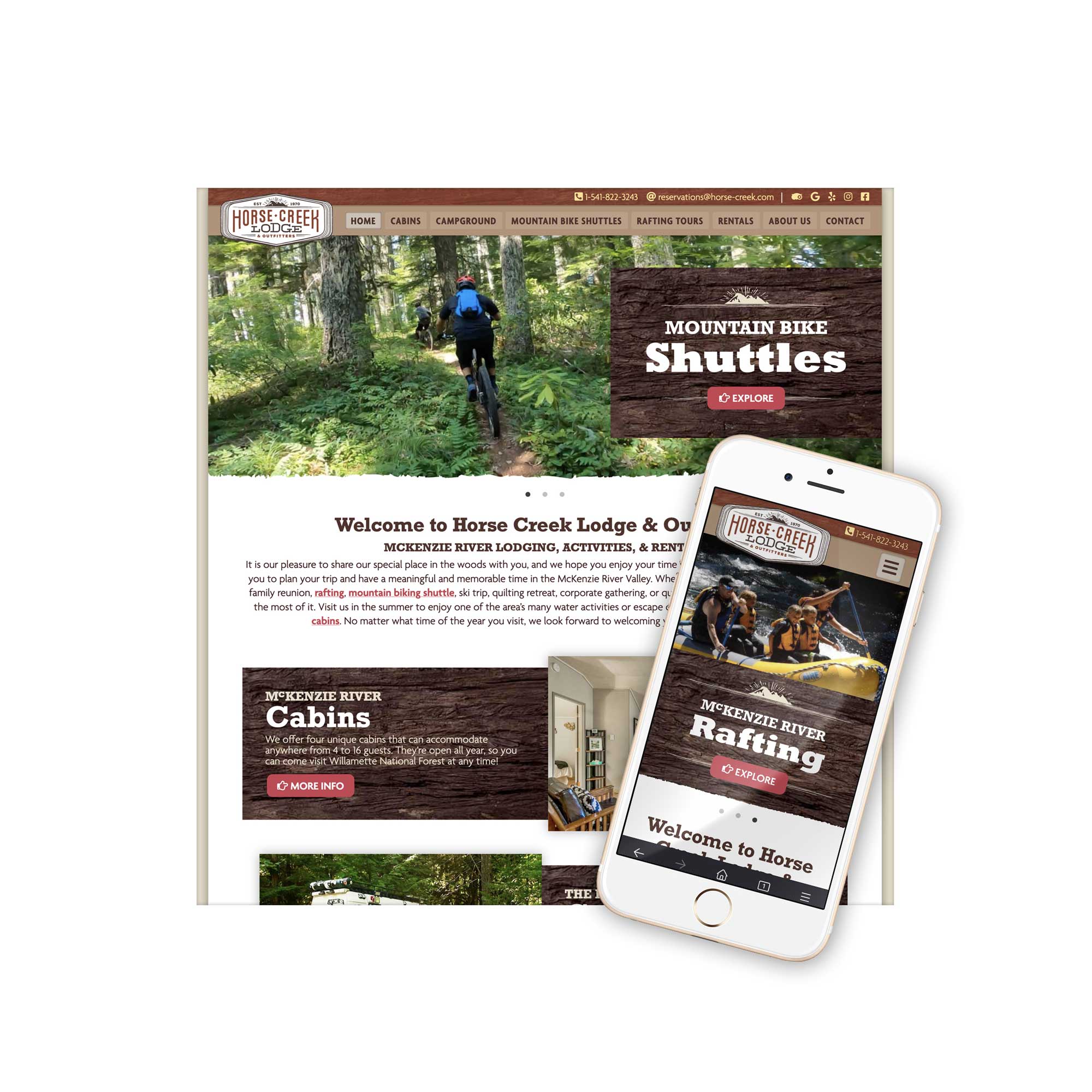 Horse Creek Lodge Website Design
A unique vacation destination in the McKenzie River Valley,
Horse Creek Lodge
asked Delicious to build a new website which captures the feeling of their brand, would be easy to maintain, and easy for guests to use. Horse Creek features four cabins and a campground for anyone who wants to experience an authentic Oregon forest get-away. Other popular offerings include mountain bike shuttles on the world-famous McKenzie River Trail, rafting tours, and rental gear.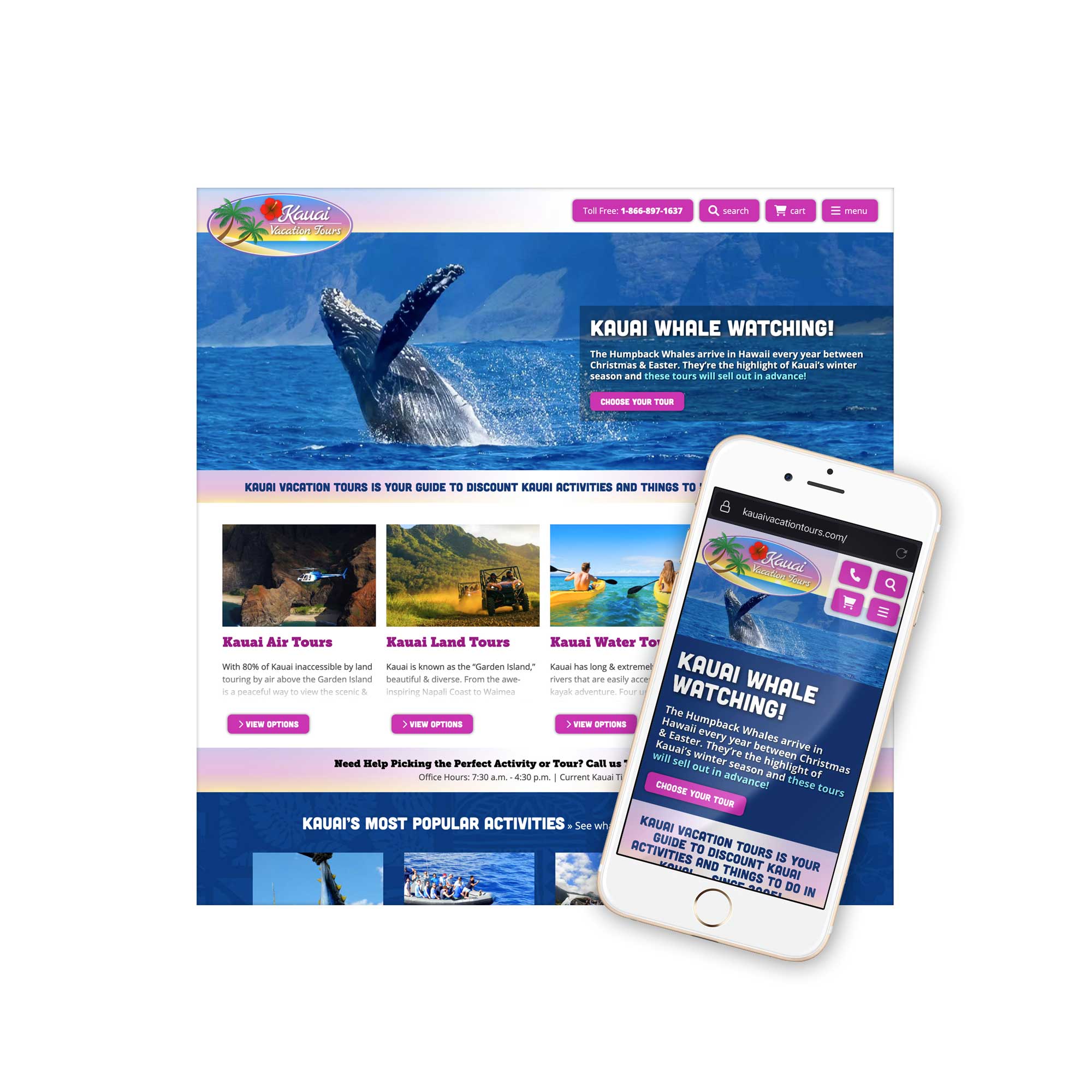 Kauai Vacation Tours Website Design
Kauai Vacation Tours
is a fresh and fun business on the island of Kauai that provides visitors with amazing vacation experiences. This new, easy-to-use, e-commerce website offers users access to nearly one hundred great tours — all in one place — with in-depth local knowledge and friendly service.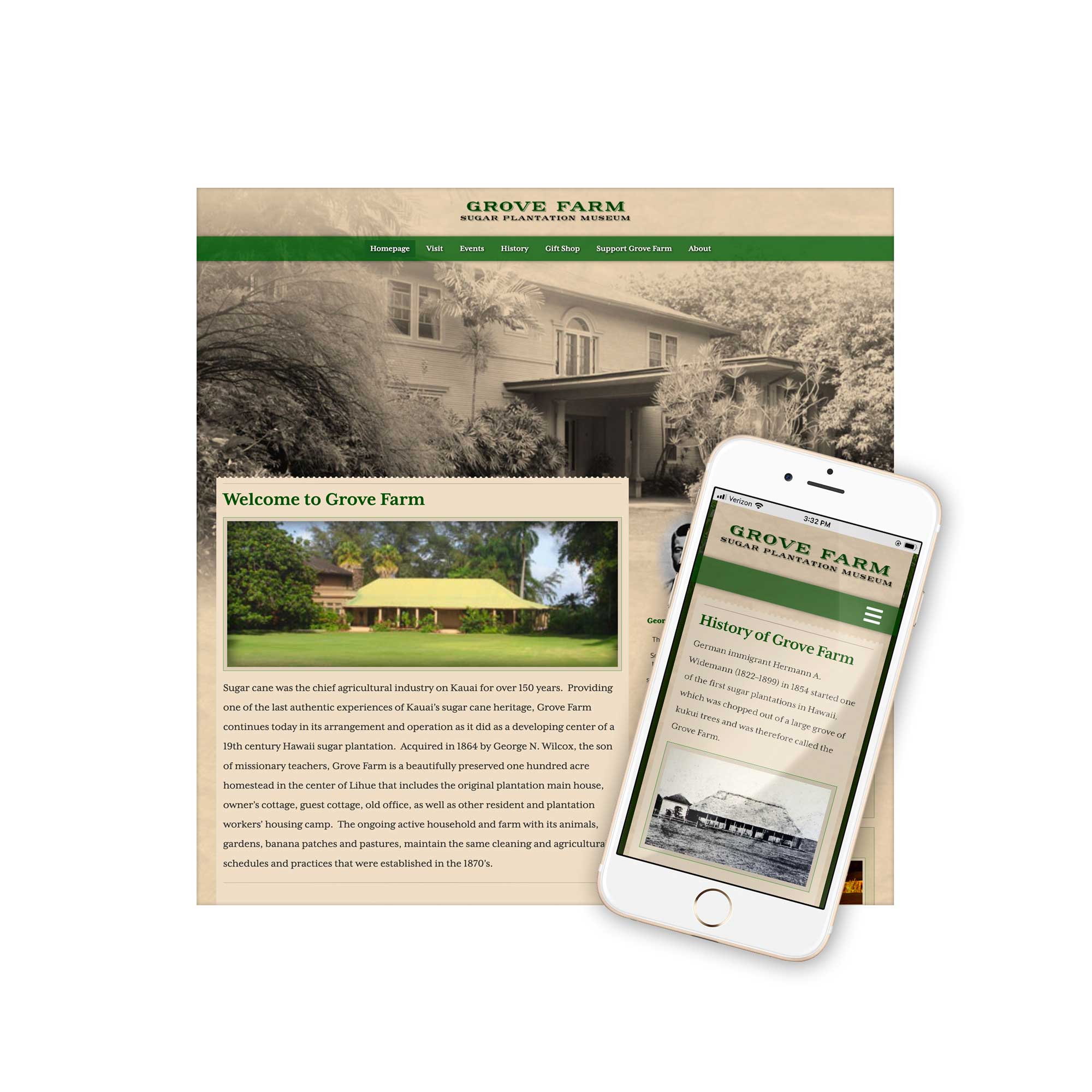 Grove Farm Museum Website Design
Grove Farm
was one of the original sugar cane plantations of Hawaii, and the Grove Farm estate was home to the Wilcox family for over 100 years before it became the museum it is today. Public tours are available three days a week with a limit of four guests per tour for a personalized and intimate look into Kauai's past.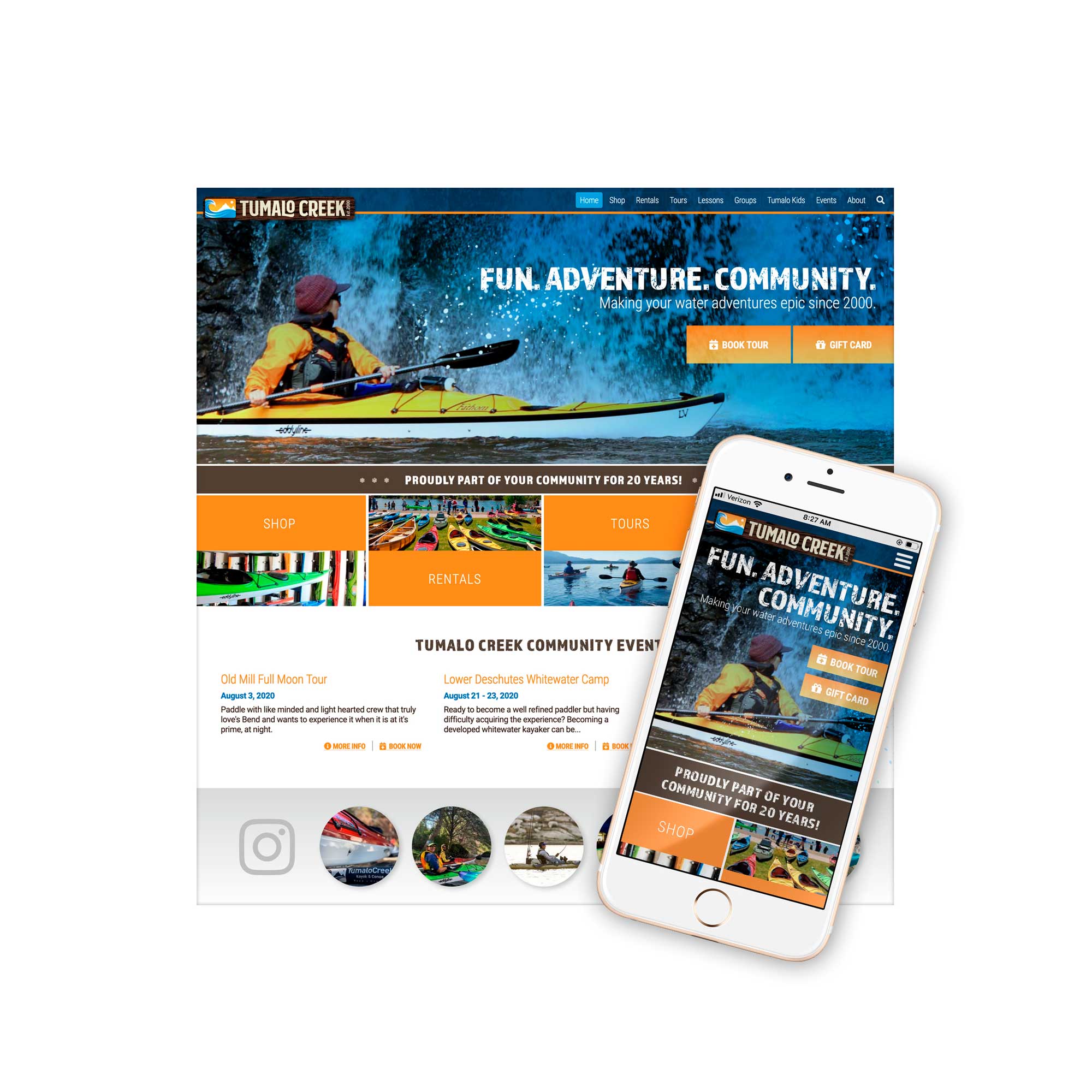 Tumalo Creek Website Design
When
Tumalo Creek
wanted to update their website to leverage new technology, they did their homework and chose Delicious to be their development partner. In an effort to streamline their reservation process and free up staff to better meet customer's needs, they were looking to integrate their Xola Reservation System into their website functionality, which was accomplished seamlessly.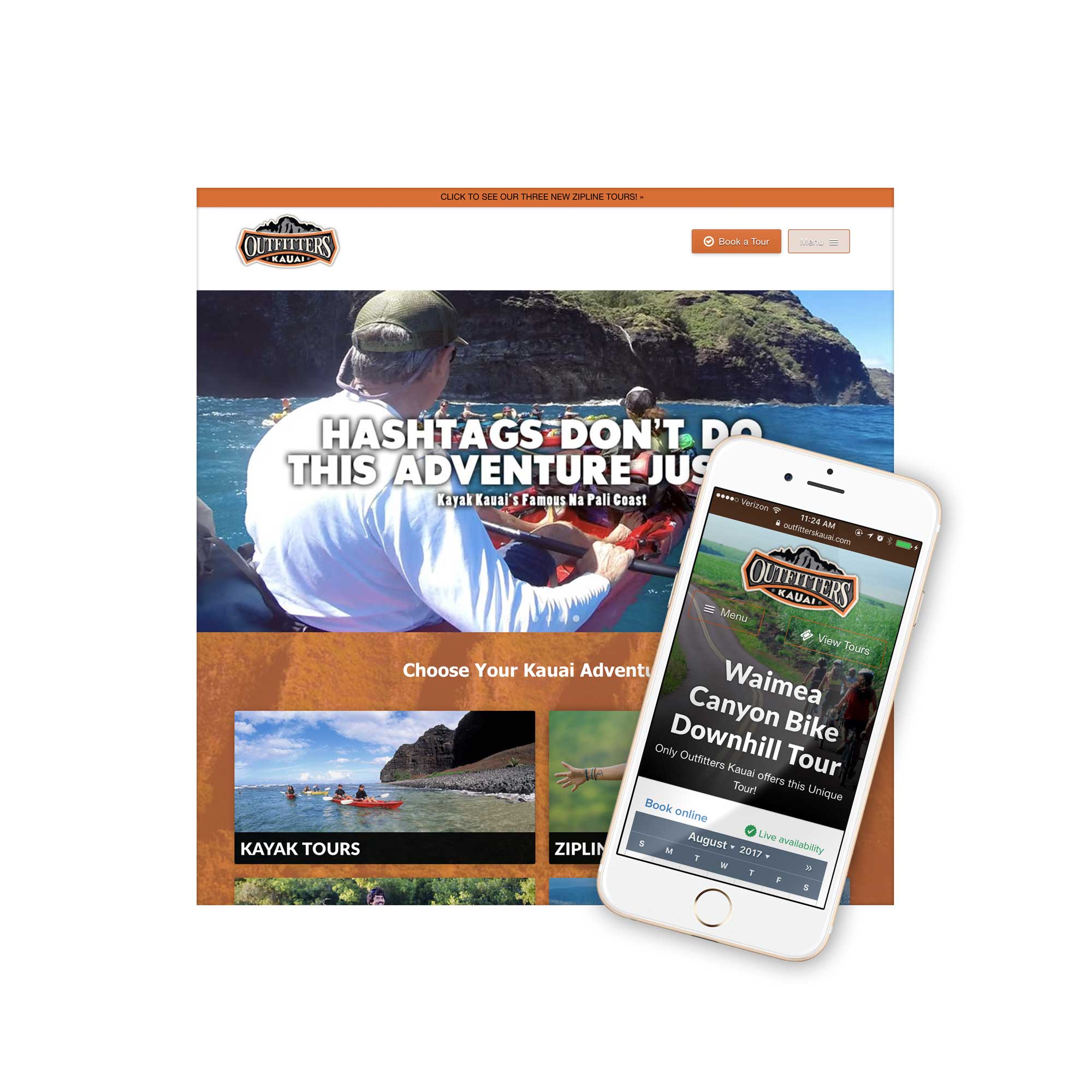 Outfitters Kauai Fare Harbor Website
Outfitters Kauai uses Fare Harbor to manage reservations and tours and part of that system includes a website template provided by Fare Harbor. Since it's a WordPress theme, the position and structure of the elements is set in stone — our job was to enhance the messaging, fine tune the content, and bring the off-the-shelf design in line with the new brand.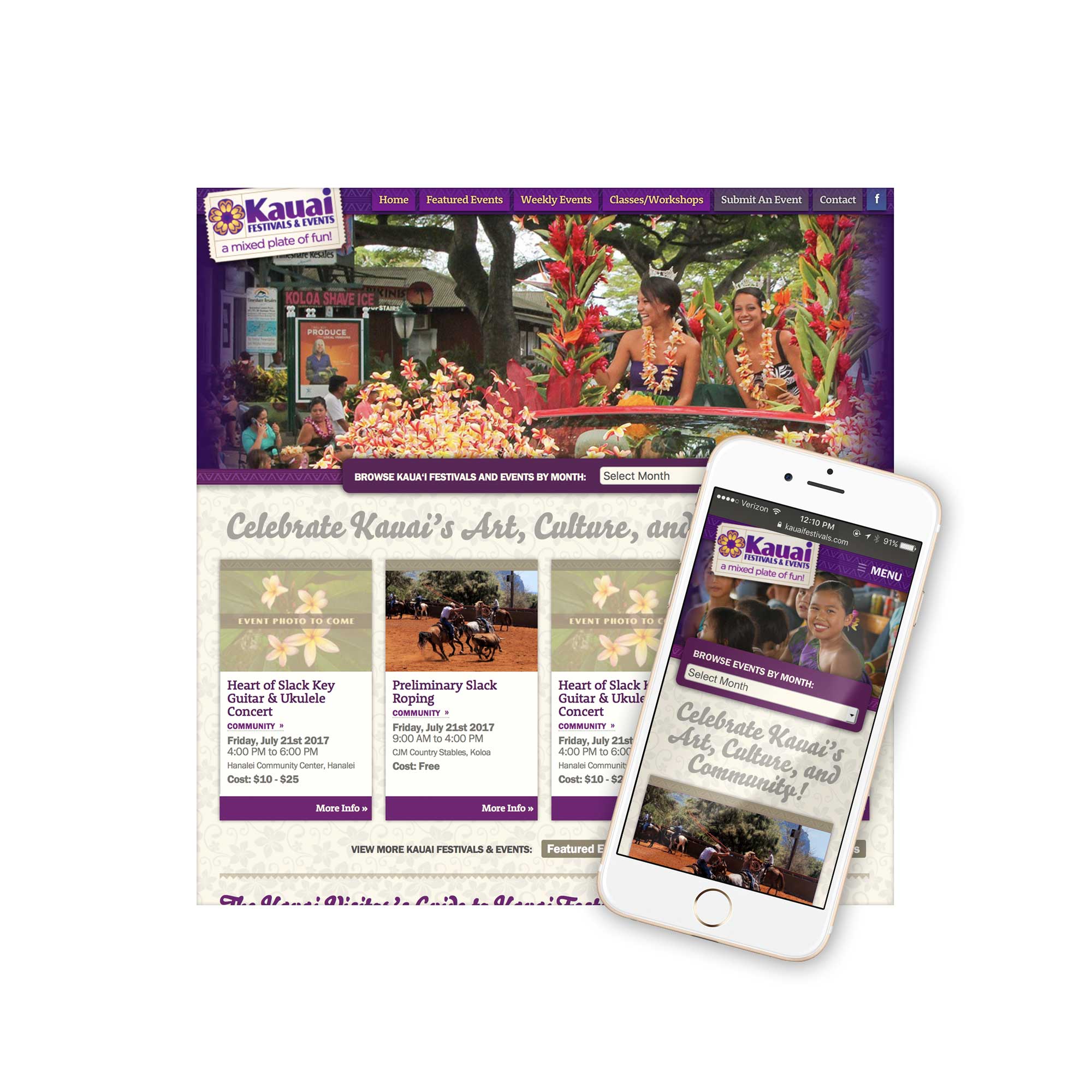 Event Website Design
We originally built their first website back in 2002 and
Kauai Festivals
came back to us in 2010 to rebuild and relaunch a new website that would be faster, and take advantage of new technologies, including video streaming and a more robust back-end that allows individual festival organizers to manage their online listing themselves, saving time and money for the County of Kauai. Then in 2016, we were able to do the same thing again for them - building another new website that leveraged even newer technology and plug-ins that allowed us to make the admin area even easier for them to manage and update on a daily basis.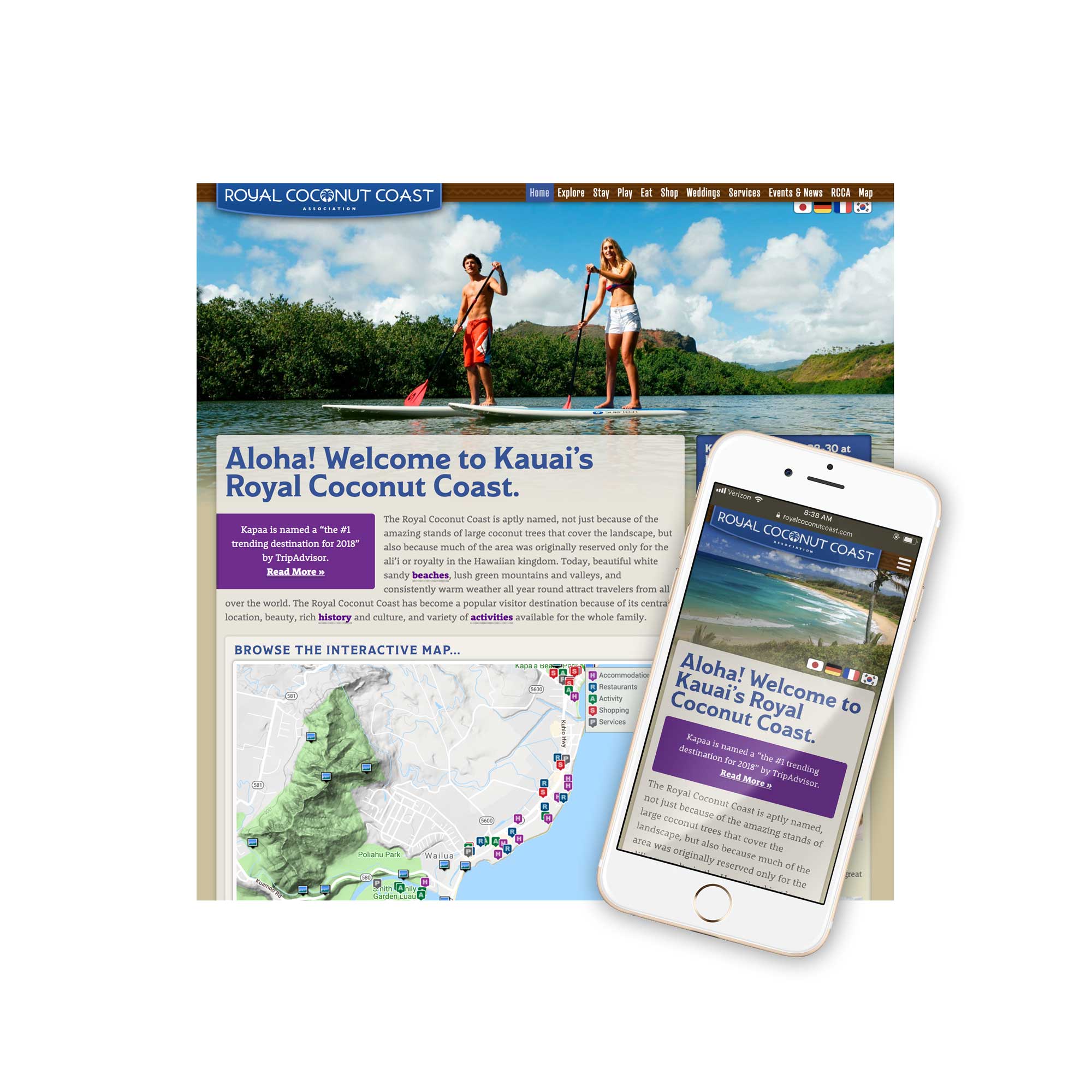 Royal Coconut Coast Website Design
We designed and built this interactive, mobile-friendly, responsive, WordPress website to support the Royal Coconut Coast Association's mission of marketing the
Kapaa
corridor to Kauai travelers and tourists. The site includes 60 member-businesses and covers 45 topics that visitors will find useful for vacation planning.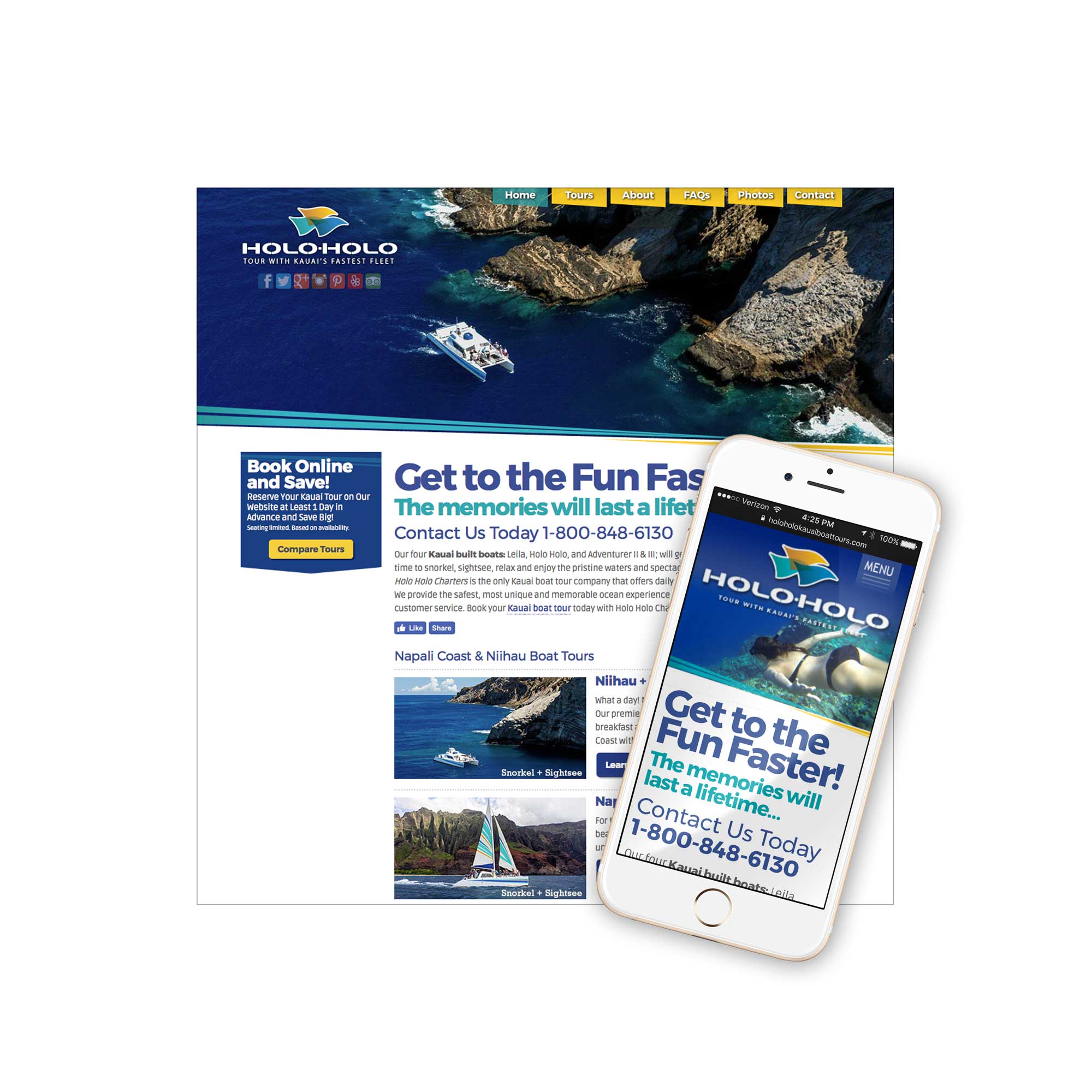 Holo Holo Charters Website
Our Analytics reporting was showing that visitors who had already arrived in Hawaii were using their phones to search for things to do on Kauai—so we built this mobile optimized website and launched a mobile ad campaign to make sure Holo Holo's customers were able to find the information they were looking for in a format that was easy to use. The result? A big jump in the number of mobile reservations.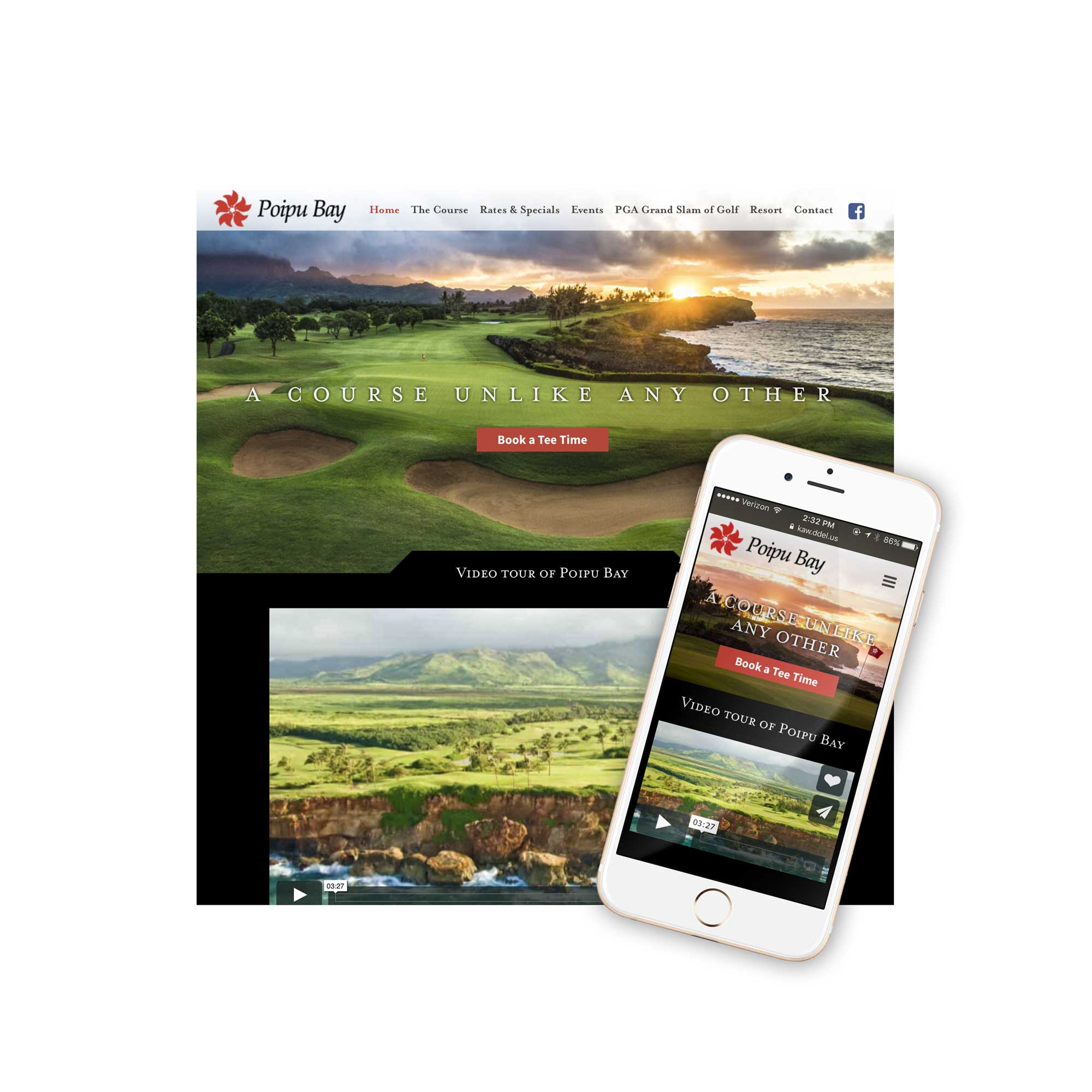 Poipu Bay Golf Course Website
The PGA Grand Slam is no longer played at
Poipu Bay Golf Course
, but the course is just as amazing as ever, and the website needed to deliver on that experience. It also leverages third-party tee time reservation software.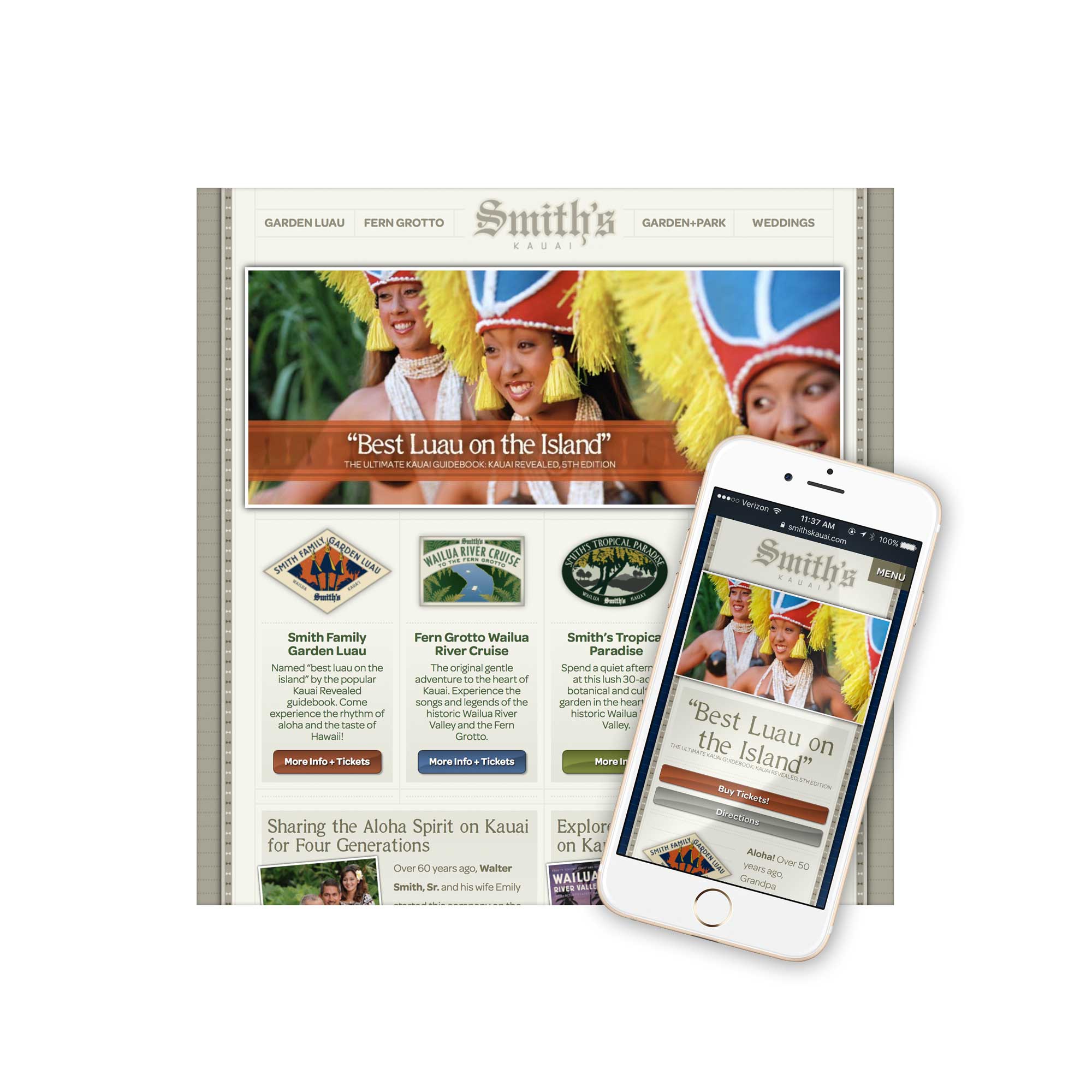 Smith's Website Design
This web site is actually four web sites in one. Their businesses all work to support and drive traffic to one another, and also allows you to purchase tickets online, or make plans for your special wedding day. We had been monitoring mobile usage on the Smith's Kauai website for the last few years and when these visitors reached a threshold of 20% of all traffic, we knew it was time to create a mobile phone optimized website design. As of Spring 2013, over 38% of website visitors to the Smith's website are using mobile devices—and that's a trend we see continuing into the future.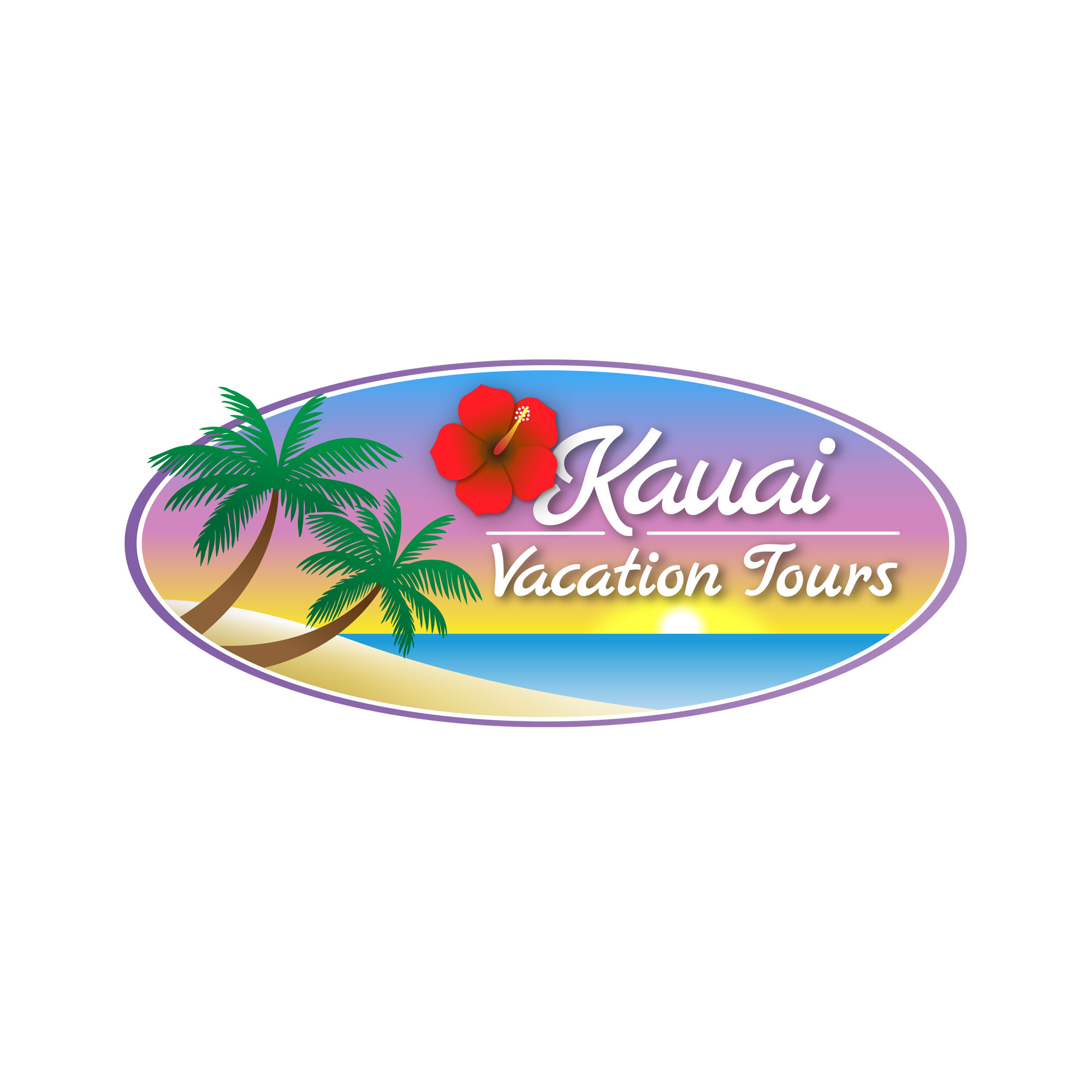 Kauai Vacation Tours Logo Design
We created this bright and colorful new logo for
Kauai Vacation Tours
— a vacation activity service on the island of Kauai.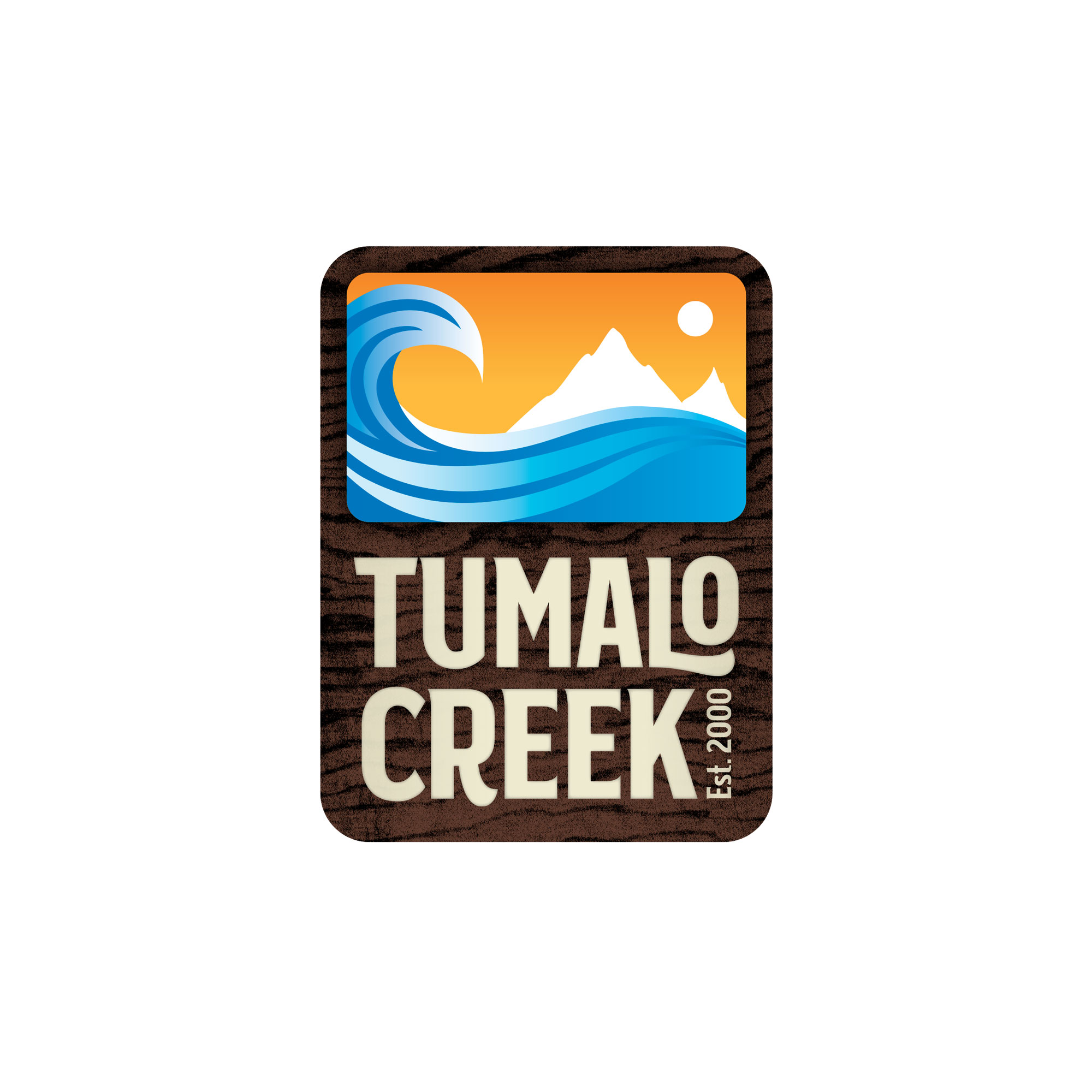 Tumalo Creek Logo Design
Tumalo Creek's
20th anniversary is in 2020, and they were looking to refresh their existing logo to bring it more in line with current design aesthetics. Keeping the feel of the original logo illustration, while updating the font with some personality, the new logo pays homage to their history while presenting an updated image. We hope it serves them well for another 20 years!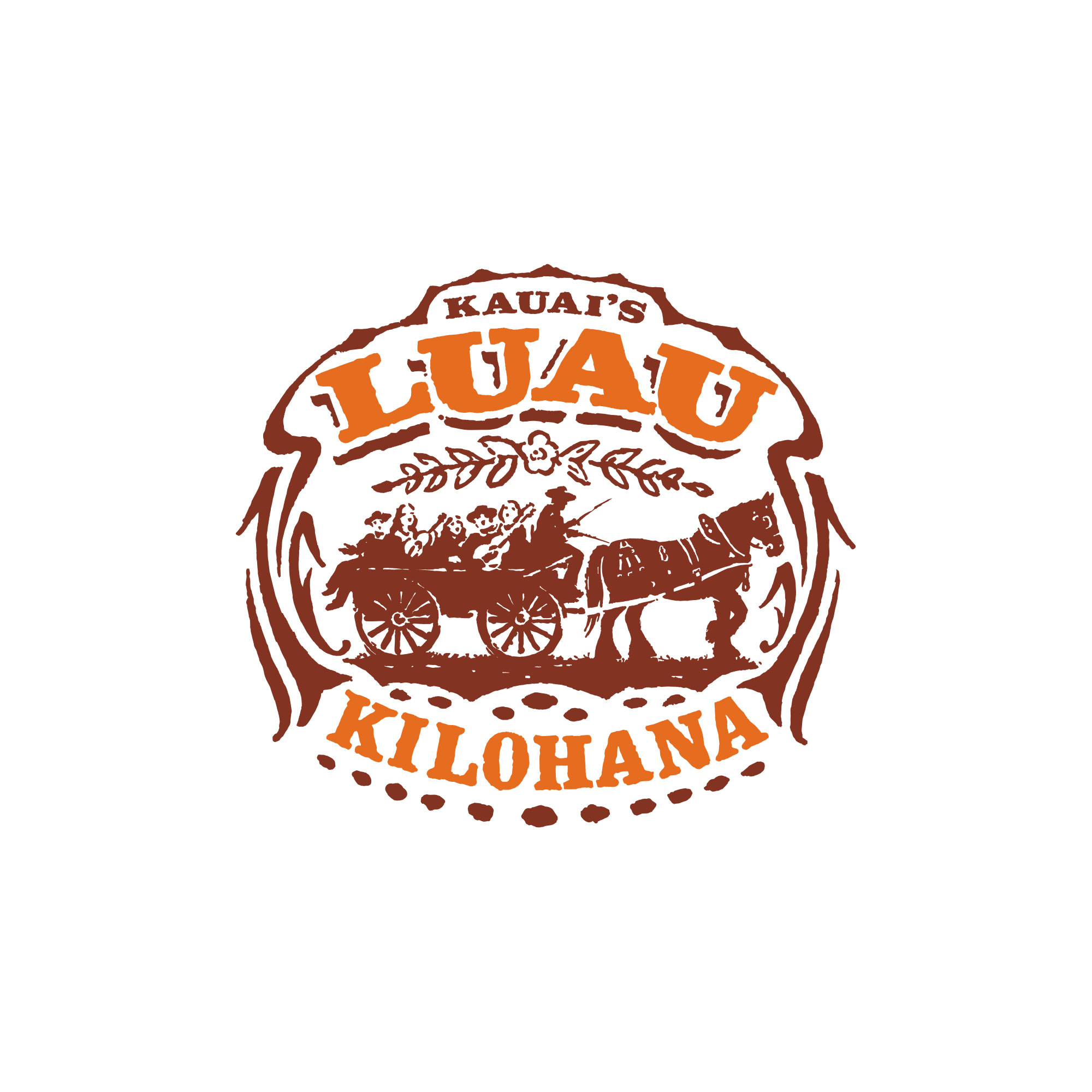 Luau Kilohana Logo Design
The Luau at Kilohana needed to set itself apart from all the other 'me too' luau experiences in Hawaii and they came to us for help. Along with their management team, we turned what was a 'typical' Hawaiian luau into a unique 'Sugar-Era Experience' which stood apart and grabbed the visitors' attention. This logo design was part of an award-winning campaign to re-brand the business.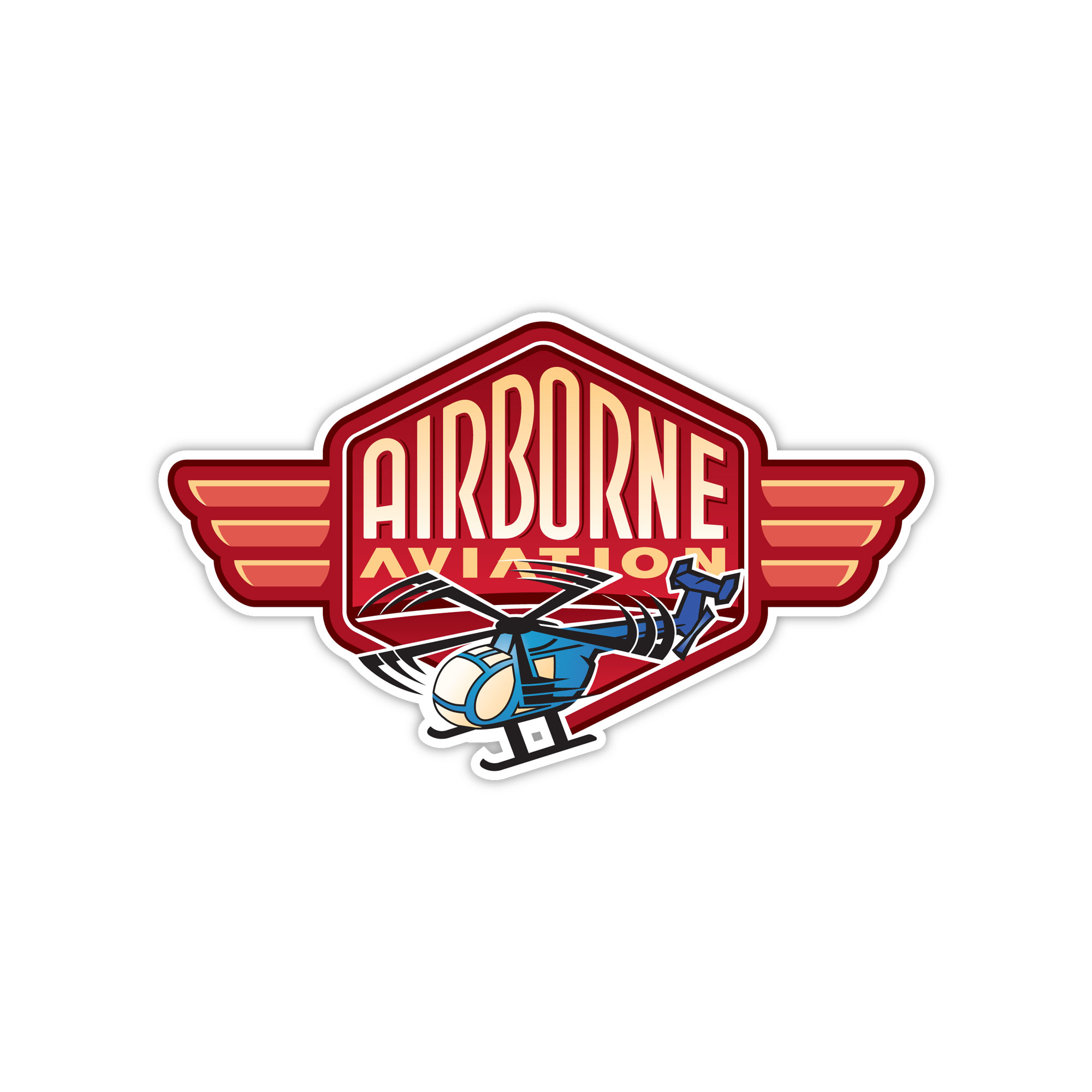 Airborne Aviation Logo Design
Airborne Aviation was looking to expand into scenic air tours so we worked with them to come up with a logo that would work for both sides of their business - government and tourism services.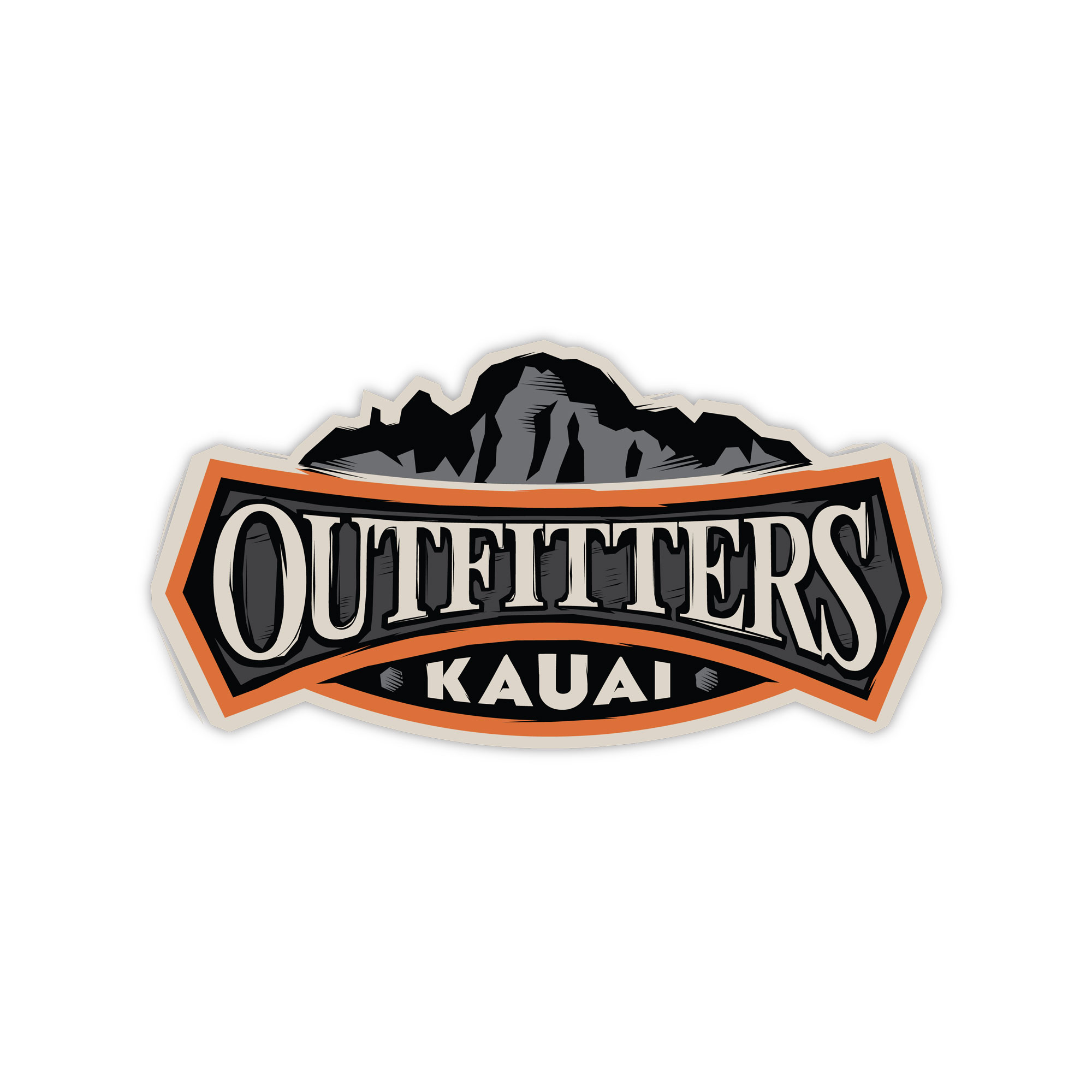 Outfitters Kauai Logo Design
We worked with the owners and management team of Outfitters Kauai on a new brand position, and once that was completed, this new logomark emerged from the findings of that collaboration.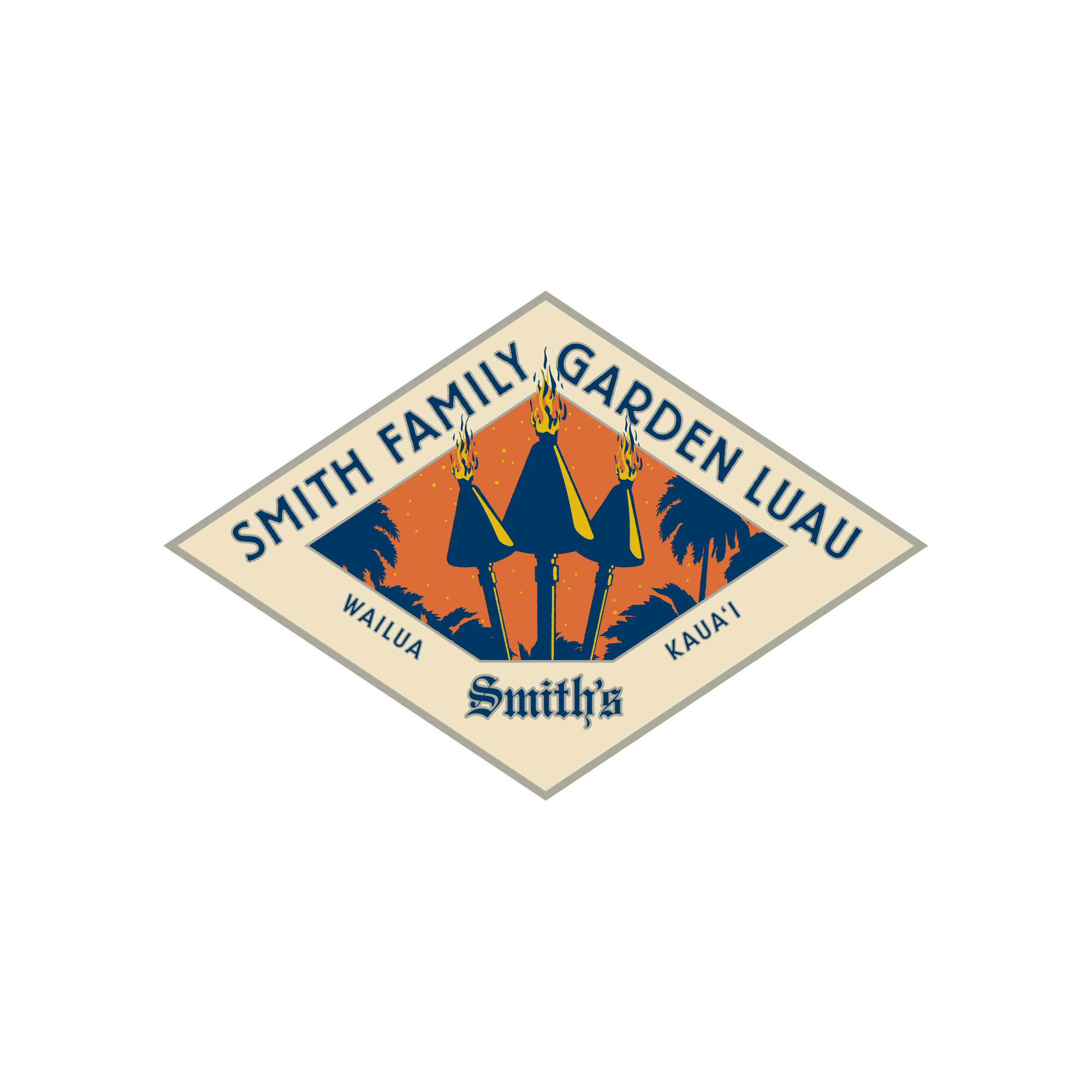 Smith's Luau Logo Design
After the "Smith's Motor Boat Services, Inc." umbrella brand was approved, we drilled down to each of the unique services that they offered. The two logomarks shown here represent: Smith's Family Garden Luau and Smith's Fern Grotto Wailua River Cruise. They also have a wedding business and botanical garden which are not included here.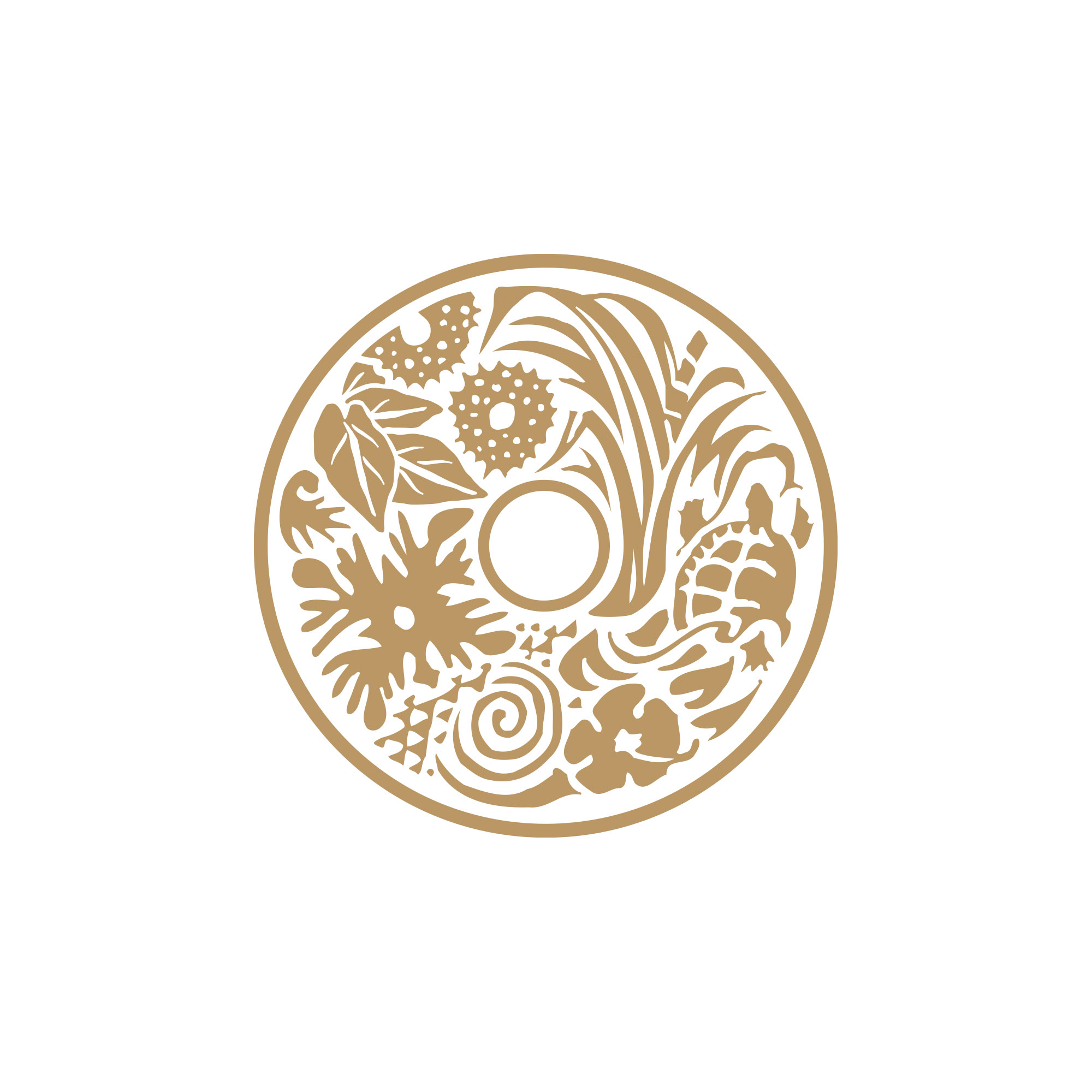 KVB Souvenir Pin Design
This 'logomark' was developed to go on a souvenir pin which the Kauai Visitors Bureau hands out at various industry trade shows and events. It captures many of the unique natural elements associated with Kauai in a petroglyph illustration style which is indigenous to Hawaii.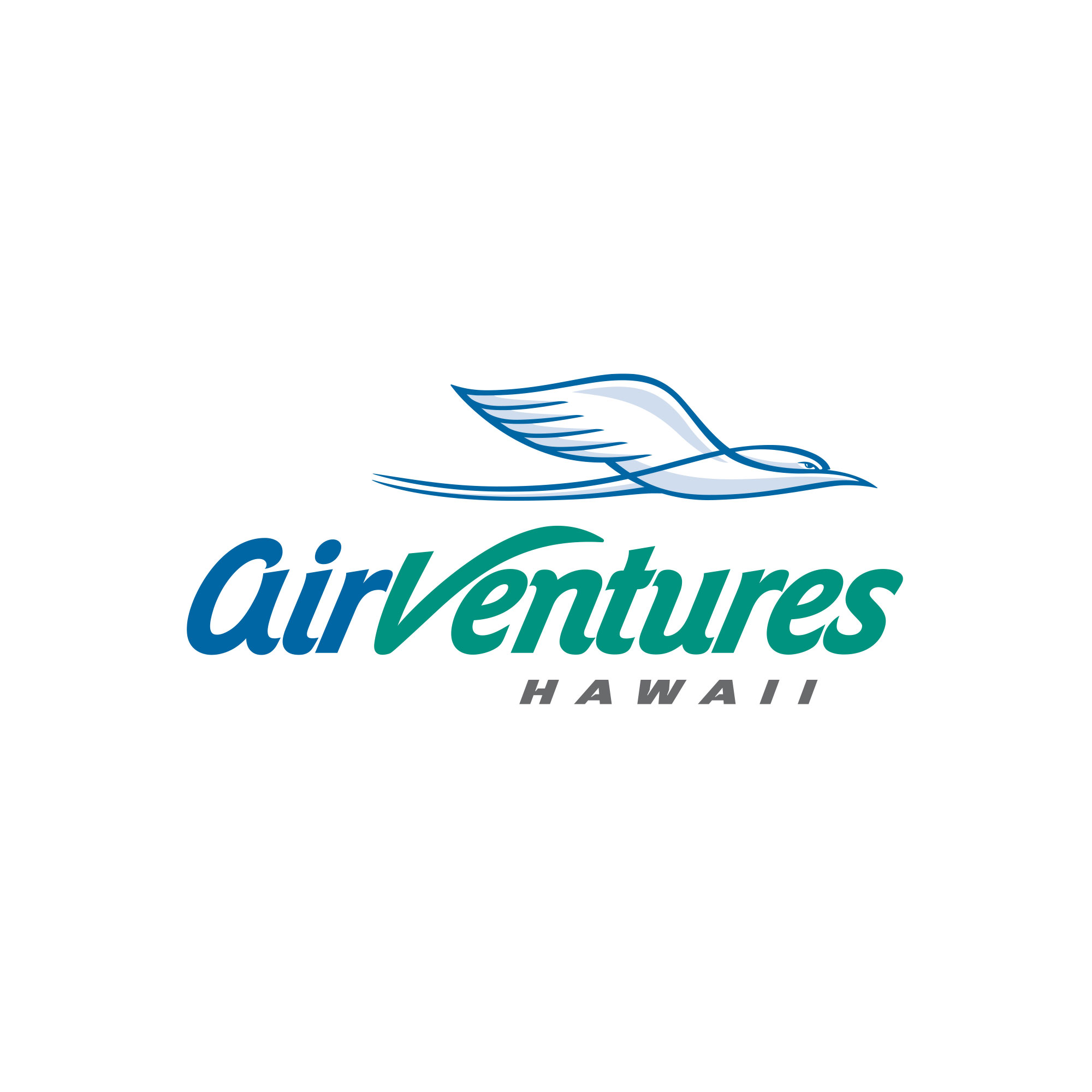 AirVentures Hawaii Logo Design
When you're flying around in an airplane, you feel free as a bird, and the tropic bird included in AirVentures Hawaii's logomark is part of the local culture.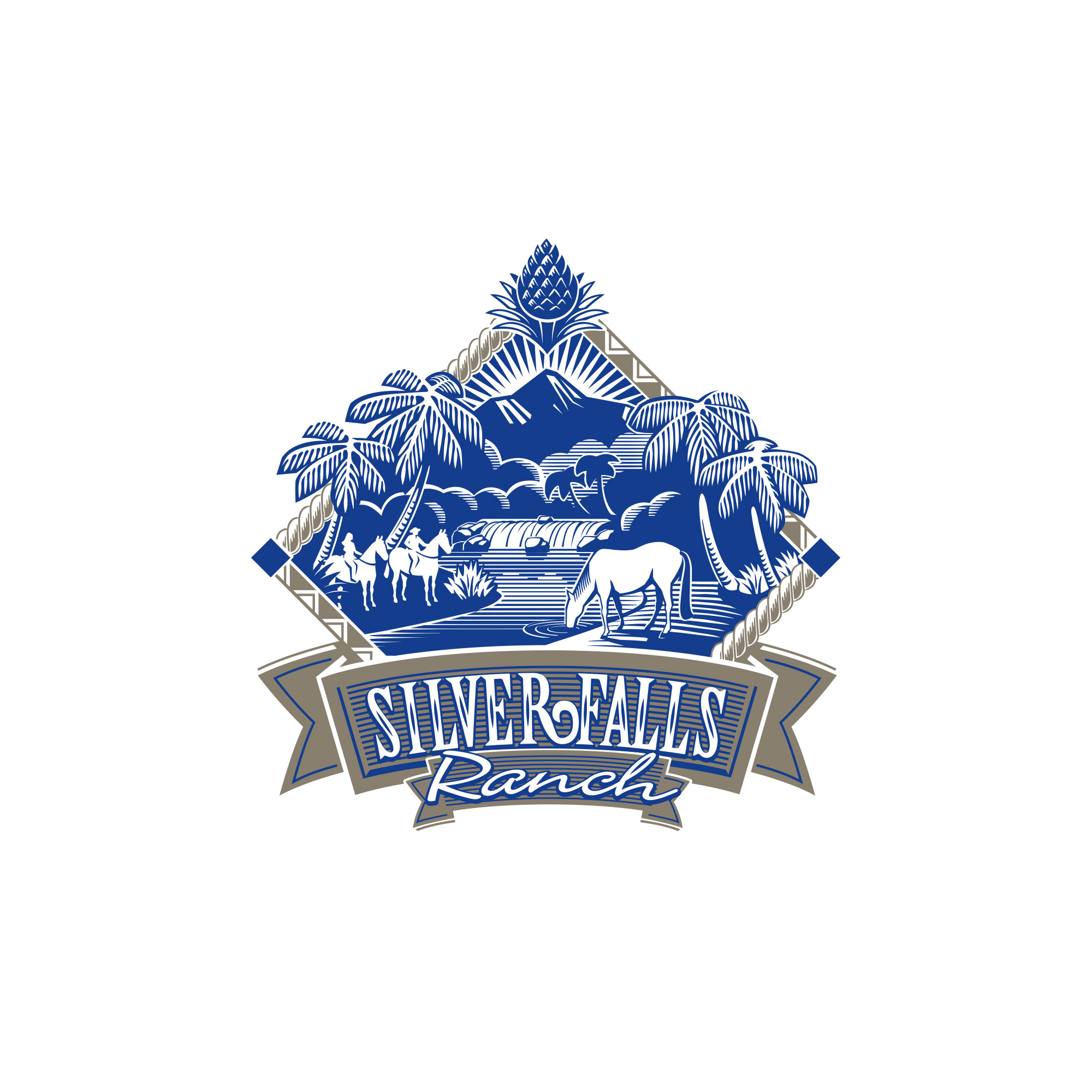 Silver Falls Logo Design
"Happy Horses" are alive and well at Silver Falls Ranch. The waterfall in the logomark is actually located on the property. I'd be a happy horse if I lived there.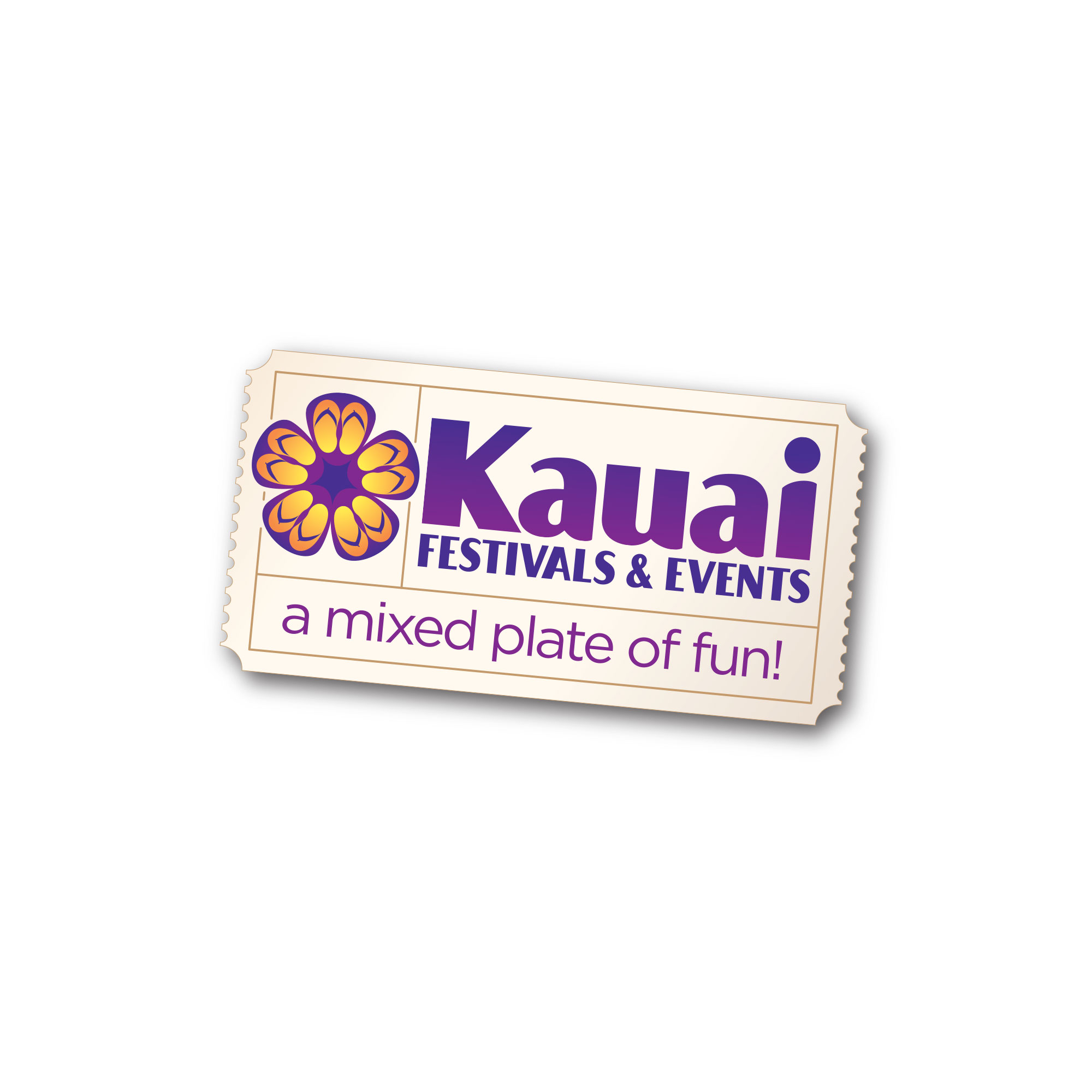 Kauai Festivals Logo Design
The brand position for this client dictated that the logomark should appeal to visitors and locals alike. Created in the shape of an event ticket, the logomark also sports an interesting detail. Can you see the five pairs of "slippers" in the flower shape?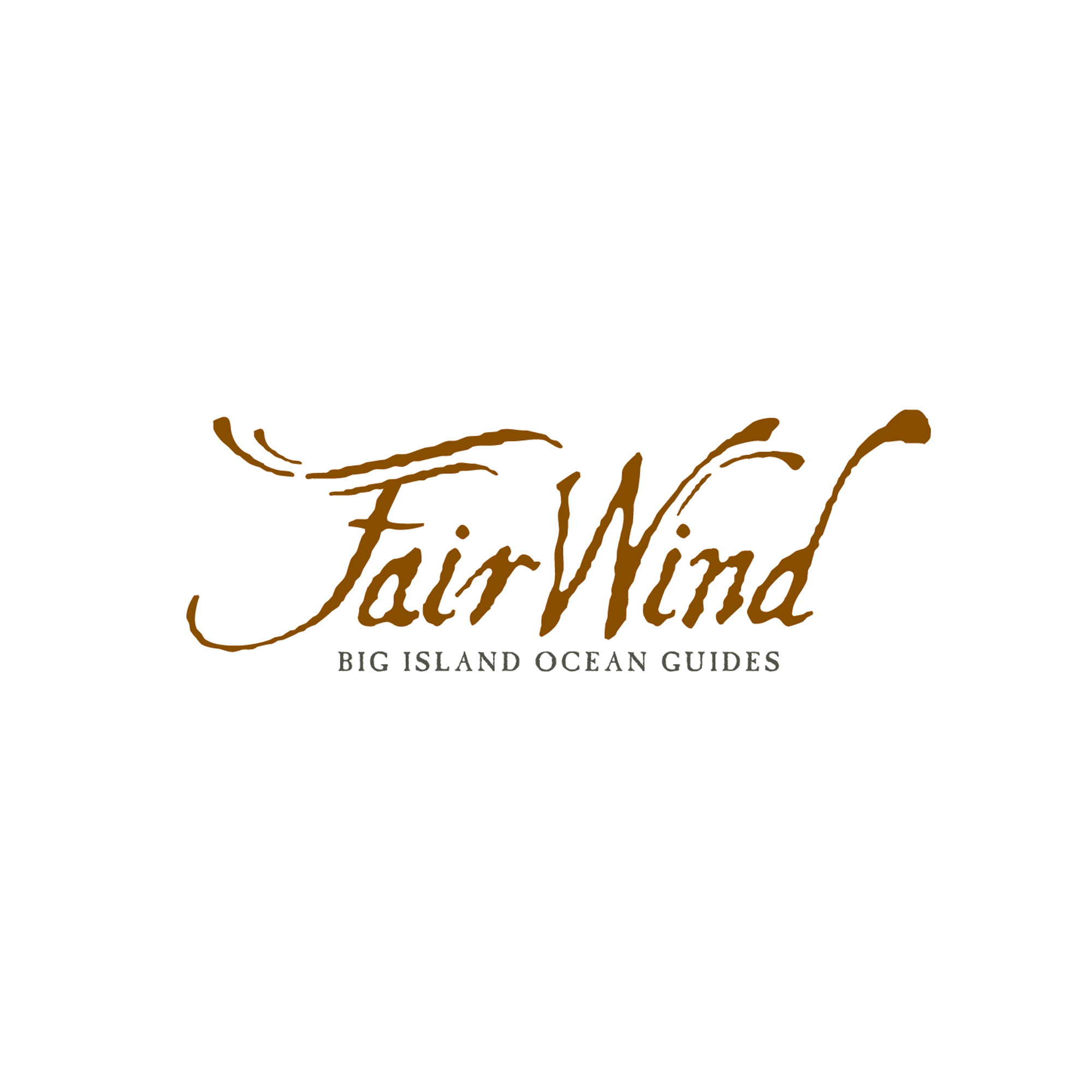 Fairwind Cruises Logo Design
Fair Wind came to us looking to upgrade their image because they were adding a more high-end ship to their already successful fleet. We came back to them with several options, from which they choose this "navigator" style mark.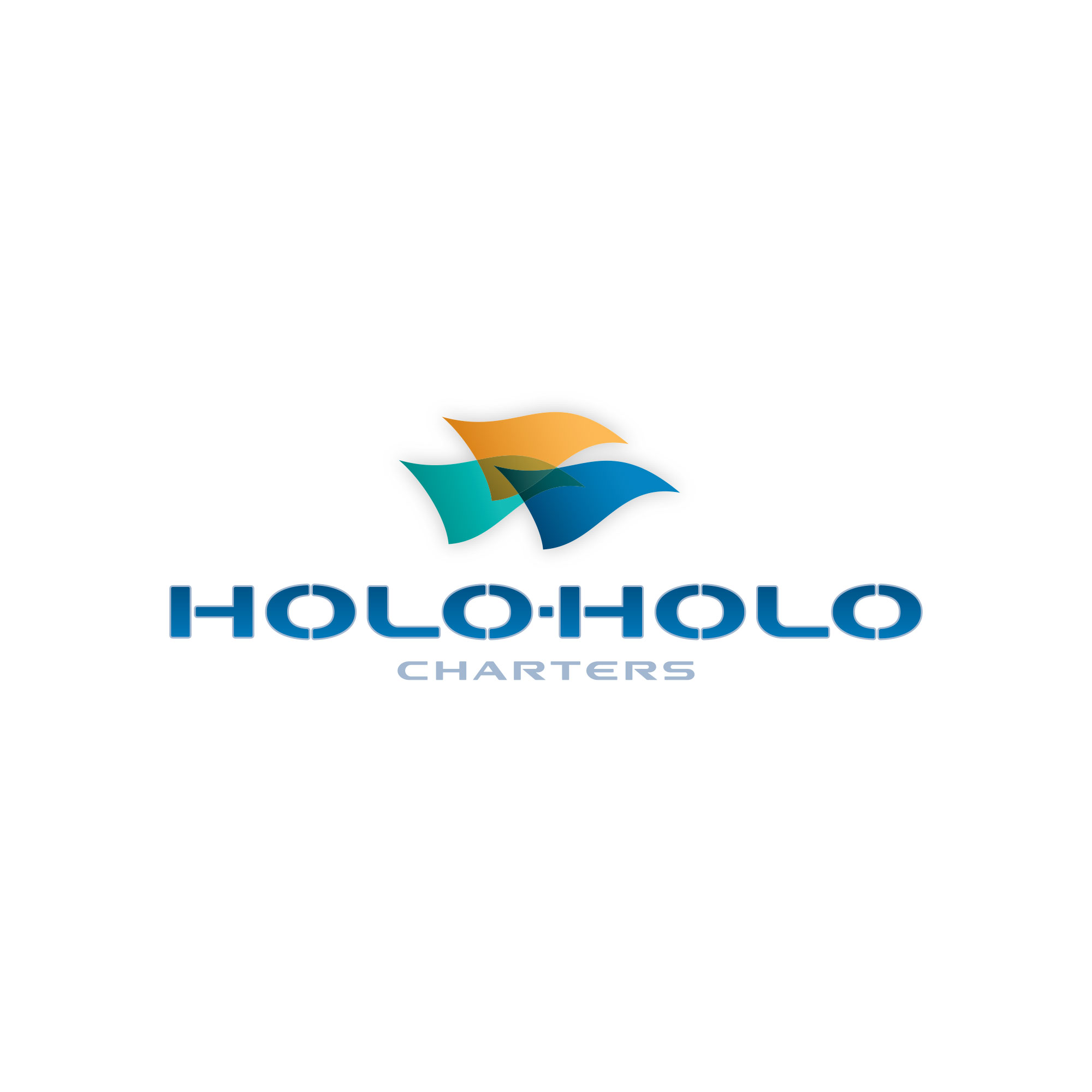 Holo Holo Logo Design
Holo Holo's previous logo design was of a petroglyph turtle, but once we completed the brand position and discovered that their brand was actually based on being fast, we knew the turtle had to go.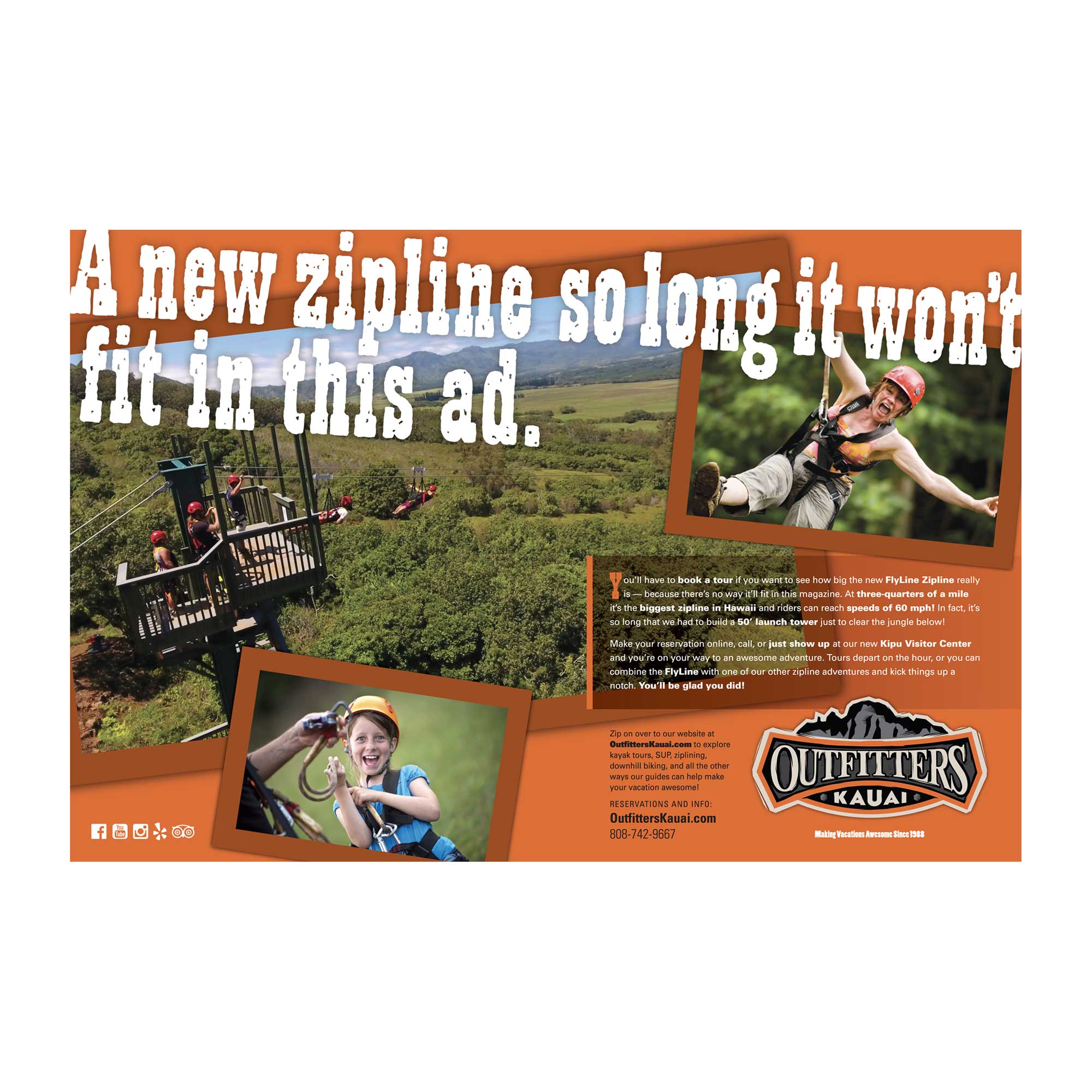 Outfitters Kauai Ad Design
The newest
Kauai zipline
at Outfitters Kauai is so big that it literally won't fit in this two page ad!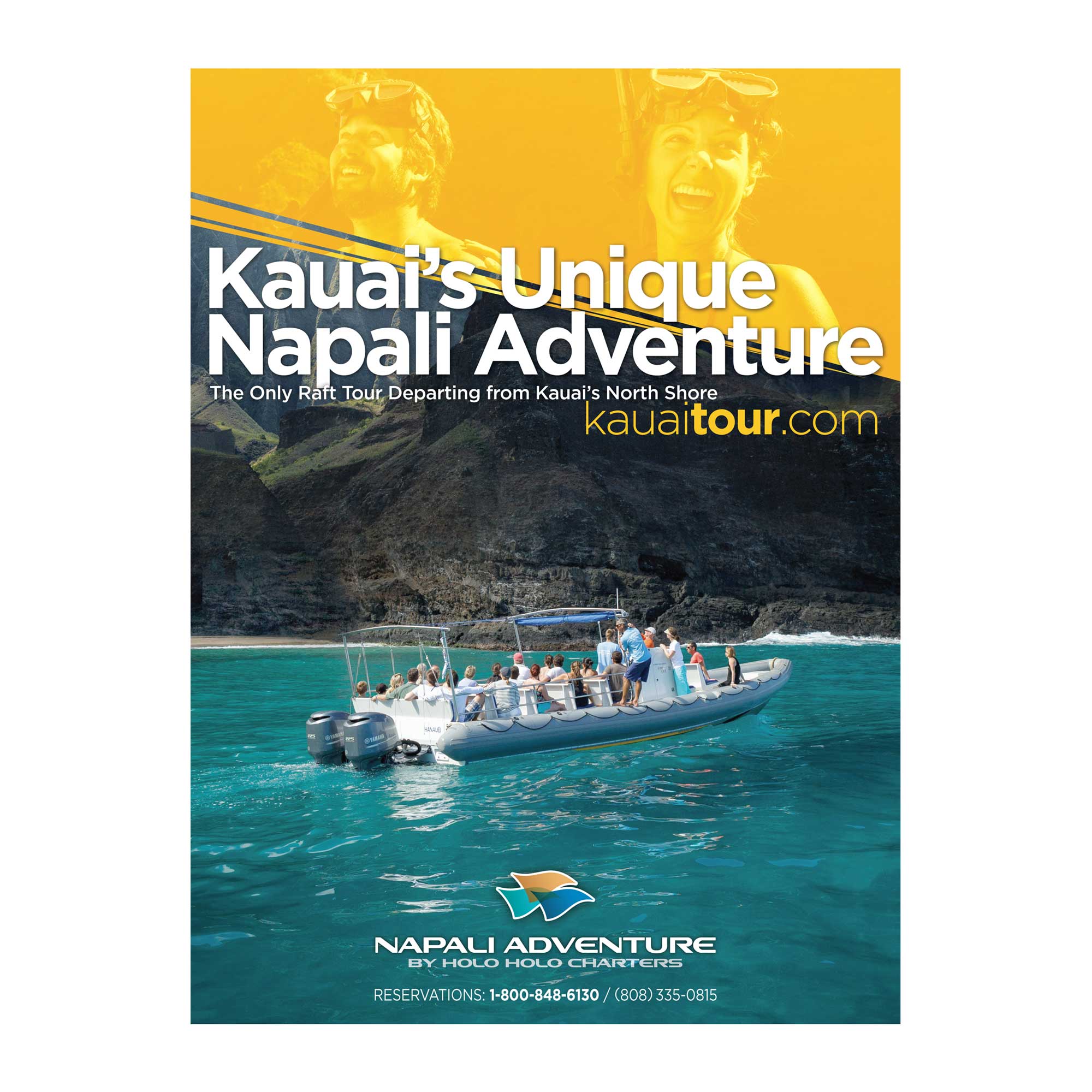 Napali Adventure Tour Advertising
New rafts for our client meant new ads to spread the word. These ads were created after undergoing an extensive photo shoot, complete with models.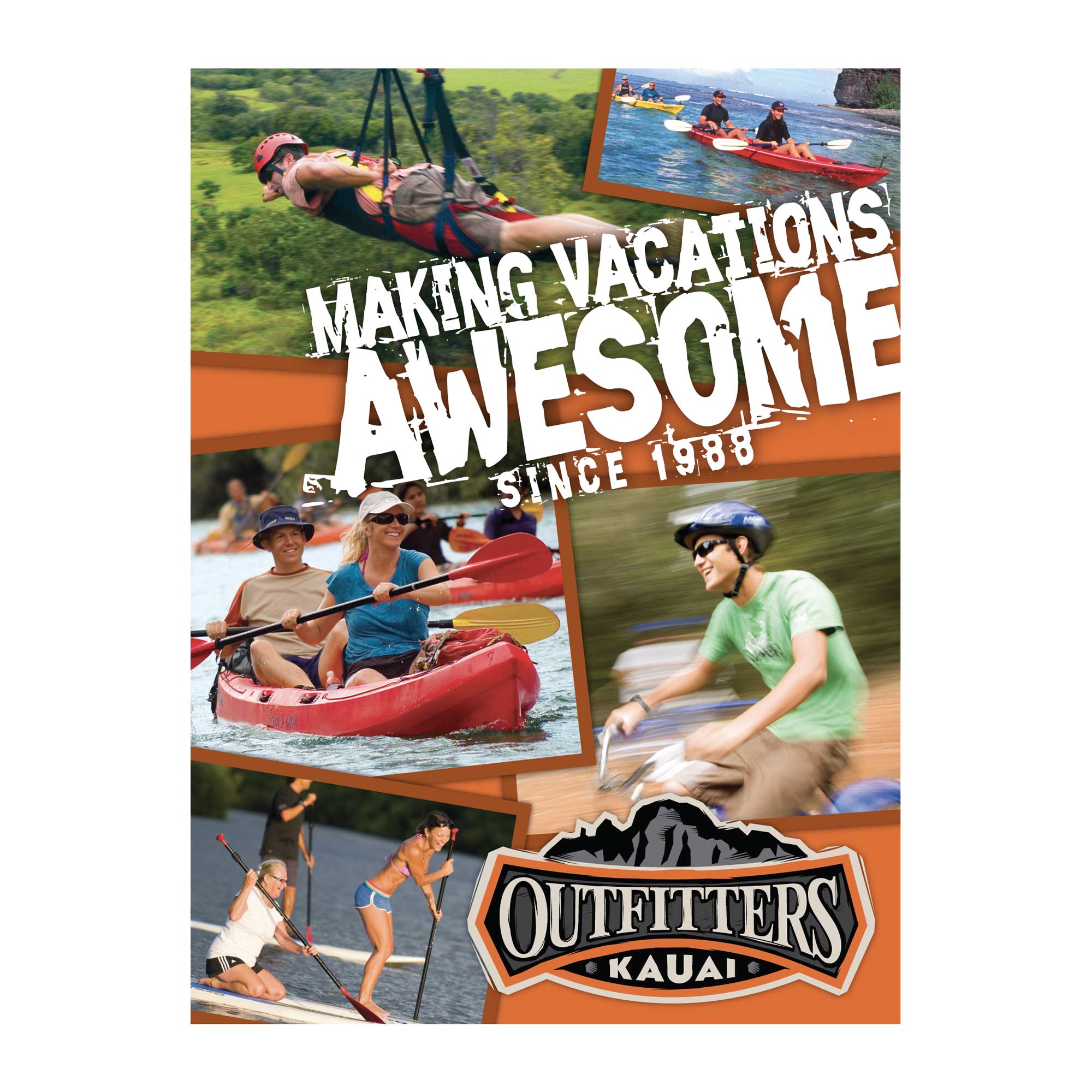 Outfitters Kauai Print Advertising
Outfitters Kauai needed a brand refresh, so we worked with them to update their ads and their image. This ad was featured in an Activity publication that showcased the various activities that they offered.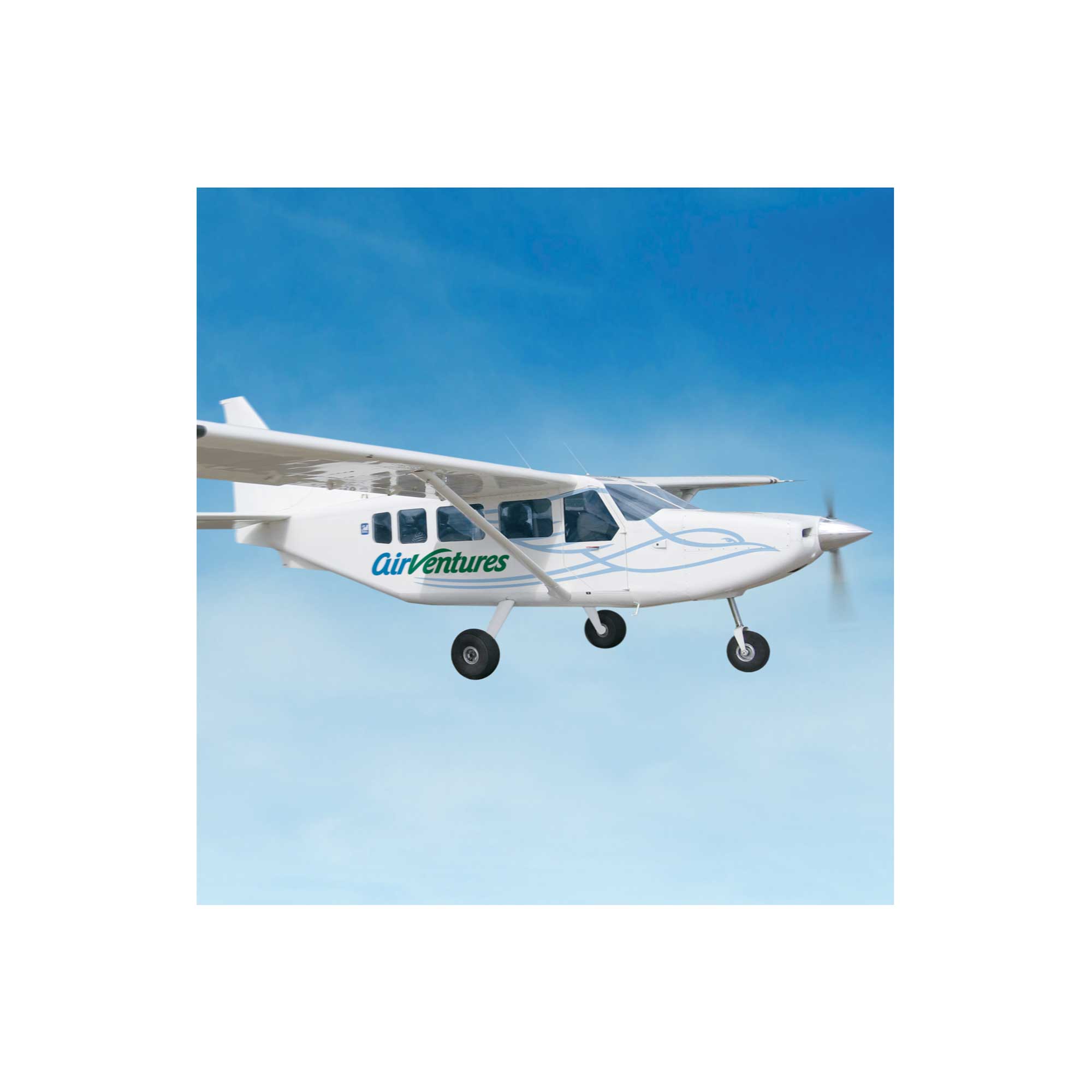 AirVentures Plane Graphics
Upon approval of their new logomark, we applied the design to their fuel efficient airplanes that take visitors on aerial tours of the beautiful Garden Island of Kauai.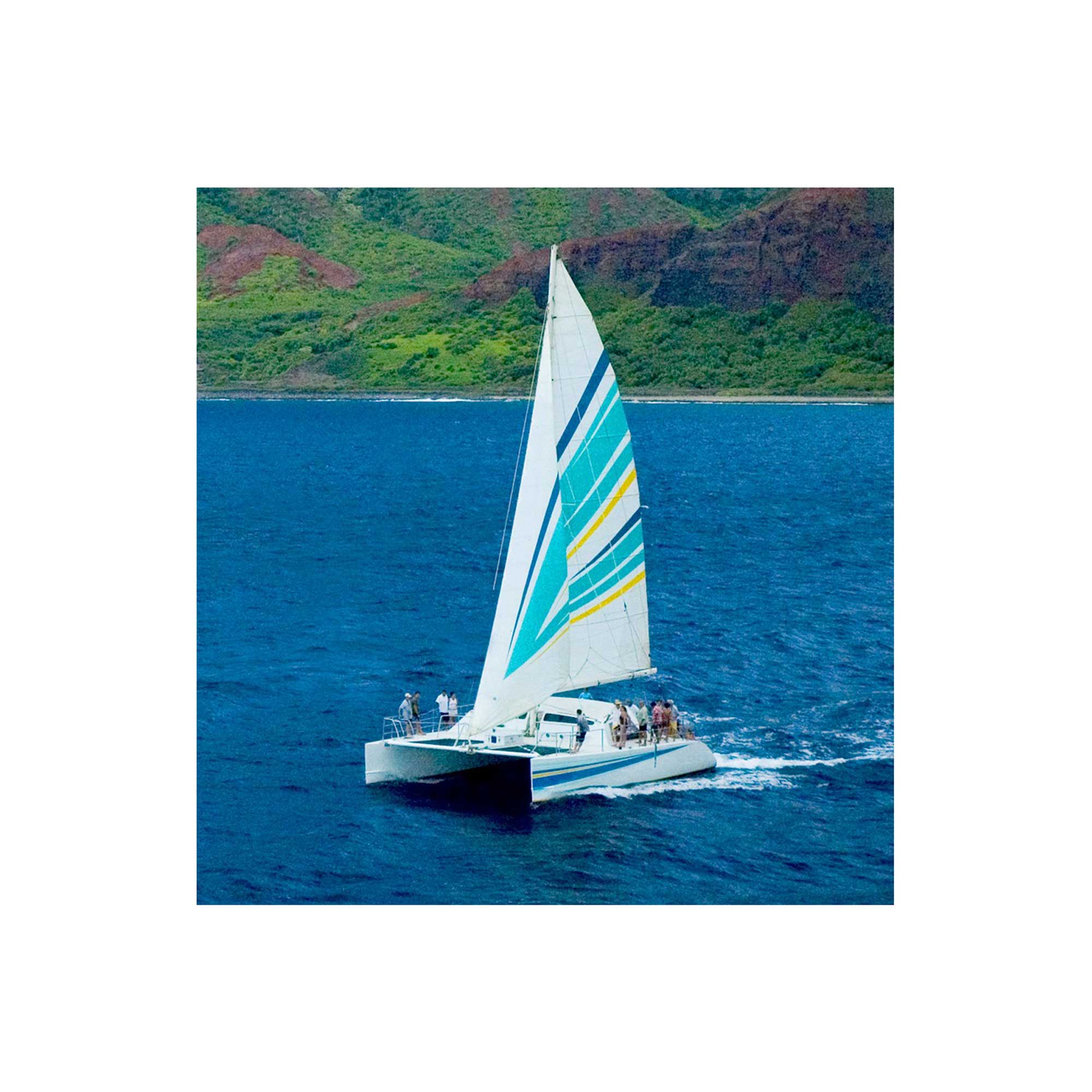 Holo Holo Tour Boat Graphics
Bringing the vessels in line with the brand was the icing on the cake.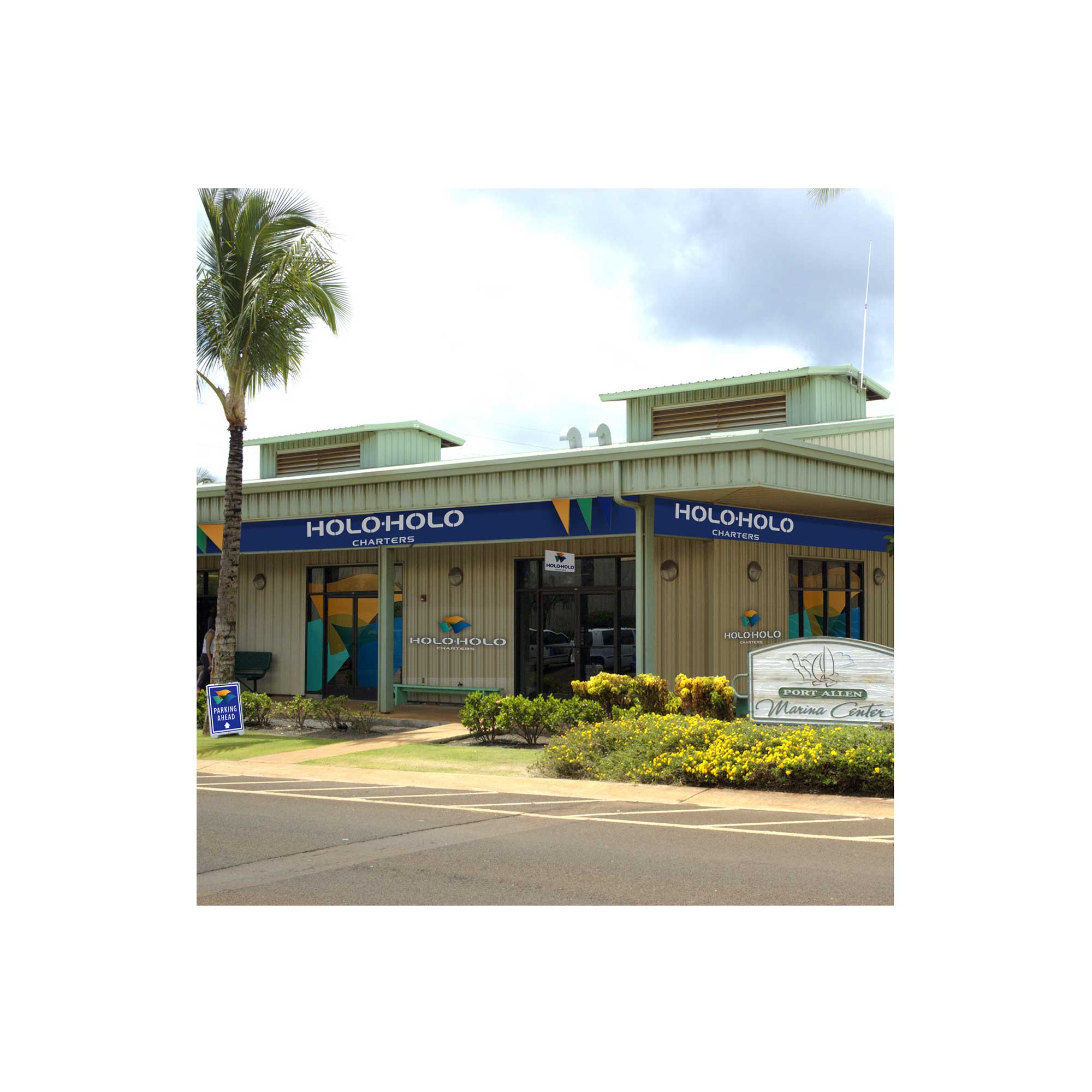 Holo Holo Storefront Design
The visual appeal of the bold new logo colors and the dimensionality of the flags really helped to get consumers (and their competitors) to take notice of their new image.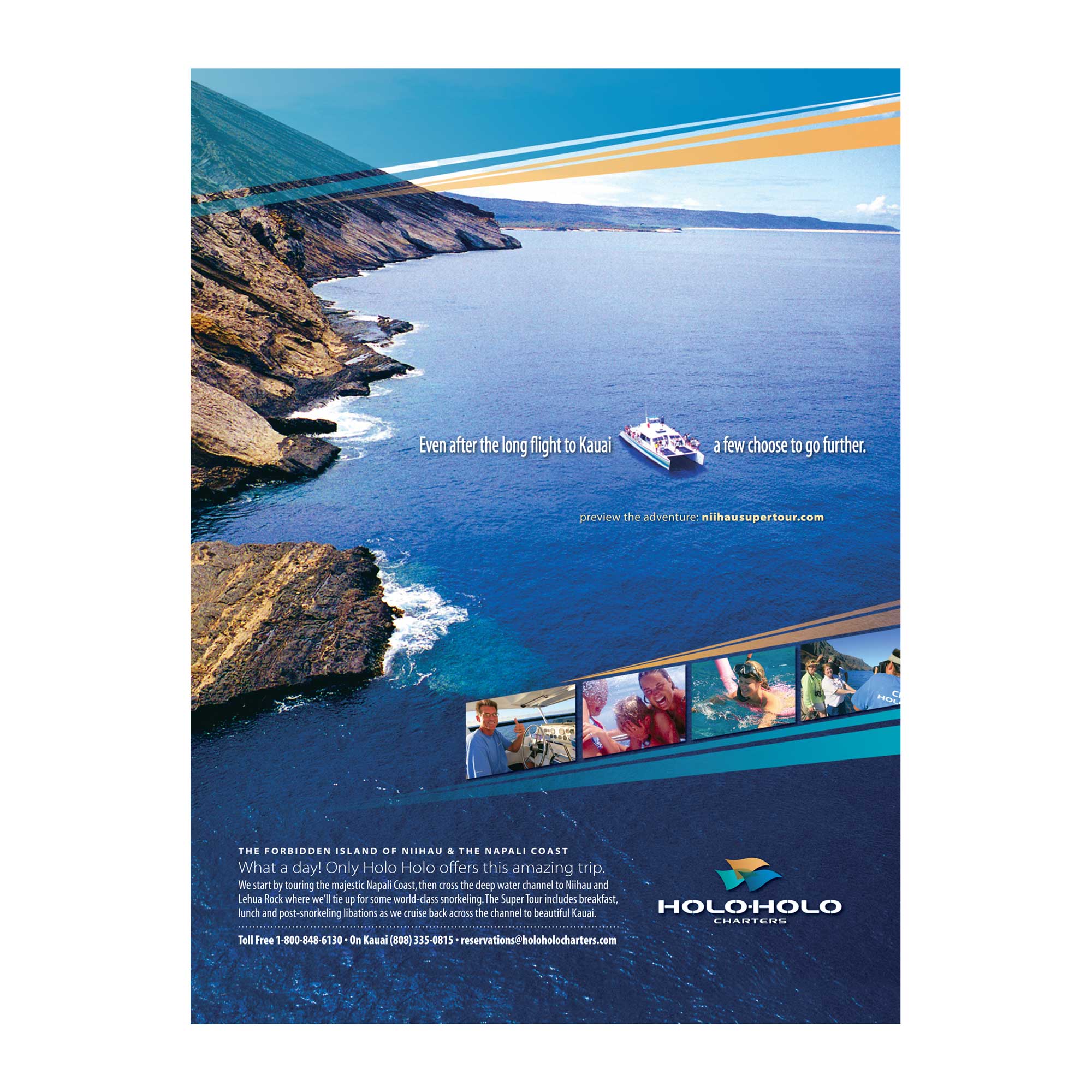 Holo Holo Charters Print Ad
The look and feel of this print ad was based on Holo Holo Charters main brand-driven advertising, but focused on their "super tour to Niihau."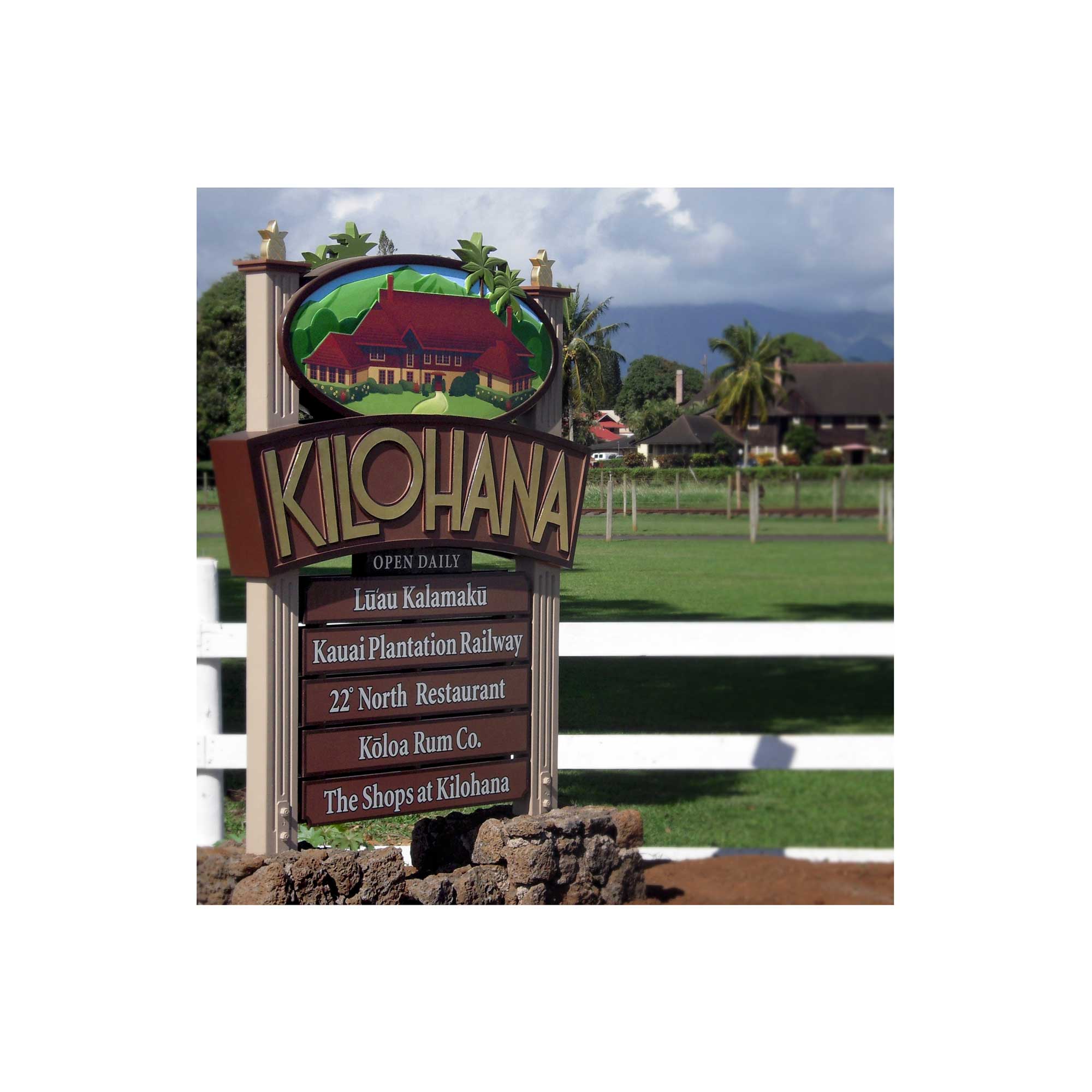 Kilohana Plantation Sign Design
We helped Kilohana re-brand itself from a "stuffy museum" — which it was perceived as, but never really was — to a more approachable and fun visitor destination that's much more in line with the visitor attractions found on the historic plantation grounds. The unique offerings of Koloa Rum, Luau Kalamaku, Gaylord's Restaurant, The Shops at Kilohana, and The Kauai Plantation Railway have come together in a way that allows them all to work together — and bring more visitors to this unique property. Now, with their bold roadside sign inviting visitors to explore Kilohana, the new position is literally front and center.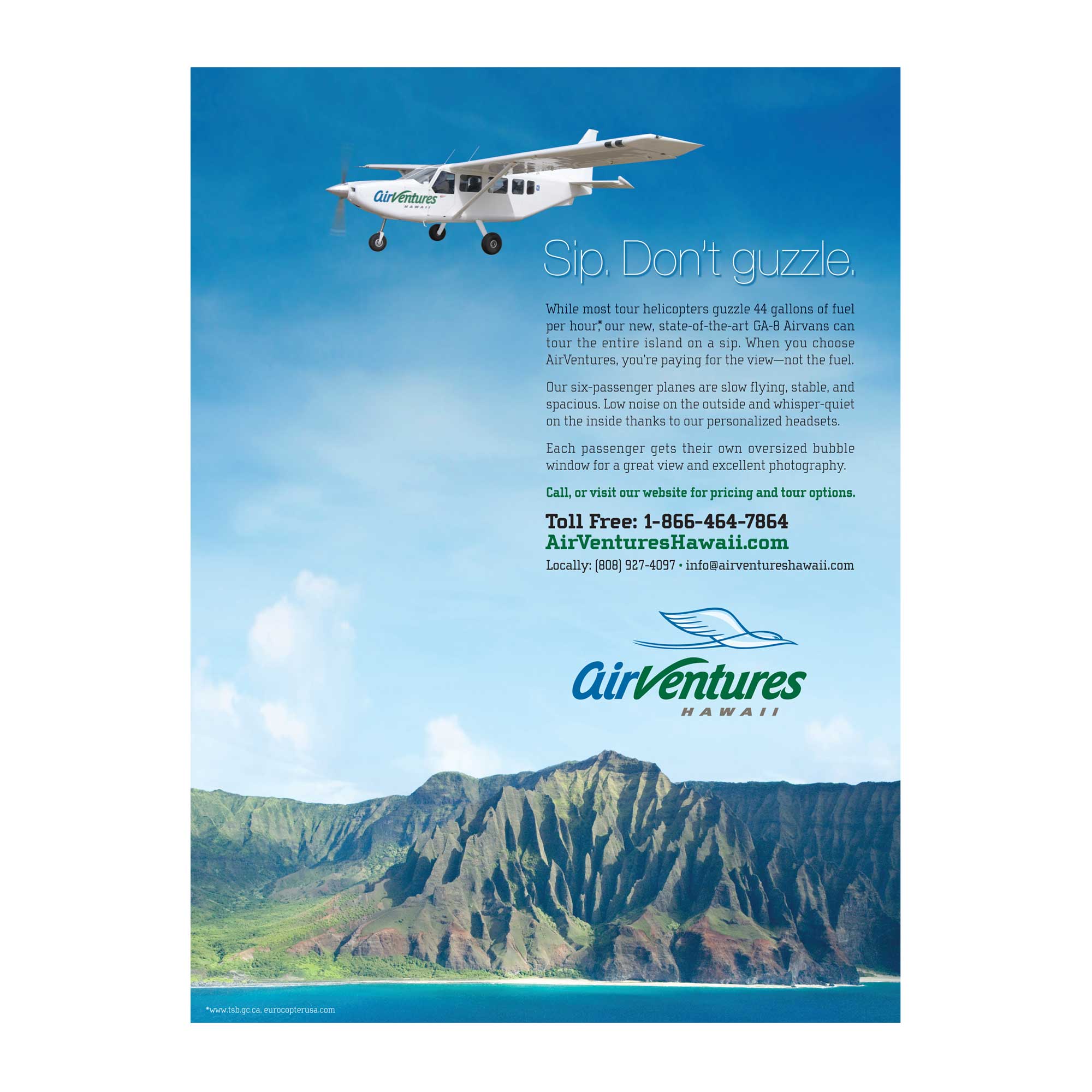 AirVentures Hawaii Print Ad
In air tour world, the historic perception is that, for some reason, helicopter flights are better. Not necessarily true. In AirVentures fuel-friendly G-8 AirVan, every single passenger gets their own window, AND, there is no weight limit. Our challenge was to get people to think differently.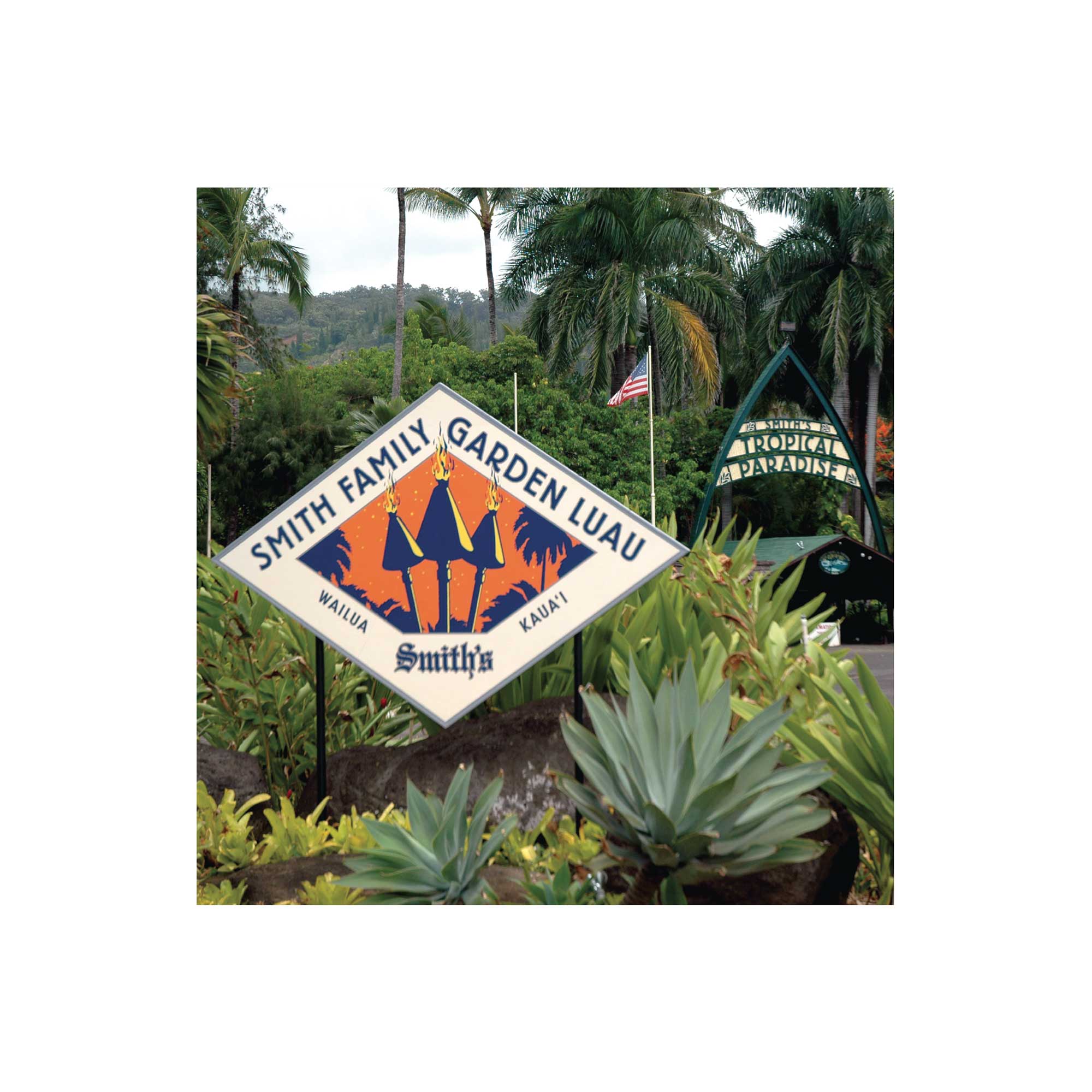 Smith's Tropical Paradise Signs
Both the sign in the foreground, and the larger sign in the background were design by our agency and then fabricated and installed by one of our favorite vendors, Gizmo Grafix.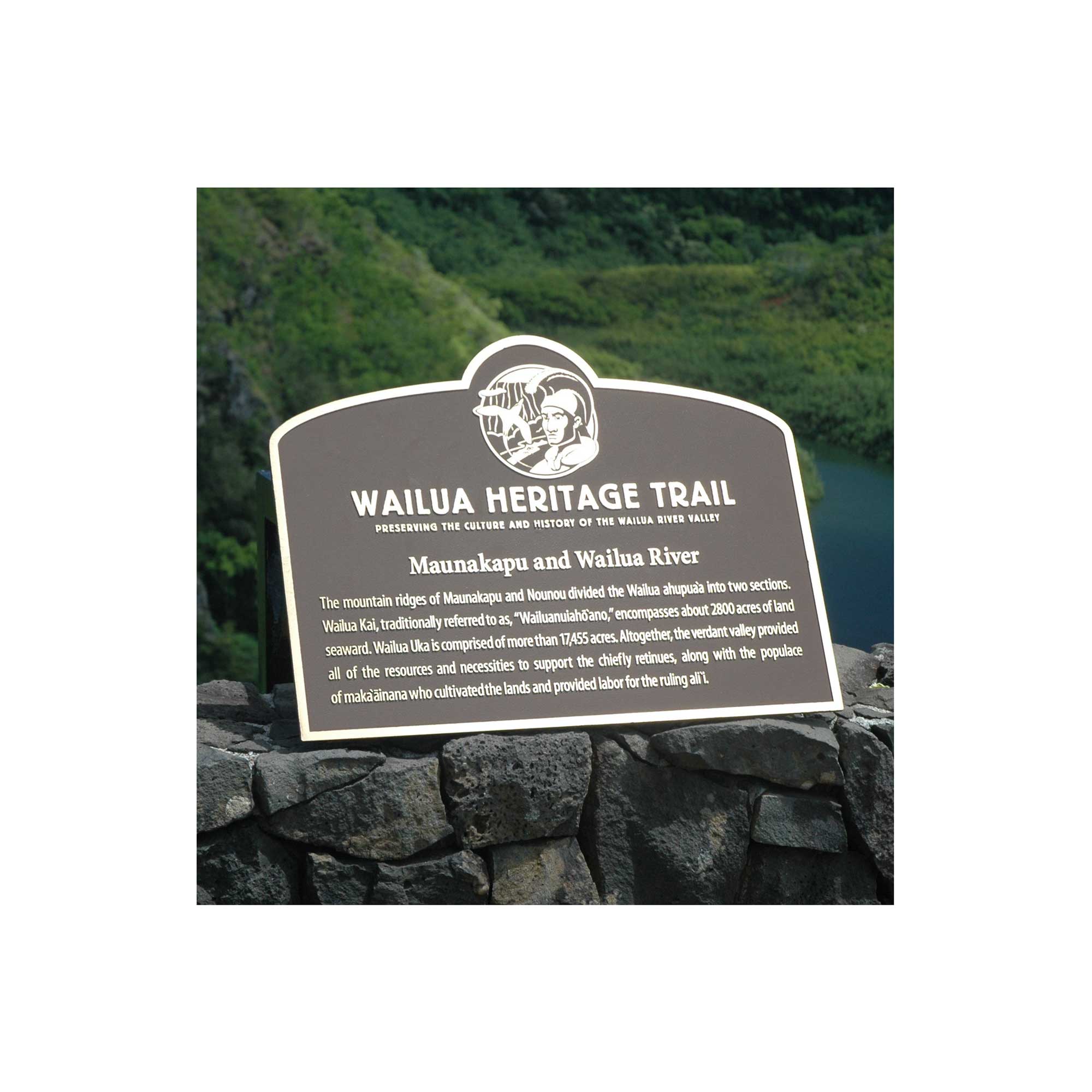 Wailua Heritage Trail Markers
This signage system was designed to assist visitors to the historical Wailua River Valley of Kauai in understand the historical significance of the cultural site that they were viewing. There are nine markers in the system, and the project was partially funded by the HTA (Hawaii Tourism Authority).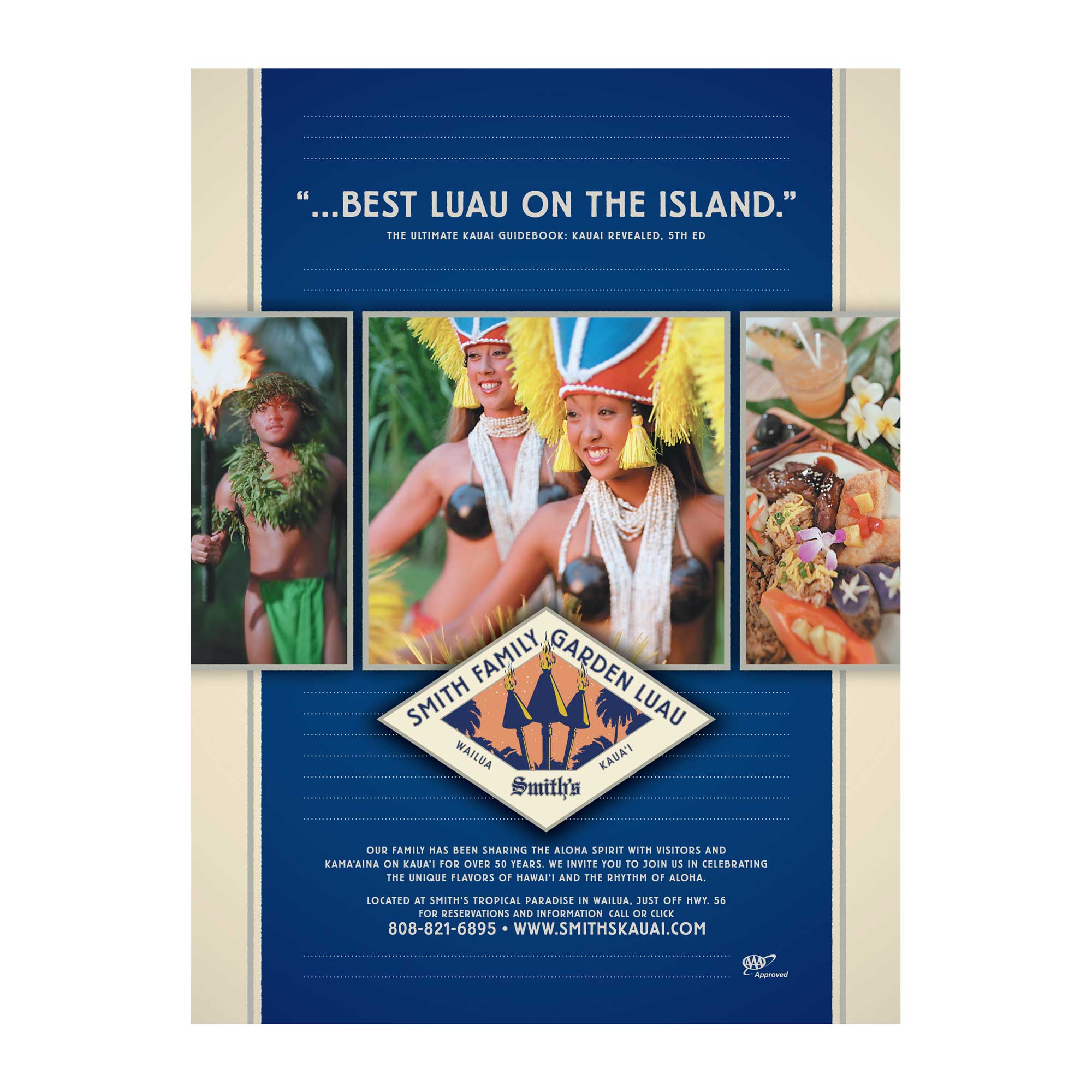 Smith's Luau Advertising
Full Page Luau Advertisement. How can anyone resist beautiful Tahitian dancers? If you've got 'em, flaunt 'em. Besides being the best luau show on the island, their food is pretty amazing as well.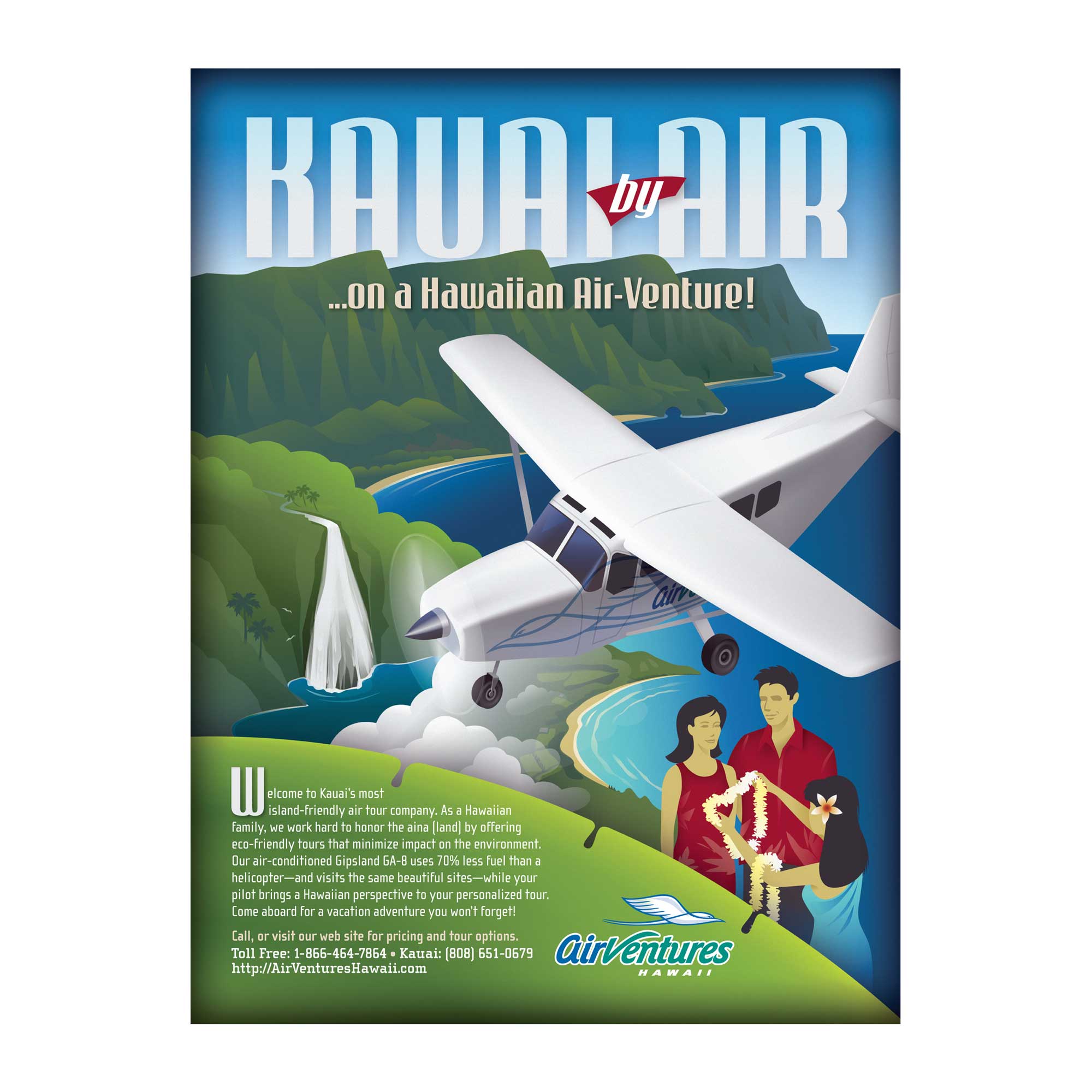 AirVentures Hawaii Advertising
The photos you'll see in 99% of Kauai visitor advertising are so similar that it becomes difficult for customers to tell the difference between companies — after all, one beautiful photo of the Napali Coast is much like another. To set AirVentures apart, we created this beautiful new ad using illustration instead of photography. It's sure to jump out of the magazine and grab the customer's attention, plus it positions AirVentures as a company with a unique approach to business — a company that's warmly Hawaiian, friendly, professional, and creative — exactly the kind of company customers love.