Visitor Industry Clients
:: Travel and Tourism Advertising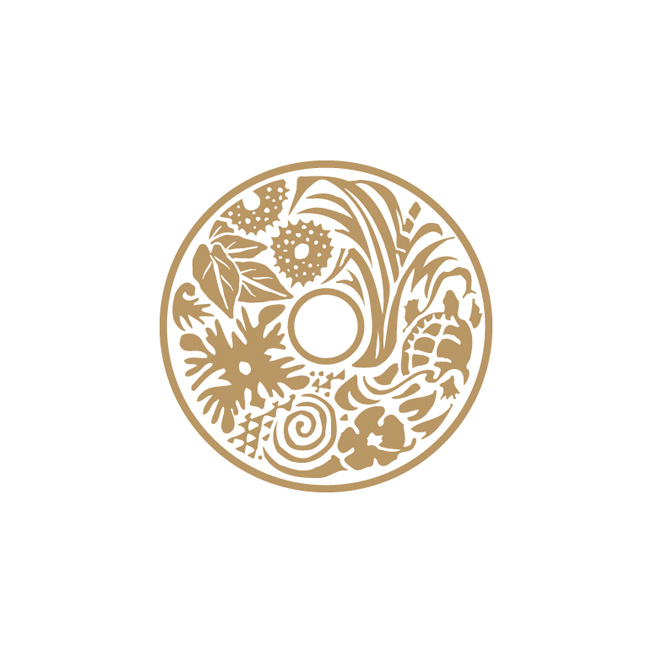 KVB Souvenir Pin Design
This 'logomark' was developed to go on a souvenir pin which the Kauai Visitors Bureau hands out at various industry trade shows and events. It captures many of the unique natural elements associated with Kauai in a petroglyph illustration style which is indigenous to Hawaii.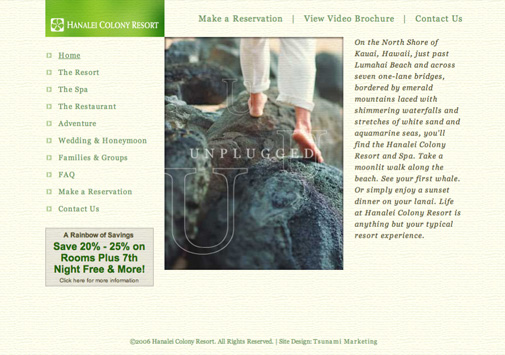 Hanalei Colony Resort Web Design
This web site has proved to be quite successful for the client and we attribute the success to the strong brand foundation that was laid at the very beginning. It's an unusual property that is very secluded and doesn't provide any phones, TVs or DVD players in the guest rooms. Unspoiled. Unplugged. Unforgettable. It lives up to its name.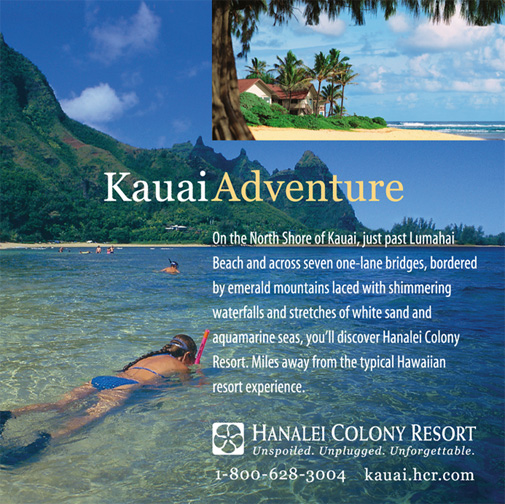 Hanalei Colony Resort Advertising
Unspoiled, Unplugged, Unforgettable. If you've ever visited the property, you'd understand the sentiment that these three words express. We worked hard to bring it to life through these printed materials, and numerous other projects over the last 12 years.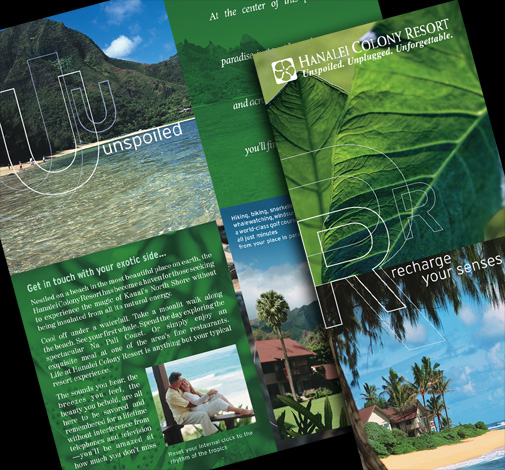 Hanalei Colony Resort Brochure
This full color brochure for Hanalei Colony Resort was sent to guest who had made a website inquiry. Following up with a printed piece keeps the resort top-of-mind for customers who were just "window shopping".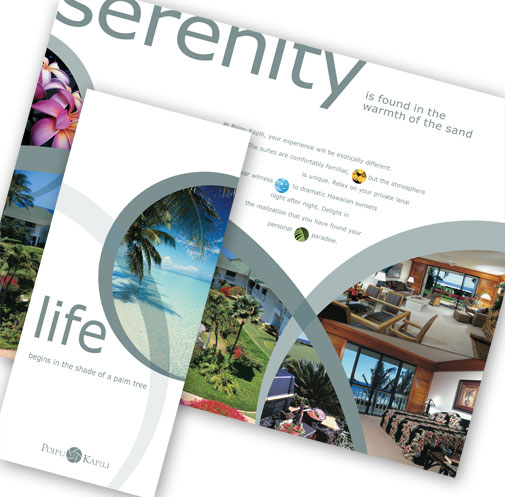 Poipu Kapili Brochure
Six-Panel Rack Brochure. This boutique resort has a lot to offer, much of which could be found in details such as their herb garden accessible to all guests, all the way down to garlic presses in all kitchens. We simply created a brochure that brought these details to the forefront, helping guests to understand that they really cared about their on-property experience.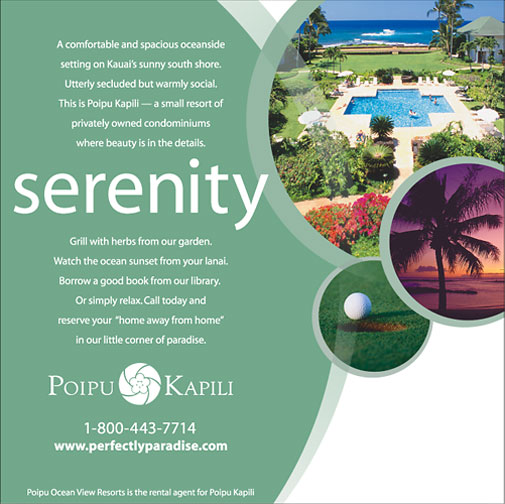 Poipu Kapili Print Ad Design
This small space ad captures the lush richness of this South Shore boutique condominium resort.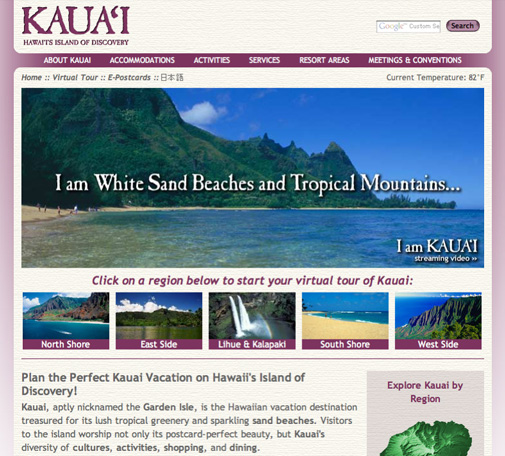 Kauaidiscovery.com Website Design
This is another web site that we designed and produced several years earlier (2004), and were re-hired to update it when they were ready to take advantage of faster bandwidth speeds and new technologies. The KVB web site has been quite successful for the organization, and we appreciate the continued partnership over the years. Winner of a 2004 Honolulu Advertising Federation Award of Excellence.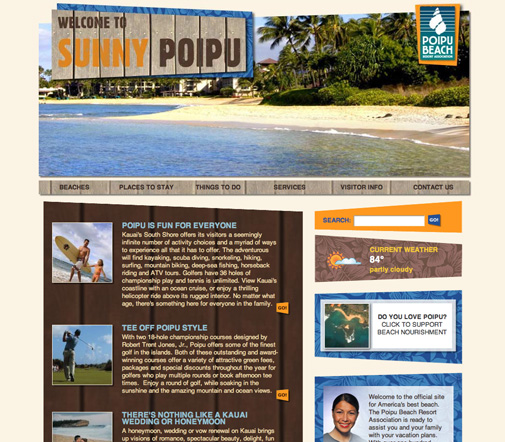 Poipu Beach Website Design
This web site was originally launched in 1998 and has had numerous upgrades, additions and facelifts over the years. Shown here is the most recent iteration that leverages the new tag line, "Sunny Poipu."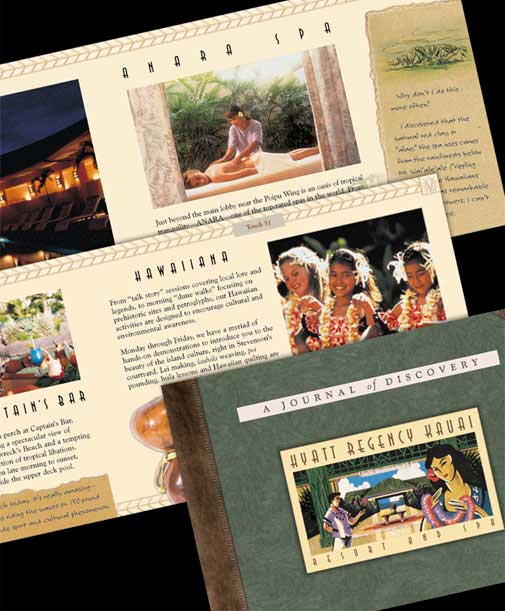 Hyatt Regency Key-Card Packet
We produced this piece to give newly arriving guests of the Hyatt a quick overview of the restaurants, shopping, and activity options available at this expansive resort. Winner of a 2002 Honolulu Advertising Federation Award of Excellence.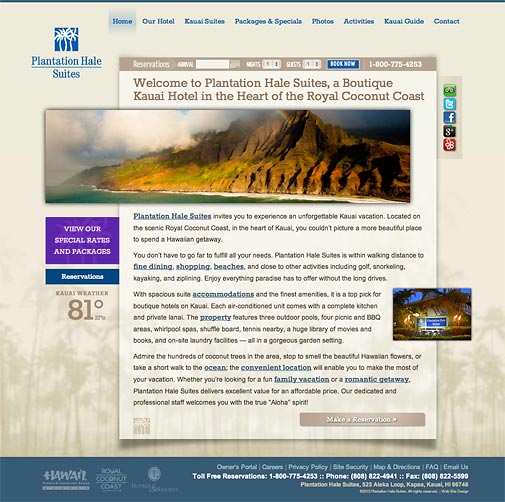 Plantation Hale Suites Website Design
Plantation Hale Suites hired us to build their new website and take over their online marketing and adverting program in 2013. The website is built on the WordPress CMS system, so it's easy to manage and easy to update, and the look and feel of the site has been upgraded to match the newly renovated suites which are cool, comfortable and modern.