Website Design & Development
We built our first website way back in 1993 (when the Internet was accessed with a $200 modem and a phone line) and later that same year we designed and launched one of the world's first e-commerce sites for a small Kona coffee company. Website design—and the way people access and use the Internet—has changed a lot since then and we've continued to innovate to keep our clients ahead of the curve (check out our responsive website designs); collecting a trophy-case full of awards along the way.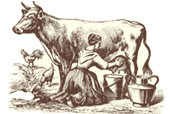 Milk That Cow
Give us a call and we'll help you get more from your online marketing.