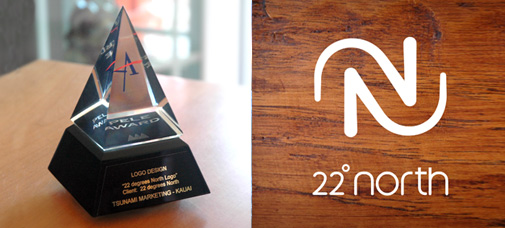 After taking a six year break from advertising award shows, Delicious Design of Kauai, Hawaii, brings home the Gold, Silver, and Bronze awards for 22ºNorth Restaurant's Logomark, Single Print Advertisement, and Print Advertising Series. When asked about the award, Todd Oldham, 22ºNorth's General Manager, noted "The Pele-winning logo designed by our creative partners at Tsunami is intriguing, memorable, and gives us a strong sense of place."
We were thrilled when we learned that all three of our entries for 22°north would be bringing home awards.

—Robert Rekward
The Pele Awards, which honor the Hawaii advertising industry's best work, were presented by the American Advertising Federation-Hawaii Chapter on April 23, 2011 at the historic Hawaii Theatre on Oahu. Delicious Design was the only agency on Kauai to win a Pele Award this year. "We were thrilled when we learned that all three of our entries for 22°North would be bringing home awards," stated Robert Rekward, President and Founder of Delicious Design. He continued saying, "It takes brave clients to go outside of their comfort zone, so our hats off to the team at 22ºNorth including Russ and Paige Talvi, Roberta Wallace Cable, and Todd Oldham for their courage."
The Pele Awards is a District 13 National ADDY Competition. All Pele Award winners are automatically forwarded to compete in the National ADDY competition with the winners announced on June 4, 2011 at the Hilton San Diego Bayfront Hotel & Resort. Delicious Design was fortunate enough to win a National Addy Award for their self promotion brochure "Truth Hurts" back in 2002.
The entries were judged by two separate panels, one panel specializing in advertising, the other in design. For more information about the judges visit the AAF website.
About 22°North
22°North is a unique farm-to-table restaurant located at Kilohana Plantation on the island of Kauai. The restaurant's daily menus reflect the cycle of the seasons and feature produce grown in the fields and orchards of Kilohana Plantation, while the beef, pork, rabbit, and fish come from Kauai ranchers and fishermen.
Delicious Design is a boutique brand development agency located on the Hawaiian island of Kauai. They create brands, identities, and marketing materials for clients in Hawaii, on the mainland, and in the South Pacific region.
Established in 1991 by Robert and Valerie Rekward, Delicious Design has won numerous awards in their 20 year history including the Small Business Administration Exporter of the Year, Hawaii Visitors and Convention Bureau Keep it Hawaii Award, a handful of Honolulu Advertising Federation Pele Awards, as well as a national Addy Award—and many others. Find them on Facebook.com/Delicious Design.