Restaurant and Retail Design
Brands which only express themselves through advertising will quickly fade and wither on the vine. To really enroll your customers in your difference you need to immerse them in the experience of your brand: from the way your staff interacts with customers; to the lighting fixtures; to the carpet on the floor and the artwork on the walls. We partner with our clients to create authentic brand experiences that connect with customers.
Just getting started? Check out our New Restaurant Checklist.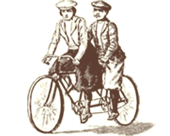 Get Rolling
Give us a call and we'll make your advertising and environment work together.