Lappert's Hawaii
:: Ice Cream Advertising
Our partnership with Lappert's Hawaii spanned 10 productive years (1998-2008) and we have great affinity for the whole Lappert's Hawaii ohana (family). They serve up a quality product consistently and with aloha. Our first project was to re-design their coffee bags, and the relationship blossomed from there. The full gamut of services including: logomark, web site development, package design, print advertising, environmental design, gift baskets, collateral materials, t-shirts, uniforms, and even wrought iron display stands. Every touch point with consumers was looked at and addressed, delivering a cohesive consumer experience. What's our favorite flavor you ask? Depends which day you ask us. Enjoy!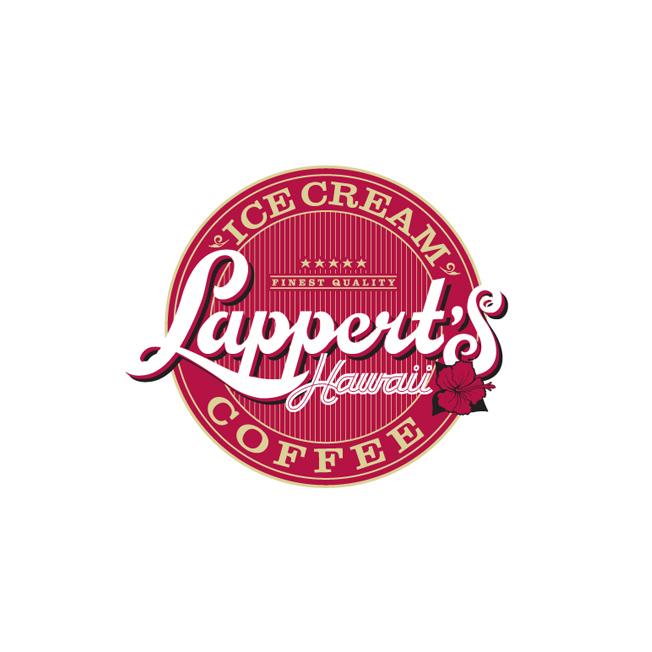 Lappert's Hawaii Logo Design
In previous iterations of the Lappert's Hawaii logomark, the founder, Walter Lappert, was very prominent. Once Walter retired, it was time to start minimizing his image, move him into the founder role, and make the name more prominent. We also started leveraging the newly developed brand essence and bringing it alive in the new logomark and across all of the consumer touch points.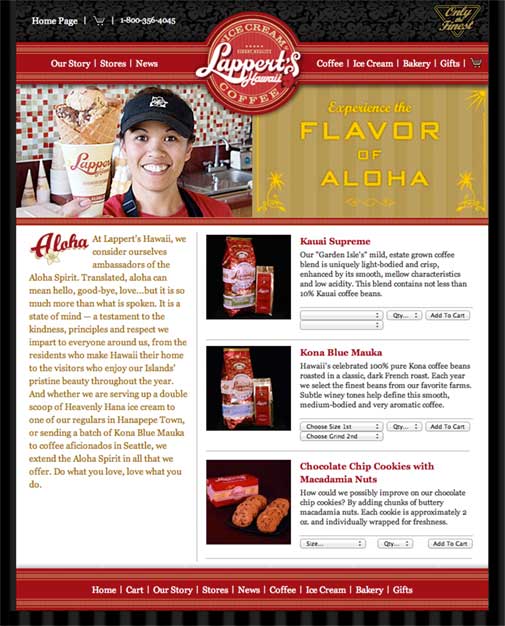 Lappert's Hawaii Website
Now you too can enjoy the goodness of Lappert's Hawaii's incredible goodies delivered right to your door. The process is seamless, and their service is excellent. We brew their Molokai Supreme coffee at our office daily and our staff are very appreciative.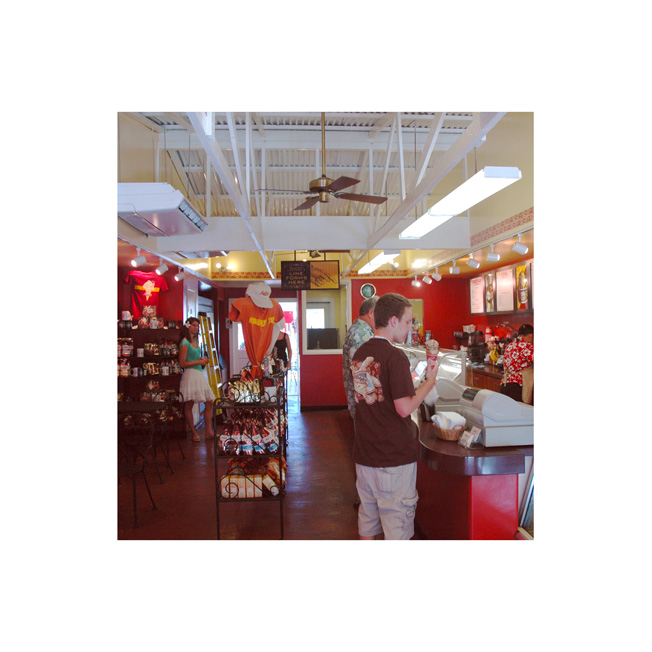 Lappert's Interior Design
This is the retail interior design of the Old Koloa Town location which has since been relocated to Kukuiula Village. Looking at the retail interior design project holistically, we were armed with a new brand strategy, a new logomark and coffee bag design that were the focal design points. The client turned us loose on her stores to invigorate the whole consumer experience with synergy through all the major touch points. We were able to give each store a facelift with new paint, chair rails, lighting and custom wrought iron display cases that all promoted the handmade quality of the incredible products on offer.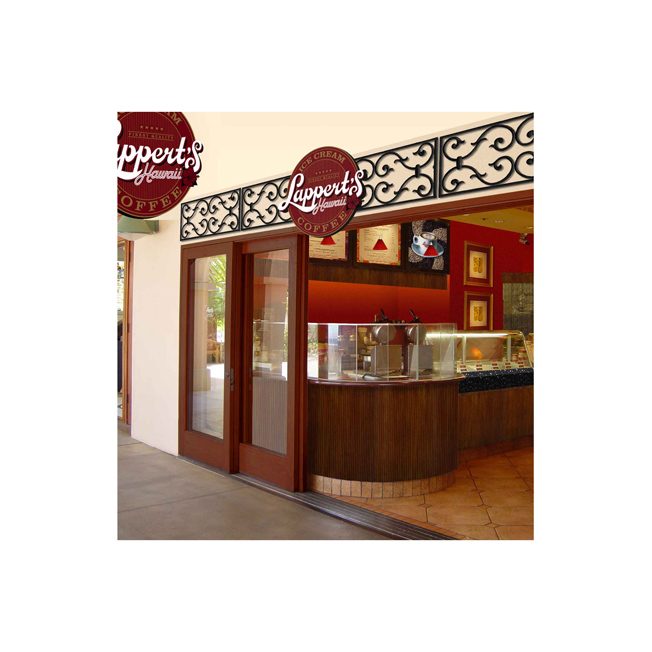 Lappert's Hawaii Store Design
Wailea, Maui storefront. This location had the largest budget and was our favorite end result.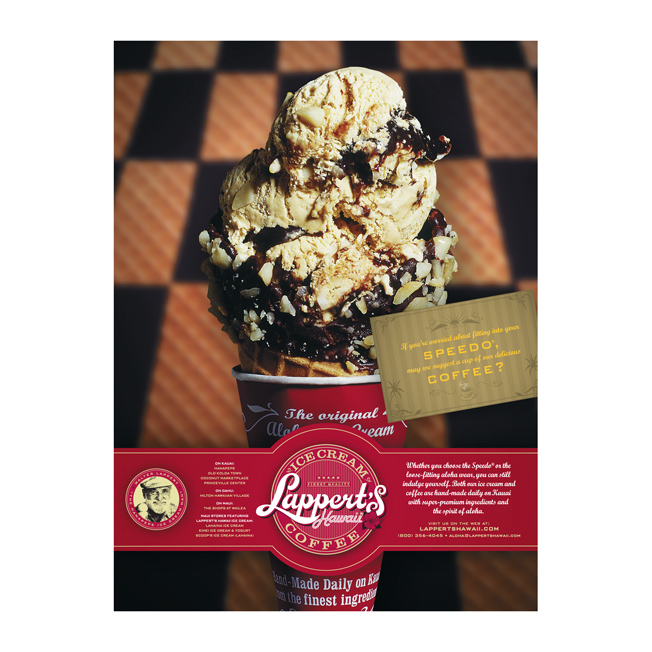 Lappert's Hawaii Print Advertising
This is one of Lappert's Hawaii's most successful ads ever. People have been known to show up in one of their stores with this ad in hand, saying, "Give me one of these, please!" Winner of a 2003 Honolulu Advertising Federation Award of Merit.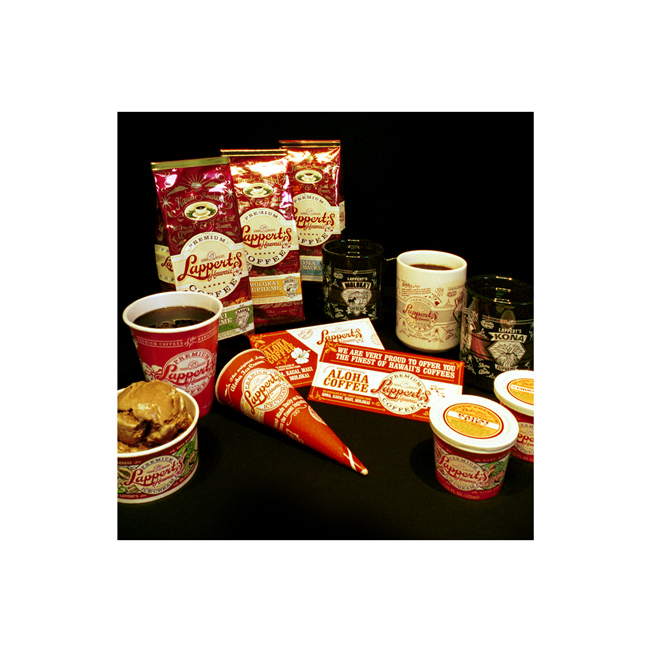 Lappert's Hawaii Product Packaging
Various packaging and product design projects which work together to create a cohesive and immersive brand experience that builds affinity with consumers.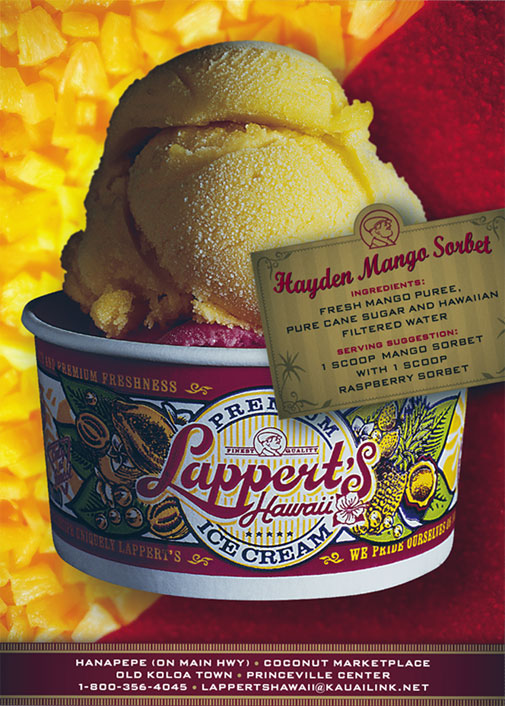 Lappert's Hawaii Small Space Ad
Small space print ad—being the younger sibling of a full page ad isn't easy, but this Mango Sorbet image pulls it off beautifully. It looks so yummy you just want to lick the page.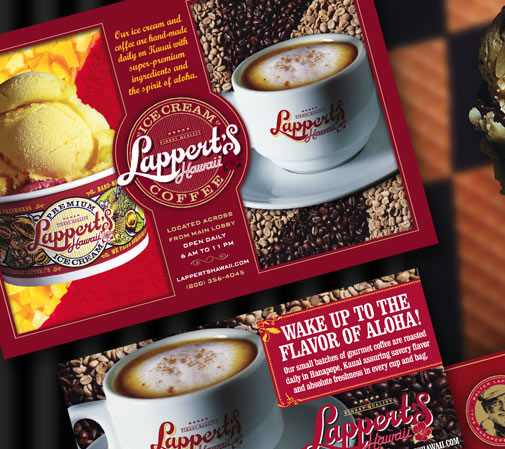 Lappert's Marketing Materials
In-store marketing materials are another way to bring the brand to life through more touch points with consumers.