Kauai Festivals
:: Visitor Activity Marketing
We originally built their first website back in 2002 and Kauai Festivals came back to us in 2010 to rebuild and relaunch a new website that would be faster, and take advantage of new technologies, including video streaming and a more robust back-end that allows individual festival organizers to manage their online listing themselves, saving time and money for the County of Kauai. Then in 2016, we were able to do the same thing again for them – building another new website that leveraged even newer technology and plug-ins that allowed us to make the admin area even easier for them to manage and update on a daily basis.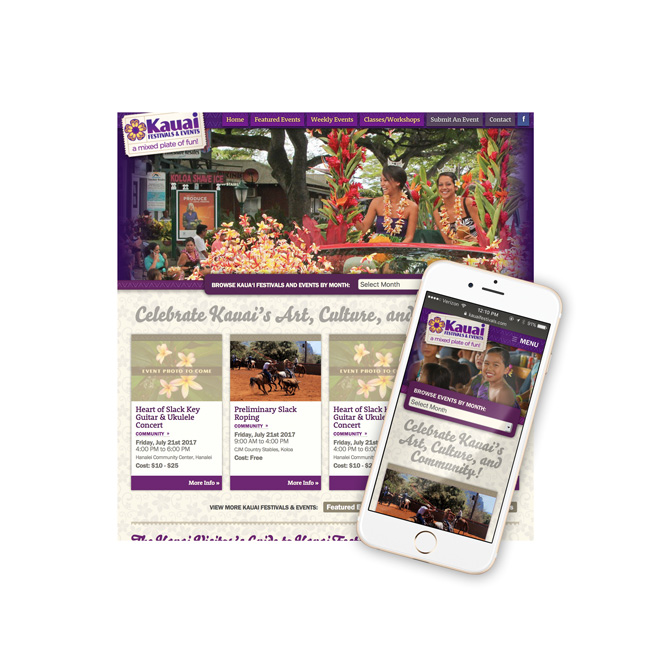 Event Website Design
As web browsers and technology continue to advance, websites like Kauai Festivals & Events need to evolve as well. The latest iteration of this popular website was built on top of the WordPress CMS and utilizes The Event Calendar plugin — with a heavy dose of customization which allows the site to function exactly how our client requested. Easy to use and administer, the site should keep Kauai Festivals & Events ahead of the curve for many years to come. While Kauai Festivals desktop website worked 'pretty well' on mobile phones, our client wanted to make the experience even better—given the high percentage of mobile browsers using the site—so they asked us to create a lightweight, easy-to-use responsive website design. Because we were able to leverage the database which powered the desktop site, the responsive version requires zero extra work to keep it updated and fresh.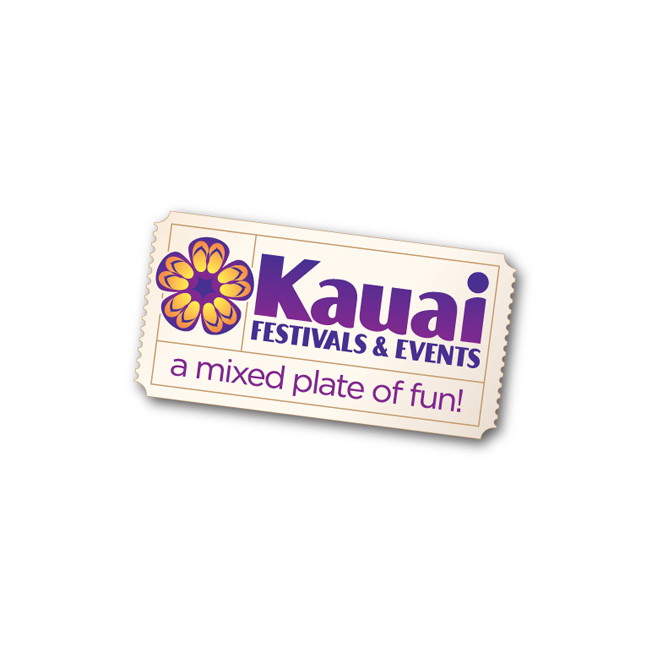 Kauai Festivals Logo Design
The brand position for this client dictated that the logomark should appeal to visitors and locals alike. Created in the shape of an event ticket, the logomark also sports an interesting detail. Can you see the five pairs of "slippers" in the flower shape?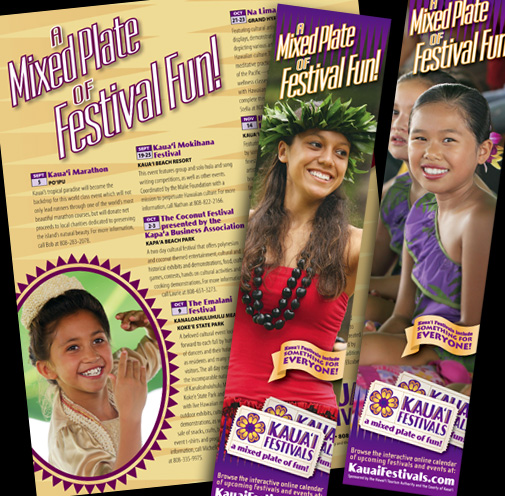 Kauai Festivals Print Advertising
These images represent a full page ad that focuses on upcoming festivals with truncated event information, and 1/3 page image ads that drive consumers to the Kauai Festivals web site for more detailed information. Used hand-in-hand, they work together to achieve greater results.