Print Advertising & Packaging Design
We have a strong commitment to work with our clients to develop powerful relationships between their brands and their customers. Our clients' brands stand apart from the competition through innovative advertising and package design strategies that have been proven to work time and time again; most importantly, these break-the-mold ideas produce a measurable return on investment.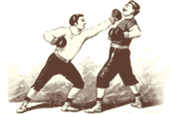 One-two Punch
Call us and we'll show you how to leverage print in the age of the smartphone.